Looking Back on 2022
Christa Blatchford
Jean Shin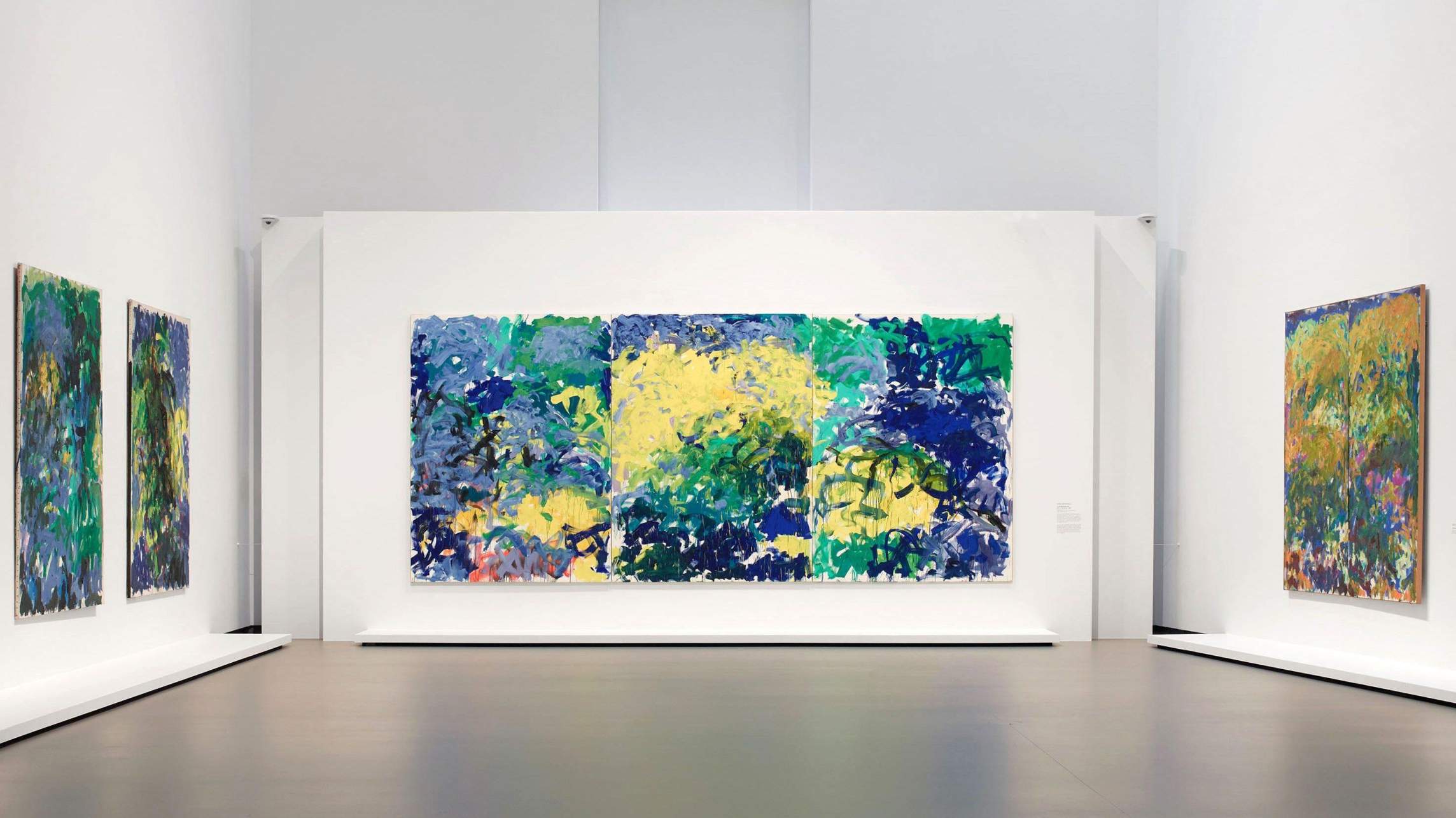 This October, we stood in the lobby of Fondation Louis Vuitton in Paris and watched as hundreds of people streamed in for the opening of Monet – Mitchell: Dialogue and the Joan Mitchell Retrospective. Standing there, enveloped by the eager anticipation of the crowd, we felt deeply thankful for all the people who have worked towards this moment of recognition for Mitchell.

Thanks to the incredible efforts of a dedicated group of Mitchell advocates, the past few years have brought tremendous attention to Mitchell's oeuvre, impact, and importance. We are truly grateful to the staff of SFMOMA and Baltimore Museum of Art, who organized the Mitchell retrospective and hosted the first two iterations of the exhibition; the staff at Fondation Louis Vuitton, who have organized the most expansive presentation of Mitchell's work in France in almost three decades; and finally our own team here at the Foundation, who contributed deeply to all the aforementioned exhibitions, exhibition catalogues in both English and French, and a French-language documentary on Mitchell that premiered in Europe on ARTE in conjunction with the openings in Paris.

Mitchell didn't resolve herself to working the same issues over and over; she kept asking herself other questions, pushing the paint to do what it had not quite done before. It takes bravery to make these leaps into the void."

Seph Rodney, "Why Joan Mitchell's Paintings Can Never Die," Hyperallergic, March 2022
It really has been a remarkable year, and the responses we have heard along the way have been deeply moving. A whole new audience has been introduced to and inspired by Mitchell's work. And given that Mitchell lived in France for the majority of her career, it feels quite poetic for the momentum of the last few years to culminate in Paris. It is a resonant and important homecoming for her work.
Closer to home for many of us, and coinciding with the exhibitions in Paris, David Zwirner is presenting an exhibition of Mitchell's paintings from 1979–1985—a profoundly generative period in Mitchell's practice when she was preparing for her first solo museum exhibition in France (in 1982) and masterfully exploring the possibilities of painting. The show concludes on December 17.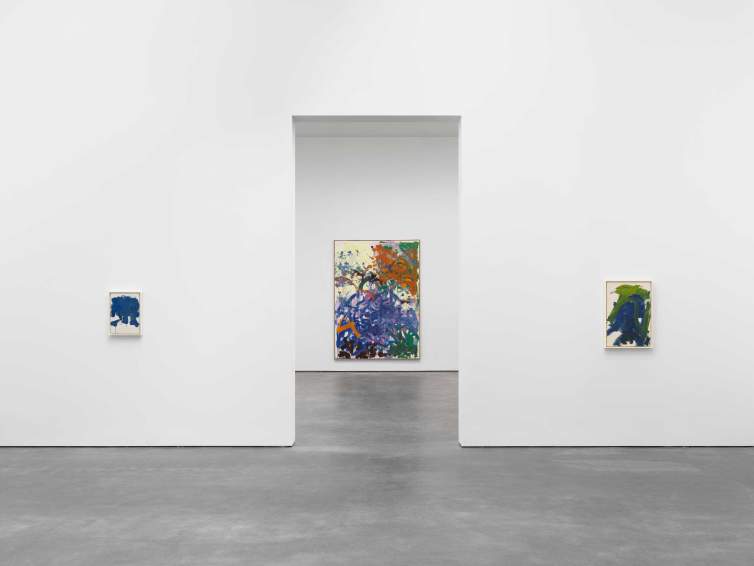 Over this year, we have seen Mitchell's legacy grow and expand out in other exciting ways through the work of the Foundation. 2022 was filled with moments of celebration both in the realization of long-term projects and the return to in person gatherings. Following are some highlights.
After two years of focusing our residency program on studio space and professional development for artists local to New Orleans, the Joan Mitchell Center was able to return to its original program structure of welcoming a mixture of national and local artists. We are grateful that we were able to serve 50 New Orleans artists in 2020 and 2021, and equally excited when national artists returned to campus in May. You can find interviews with all of our recent Artists-in-Residence here.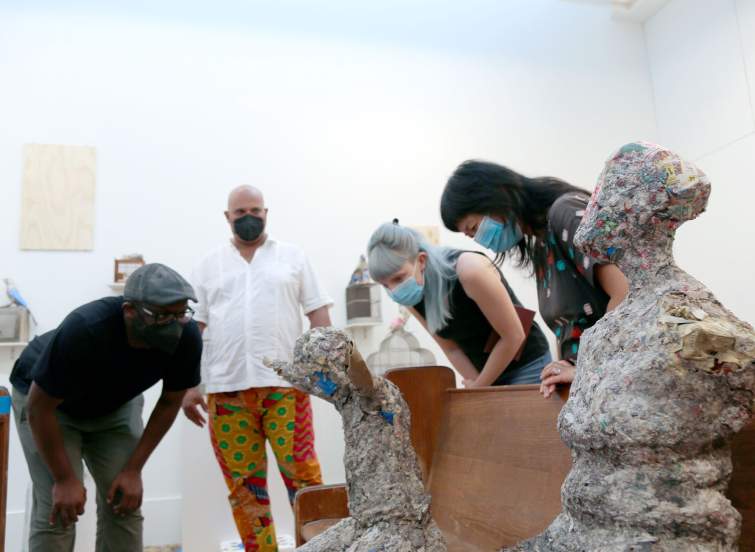 In June, the 2021 Joan Mitchell Fellows gathered for a three-day convening at the Joan Mitchell Center. The Fellows engaged in dialogue around financial management, legacy planning, and other topics, learning together and exchanging experiences in each artist's path to career sustainability. The opportunity for our staff and board to connect with the Artists-in-Residence and Fellows refueled and reconnected us to our work. You can learn more about the event in this video with voices from attending artists, and read interviews with each of the 2021 Fellows here.
In September, we announced our second cohort of Joan Mitchell Fellows: 15 artists from across the US who are making exceptional work in the evolving worlds of painting and sculpture. We look forward to providing each artist with $60,000, distributed over the next five years, and to facilitating a peer-learning community, drawing on feedback and learnings from this first year of the Fellowship.
In November, after several years of work, we published a new legacy planning workbook and resource guide, Career Documentation for the Visual Artist. Developed in collaboration with artists, arts professionals, and legal and financial experts over the course of two years, the free workbook provides a breadth of information and perspectives about legacy planning for artists. We are grateful to all the contributors who leant their expertise and perspectives, and to our team for shepherding this multi-year project to fruition.

Artists, now more than ever, are beginning to understand that their archival legacies—in addition to their artworks—matter. And not in some imagined future, but right now."

Steven G. Fullwood, Contributor to Career Documentation for the Visual Artist
This year, we welcomed new staff members Solana Chehtman, Ariana Hall, Jessica Pepe, and Stephanie Pearl Travers, and said farewell to long-time team members Marley Lewis, Kay Takeda, Alexandra Tagami Vargo, Kendra C. Thompson, Suzi Villiger, and Heather Whitehead. We brought on a new board member, Danyelle Means, and will be adding additional members in 2023. We look forward to the perspectives they will bring to our work.
As the impact of the pandemic has waned, we have had the perspective to think about what we have learned and what staffing structure works best for us moving into the future. Early last year, we reconsidered our artist programs structure and are proud to have Toccarra A. H. Thomas, Director of the Joan Mitchell Center in New Orleans, and Solana Chehtman, our New York-based Director of Artist Programs, jointly leading the support to artists. Going into 2023, we will be looking at capacity building for our Joan Mitchell Legacy department, given the increasing interest and scholarly enthusiasm for Mitchell's work.
Closing out this year, we are also remembering the Joan Mitchell community members who passed away in 2022: emeritus board member Dan Bergman, estate planning workbook contributor Margaret Rose Vendryes, and artists Miriam Beerman, Colin Chase, Jim Denomie, Beverly Kimble Davis, and Freddy Rodríguez—all of whom were cherished members of our community.
Finally, we hope you will join us in offering thanks to the hard work of our board and staff. Thank you all for believing in the impact an artist's legacy can have. We look forward to sharing more updates as we enter 2023—a year that marks the Foundation's 30th anniversary.
Wishing all a creative and hopeful year to come!
Christa Blatchford
Executive Director
Jean Shin
Board President

See other Journal entries filed under: