About the Foundation
The Joan Mitchell Foundation expands awareness of the abstract artist Joan Mitchell's life and pioneering work and fulfills her wish to support and provide opportunities for visual artists. Through its work, the Foundation affirms and amplifies artists' essential contributions to society.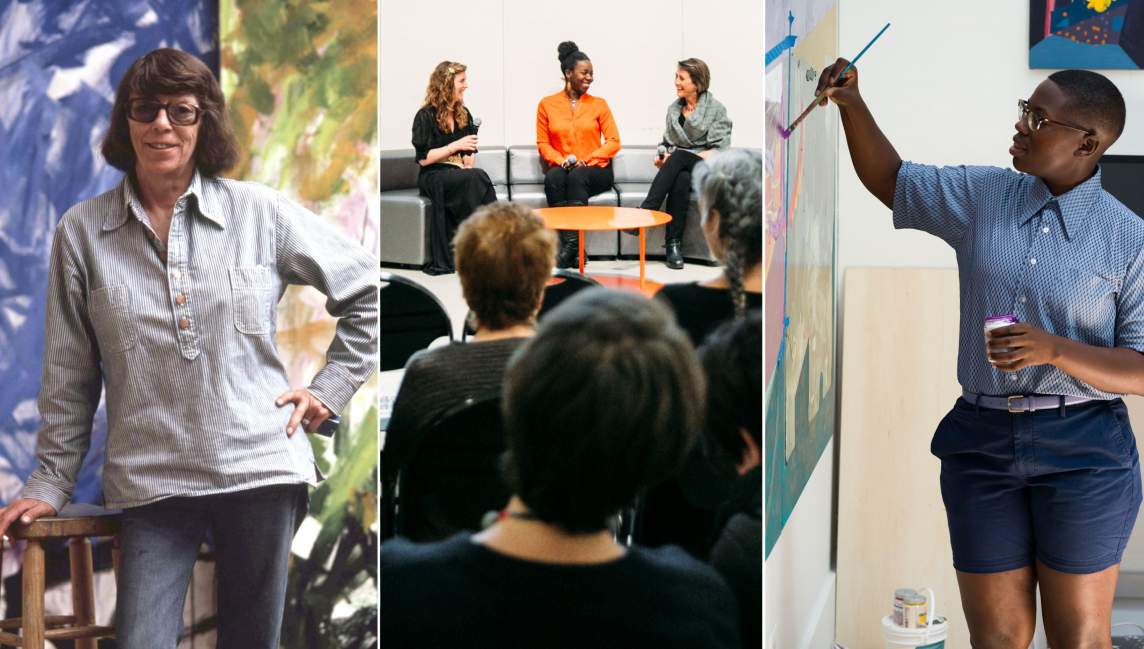 Our Vision
The Foundation supports research, scholarship, and exhibitions to ensure Joan Mitchell is widely recognized and studied as a significant artist.

The Foundation's grants, residencies, and related initiatives recognize artistic excellence and elevate a wide range of visual artists and practices. We work to actively expand the visual arts to better reflect the diverse world in which we live.
The Foundation serves as an evolving example and resource for how an artist's generosity can impact future generations of artists.
What We Value
Being Artist Centered
The Foundation was established by an artist for artists. We trust that artists know what they need to best support their practices, and we let their voices and feedback guide our work.
A Culture of Generosity
Joan Mitchell was generous to other artists during and beyond her lifetime. The Foundation carries forward her generosity by giving, sharing, and making connections with intention.
Commitment to Equity
We see diverse perspectives and the variety of lived experiences as through-lines in the Foundation's origins and legacy of artist support. Through ongoing inquiry, dialogue, and action on issues of equity, the Foundation strives to remove barriers to sustained artistic practice and careers in the visual arts.
Our Staff & Board
Our staff in New York and New Orleans bring our mission to life, overseeing the Foundation's artist support programs, Mitchell legacy stewardship, finance and administration, and facilities. The Foundation's board of directors—made up of working artists and both arts- and non-arts professionals—manages the property, affairs, and business of the Foundation.
Where We're Located
We maintain two sites: a central office in New York's Flatiron district and a residency center in New Orleans, the Joan Mitchell Center. While the Foundation and the Center are not open to the general public, you can visit during our events.
What's New
On our Journal, we regularly share news about Mitchell and our programs, artist interviews, and resources to support artists' careers.