Announcing the 2019 Early Art Practitioners Residency & Council Participants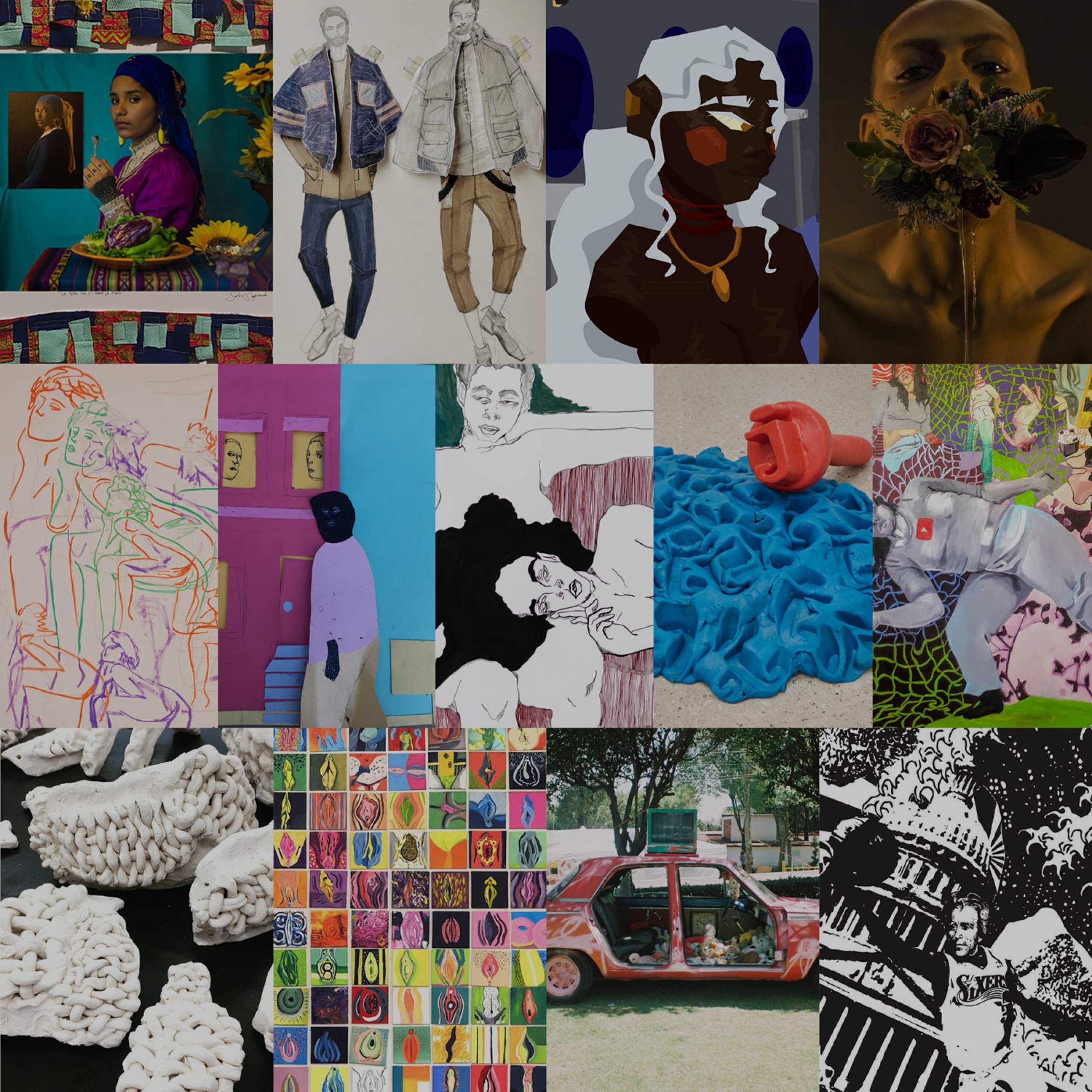 The Joan Mitchell Foundation is pleased to announce the 2019 participants in two pilot programs for artists under the age of 26 who are active in their studio practice and seeking a network of peers, critical engagement, and guidance in navigating the field. Nine NYC-based artists were selected for the Early Art Practitioners Council, a peer-learning experience centered on professional and creative development. Four additional artists (two from New York, two from New Orleans) were selected for the Early Art Practitioners Residency, a month-long studio intensive at the Joan Mitchell Center in New Orleans. The participating artists are profiled below.
Both programs grew out of the Foundation's commitment to understanding and addressing the needs of artists at different career stages, especially those for whom issues of access and inconsistent resources create barriers to achieving their goals. The Early Art Practitioners initiatives were informed by collaborative learning with an Alumni Council of young artists who previously participated in studio art classes offered by the Foundation from 1997 to 2016. To learn more about these programs, contact José Ortiz at [email protected].
---
2019 Early Art Practitioner Artists-in-Residence

Gabrielle Garcia-Steib
New Orleans, LA
gabriellegarciasteib.com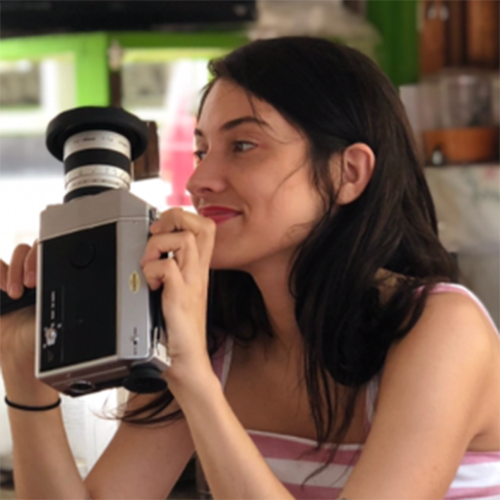 Gabrielle Garcia-Steib is a multidisciplinary artist and educator who was born in New Orleans in 1994. She is a graduate of NOCCA and Loyola University of New Orleans, with a BA in English and Digital Media. Gabrielle blends mediums such as archiving, painting, documentary photography, and audio as forms of healing and communication. Her work has been exhibited for the past three years at PhotoNola, and she was included in the Contemporary Art Center New Orleans's Constructing the Break exhibition in 2018. Most recently, she collaborated with three artists on an installation for Nrmal Festival in Mexico City. She has taught narrative storytelling workshops through NOMA and Our Voice Nuestra Voz, with whom she has a fellowship. (See extended profile and artwork here.)
---
Dillon Gardener
Bronx, New York
Instagram: @hotdirtychaii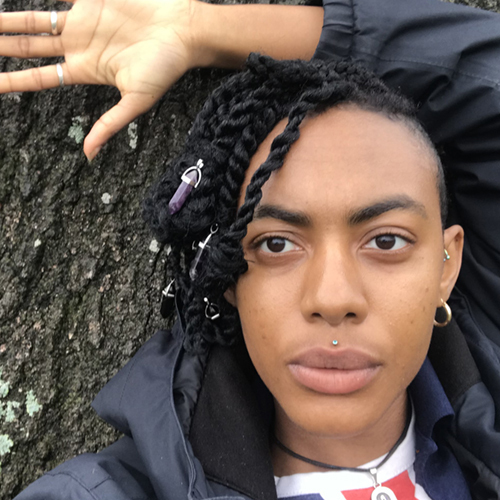 Born and raised in the Bronx, New York, Dillon Gardener is a multi dimensional artist. Dabbling in various mediums, ranging from performance to visual immersive installations, Dillon's work explores themes of nature, magical realism, and spirituality. They believe that life on this three-dimensional plane is one big game of manifestation. The more work they put into their own evolution, they believe their work will reflect the same spark to help ignite the evolution of others. Through their art practice, Dillon wants to inspire people to create freely and understand that art is not only found in a gallery space; art exists and can be found everywhere. (See extended profile and artwork here.)
---
Hakeem Olayinka
Purchase, New York
Instagram: @heemladream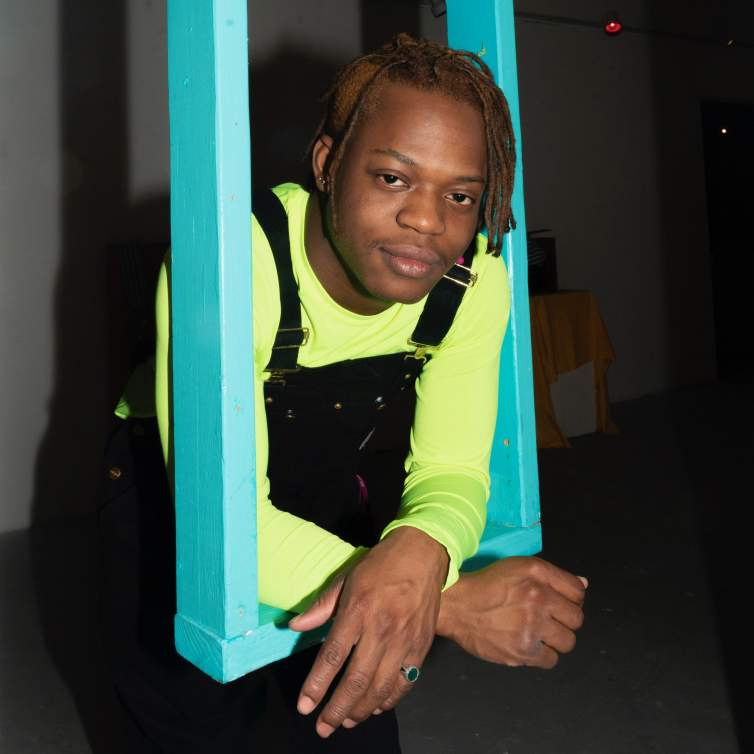 Hakeem Olayinka is a Washington, DC, native visual artist. He got his high school education from Duke Ellington School of the Arts, where he acquired the confidence to pursue his artistic endeavors and continue his formal education in the visual arts. Experimentation is one of Hakeem's strong suits, and he works with many different mediums, using a wide range of artistic practices including painting, sculpture, and performance. His work draws on emotions of defeat, anger, and frustrations in his personal life that relate to the black experience in America. Hakeem is currently pursuing his BFA in Painting and Drawing/Sculpture at SUNY Purchase (graduating Fall 2019). (See extended profile and artwork here.)
---
Alcide Breaux
New Orleans, LA
Instagram: @crawbaby_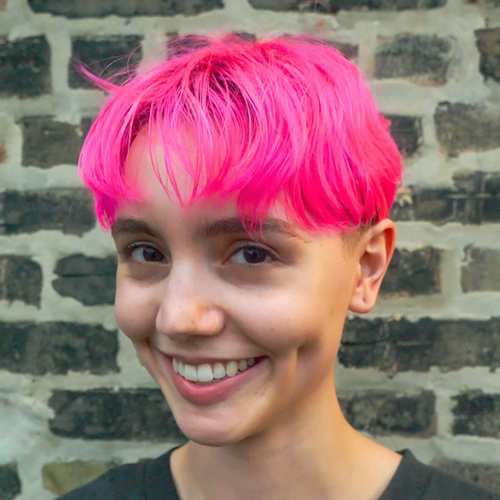 Alcide Breaux is a visual artist from New Orleans who is currently pursuing a BFA in Sculpture at the School of the Art Institute of Chicago. Shaped by their upbringing, they learned how to discuss ideas as serious as gender taxonomies with playful materials from the simultaneous jubilance and crushing political commentary present in a Mardi Gras float. Breaux creates sculptures with ant farms, Play Doh, and other unconventional materials that parody the legitimacy and assumed objectivity of science. (See extended profile and artwork here.)
---

2019 Early Art Practitioners Council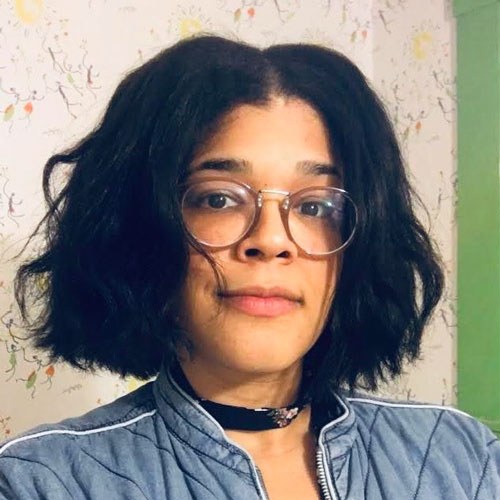 Nicole Adames is a mixed-media conceptual designer based in New York City. She earned a BFA from California College of the Arts in Fashion Design, with a focus on sustainable practices. Drawing on her personal history as an immigrant from Dominican Republic growing up in America, she explores transformation, growth, renewal, and adaptability through design development and detailed research.
---
Albany Andaluz
Bronx, NY
albanyandaluz.work
Instagram: @solarissapiente
Albany Andaluz is a self-taught multimedia artist whose work highlights the intersections of Caribbean, South American, and American political identities. Her work illustrates the intricacies of navigating first-generation American experience through the dynamic lens that is the low-income New York bloque. Andaluz's multimedia approach binds and personifies discarded personals through textile-based photography, painting, installation, and sculpture to reference the inseparable relationship between history, systems, and social behavior. She has completed residencies with BronxArtSpace, ProjectArtNYC, and is currently a resident at the Joan Mitchell Foundation's pilot Early Arts Practitioners Council. Andaluz's work has appeared on BronxNet, in ArtForum, and has exhibited at arts institutions like the Bronx Museum of the Arts, Queens Museum of the Arts, and BronxArtSpace.
---
Jah'china De Leon
Rockaway Beach, NY
Instagram: @sunny_mind_state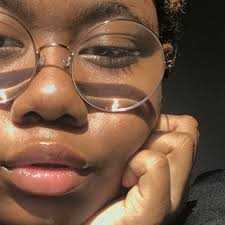 Jah'China De Leon is an artist from Rockaway Beach, NY, who uses many tools to express her thoughts and ideas. She was DreamYard's 2018 Summer Art Resident and is a former Bronx Art Collective participant. In 2018, her solo show H.E.R. explored beauty narratives around black female bodies.
---
Lily Fei
New York, NY
Instagram: @tired_girl_lily_2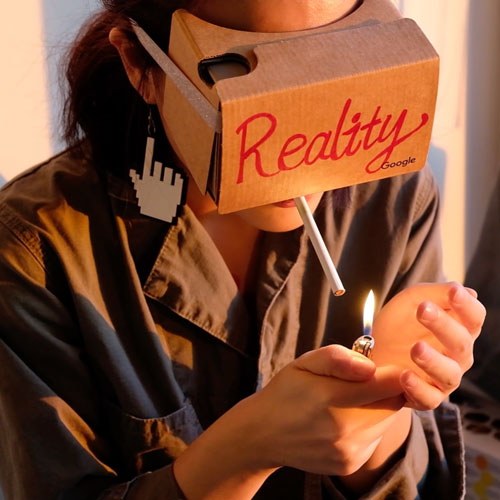 Lily Fei's work crosses disciplines using a variety of materials, ranging from painting to film and technological projects. Fei's work explores and pushes the ambiguous borders between control and freedom, privacy and security, dominance and disruption. Her interdisciplinary practice navigates the internet in an age of technological domination, as well as using post-feminist discourse on embracing sexuality as one's own right. Through her work, Fei explores these topics and weaves an intricate connection between the two, creating a new dialogue.
---
Alannah Sears
Bronx, NY
Instagram: @thebettersears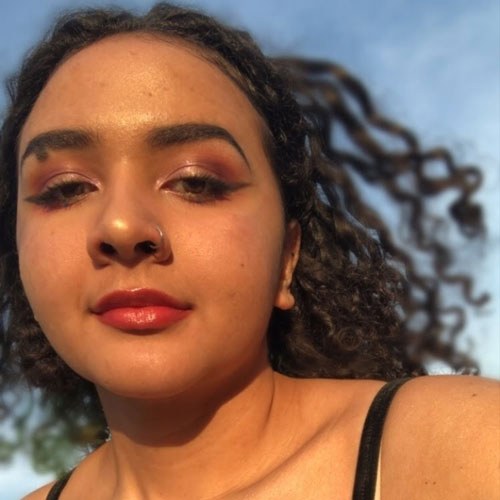 Alannah Sears is an artist from New York, NY, who explores her ambiguous and evolving identity with images surrounding and refracting off family, herself, culture, and the dichotomy of her evolving environments. She works intuitively with various mixtures of images, colors, patterns, and textures to create an environment or assortments of characters, where they can be warped into other planes of existence that reflects upon the inner workings of her psyche. Recently graduating from SUNY Purchase, she has found a new love for experimenting and pushing her problem-solving skills to discover new imagery and expand her perception of beauty, order, perspective, and community.
---
Mahnoor Sheikh
Brooklyn, NY
Instagram: @disillusionedartmakingpal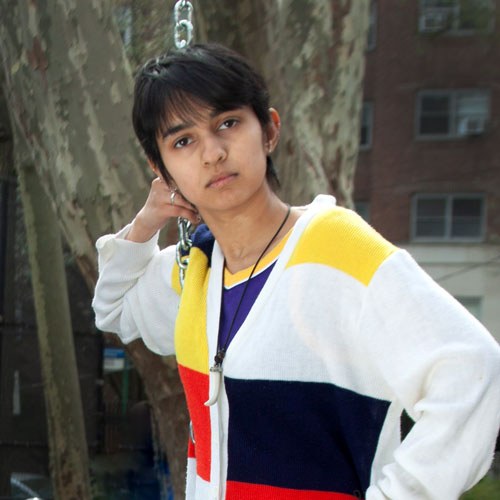 Mahnoor Sheikh is an artist/designer of Pakistani descent who was born and raised in Brooklyn, NY. Mahnoor uses art as a therapeutic tool and as a platform for social commentary. Mahnoor pursued art education through extra-curricular classes at NYU Steinhardt, Brooklyn Museum, Cooper Union, and Pratt, and has been recognized with The School Art League's Haney Medal and Alexander Medal, along with a medal for achievement in the field of art from the artist's high school.
---
Duneska Suannette
New York, NY
duneskasuannette.wixsite.com/website
Instagram: @duneskasuannette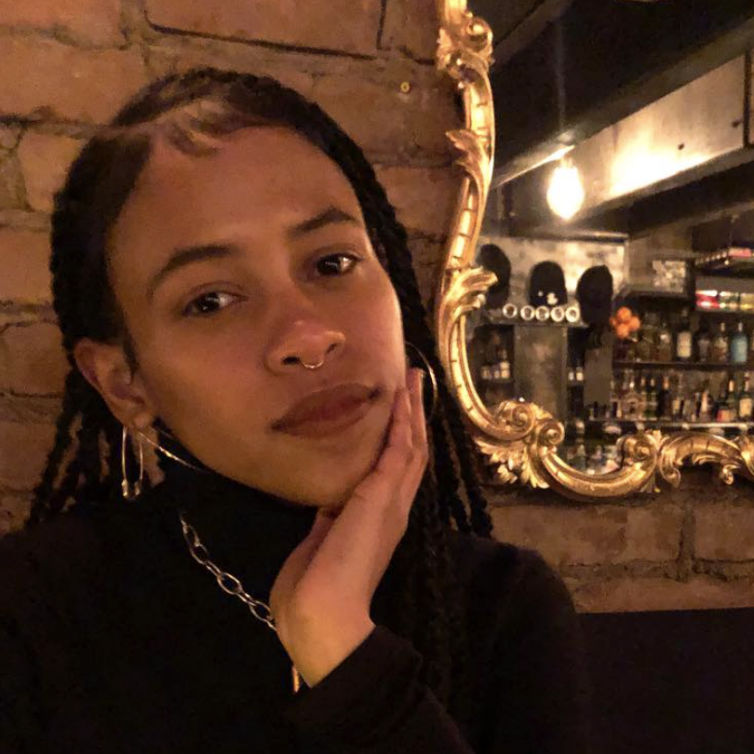 Duneska Suannette is an artist-educator, curator, and public programmer who has worked for various galleries and cultural institutions including NURTUREArt, the Children's Museum of the Arts, No Longer Empty, and the Museum of Arts and Design. In her artistic practice, Suannette dissects the notion of "home" in relationship to an individual's identity. Through her programming, she aims to create spaces that serve as a safe haven for students and community members alike.
---
Gabrielle Vazquez
Brooklyn, NY
Instagram: @gabbygvazquez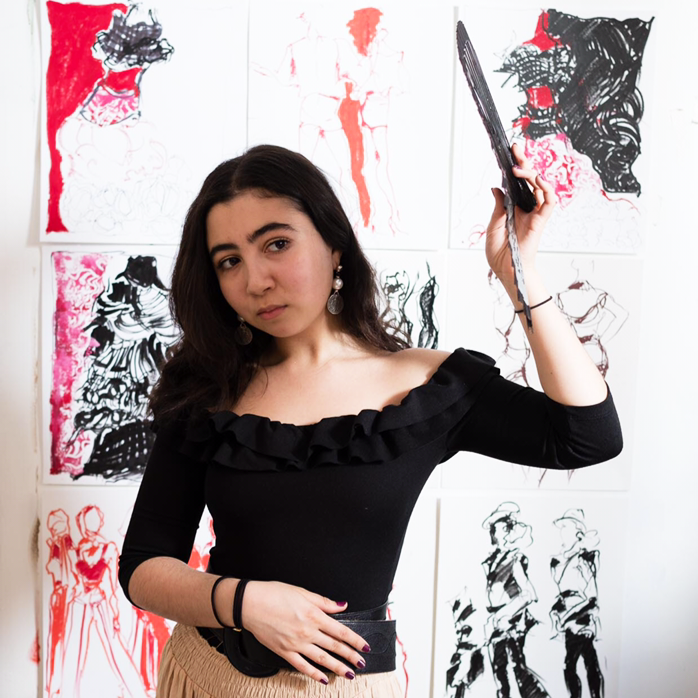 Gabrielle Vazquez is a Brooklyn based multi-media artist of Puerto Rican and Dominican descent who uses fashion as a medium for fine art, with a focus on language and colonial structures in the Americas. She is a senior at Parsons School of Design, where she is in the process of developing her thesis project on Taíno iconography and language. Using textiles as a political tool, Vazquez aims to challenge the narrative of indigenous extinction, often through highlighting memory attached to materiality. By engaging in projects related to cultural reclamation and identity, Vazquez investigates the consequences of systemic erasure, how we can question our language and existing institutions to invoke necessary change, and methods of elevating silenced voices.
---
Audreamia Wardlow
Bronx, NY
Instagram: @audr3amia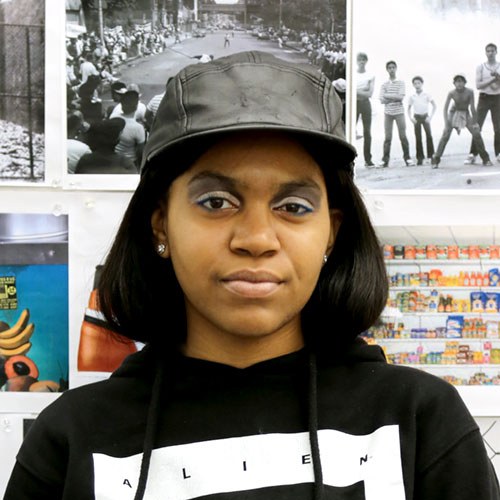 Audreamia Wardlow is a mixed-media artist born in Washington Heights and raised in the Bronx. Her passion for turning ideas into physical form began at the tender age of six. Since then, she has dedicated her career to creating experiences while also exposing alternate ways of thinking, opening eyes, and unifying minds. Her work has been cultivated and supported by the Joan Mitchell Foundation, International Studio & Curatorial Program, Dieu Donné, and the Lower East Side Printshop. She has participated in group shows at Taller Boricua Gallery, the Joan Mitchell Foundation, and the Living Gallery, and was a 2017 Young Artist-in-Residence at the Joan Mitchell Center in New Orleans. Audreamia studied at Temple University and the Tyler School of Art and currently teaches art at the Jacob A. Riis Neighborhood Community Center in Queensbridge Housing.
---
See other Journal entries filed under: