Video of "New York School Painters & Poets: Neon in Daylight" Conversation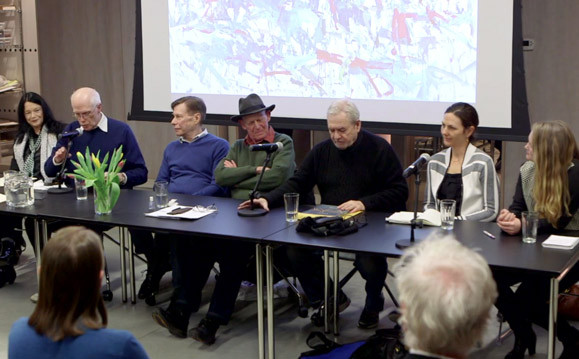 On the occasion of Joan Mitchell's birthday and the recently published volume New York School Painters & Poets: Neon in Daylight, the Joan Mitchell Foundation and Rizzoli Publications hosted a conversation with Bill Berkson, Larry Fagin, Ron Padgett, Allison Power, Jenni Quilter, Carter Ratcliff and Anne Waldman at the Joan Mitchell Foundation Education & Research Center on February 12, 2015.
We're pleased to share video documentation of the evening, available for all to enjoy below.

Video by Craig Feldman, DP

About the panelists:
Bill Berkson is a poet, critic, and professor emeritus at the San Francisco Art Institute. His latest book of poems is Expect Delays (Coffee House Press, 2014).
Larry Fagin edits Adventures in Poetry books and Sal Mimeo, a literary magazine. His publications include Dig & Delve and Complete Fragments, a collection of prose poems.
Ron Padgett is a poet, essayist, fiction writer, translator, and teacher. He is the author of over twenty collections of poetry and numerous collections of prose.
Allison Power, poet and editor at Rizzoli Publications, is the editor of New York School Painters and Poets: Neon in Daylight.
Jenni Quilter is an academic and non-fiction writer who teaches at New York University.
Carter Ratcliff's books on art include Out of the Box: The Reinvention of Art, 1965–1975 and Andy Warhol: Portraits.
Anne Waldman is a poet and teacher. Since the 1960s, she has been an active member of the Outrider experimental poetry community as a writer, performer, collaborator, professor, editor, scholar, and cultural/political activist.
See other Journal entries filed under: