"Mitchell / Riopelle" at Musée national des beaux-arts du Québec
Mitchell / Riopelle: Nothing in Moderation
Musée national des beaux-arts du Québec
October 12, 2017 - January 7, 2018
More info and tickets
The summer of 1955 witnessed the memorable encounter between two key figures of abstract painting in the second half of the 20th century: Joan Mitchell (Chicago, 1925 - Paris, 1992) and Jean Paul Riopelle(Montréal, 1923 - L'Isle-aux-Grues, 2002). Joan Mitchell was a rising star in the abstract expressionist movement in New York. Jean Paul Riopelle had achieved fame both in Europe and North America as a major practitioner of abstract art. An initially intense and increasingly tumultuous romantic relationship ensued for nearly 25 years (1955-1979).
Organized in partnership with the Art Gallery of Ontario (AGO), supported by the Estate of Jean Paul Riopelle in Montréal and the Joan Mitchell Foundation in New York, Mitchell / Riopelle brings together for the first time nearly 60 works from French, Canadian, and American private and museum collections. The exhibition explores how each of the two artists, who shared their lives for nearly 25 years, in Paris, then in Vétheuil in the Seine valley, developed their own distinctive body of work while sustaining a shared dialogue on abstraction.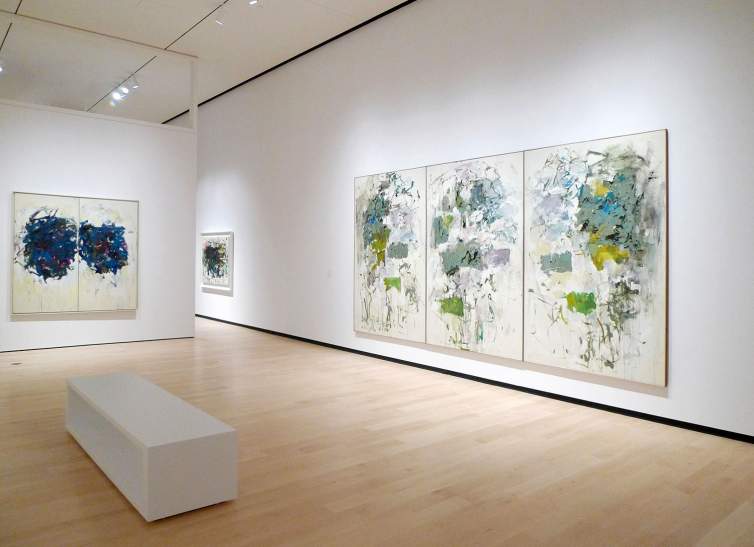 Installation view of Mitchell / Riopelle at Musée national des beaux-arts du Québec.
Download the press release from Musée national des beaux-arts du Québec:
See other Journal entries filed under: