Mitchell Paintings Bloom in Spring Shows Worldwide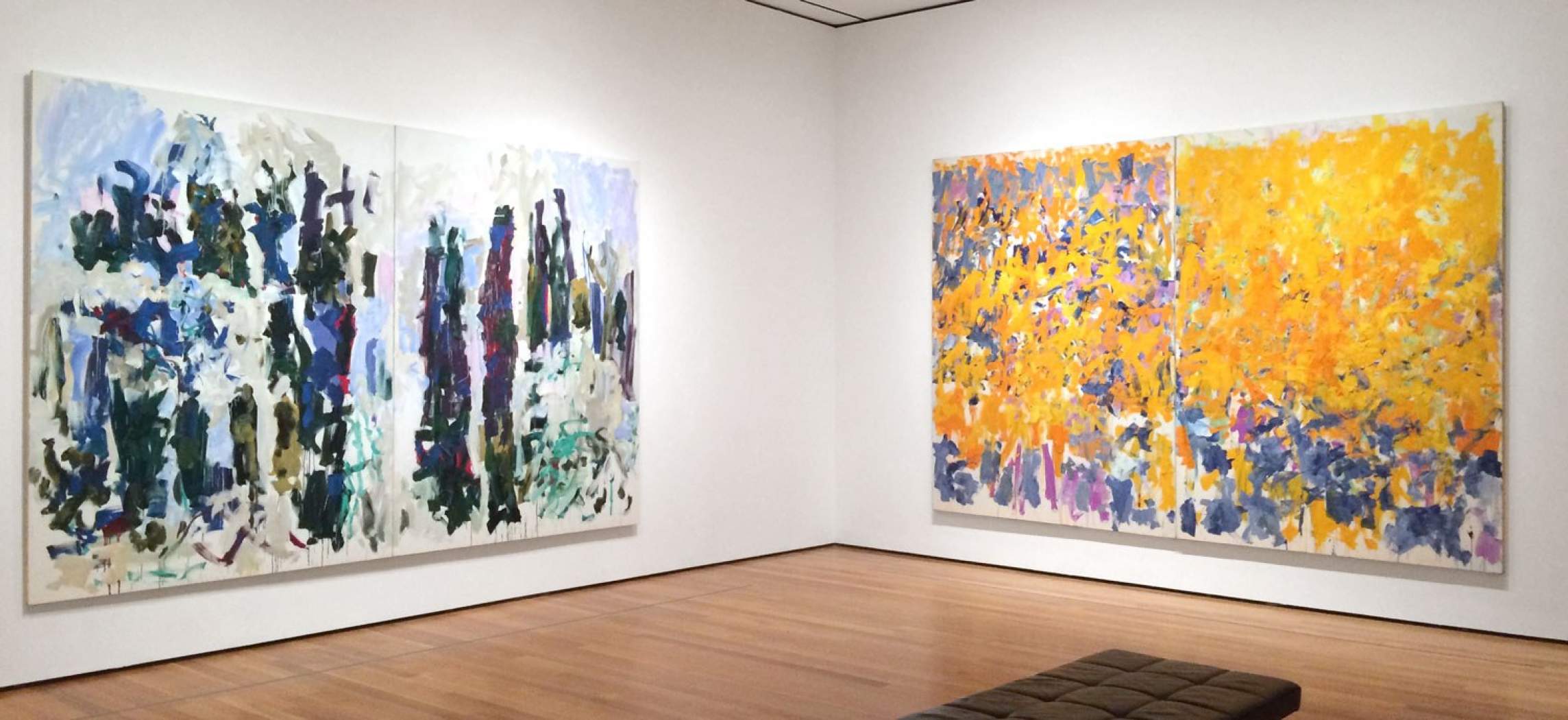 This spring and summer, Joan Mitchell's work is on view in group exhibitions in the US, England, France, and Japan.
For New York locals or anyone visiting the Big Apple, now is a great time to see Mitchell's works in the collection of The Museum of Modern Art. MoMA recently reinstalled their fourth-floor permanent collection galleries and are now displaying a full room of Mitchells, including three large paintings and several smaller works. Curators describe the temporary re-installation of this floor, titled The Long Run, as an attempt to provide more context for the development of each artists' work over time, rather than just showcasing one signature work.
Joan Mitchell, No Rain, 1976. Oil on canvas, 110 x 158 in (279.4 x 401.32 cm). Collection Museum of Modern Art (MoMA), © Estate Joan Mitchell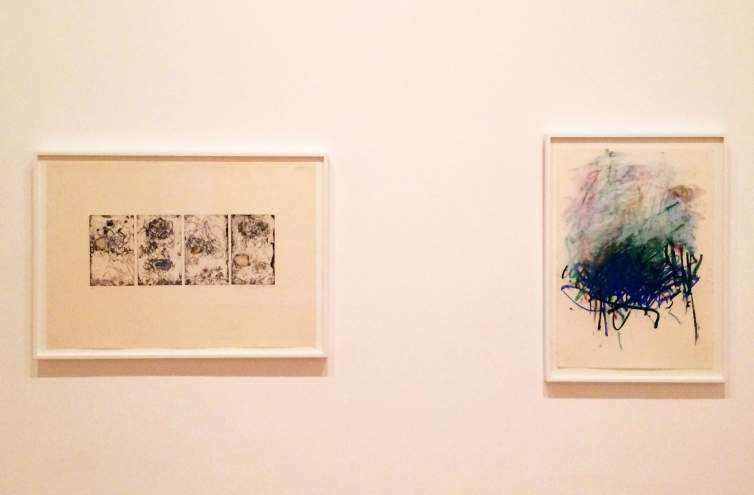 Left: Joan Mitchell, Sunflower IV, 1972. Etching and aquatint, 24 13/16 x 35 ¾ in (63 x 90.8 cm). Collection Museum of Modern Art (MoMA), © Estate of Joan Mitchell. Right: Joan Mitchell, Untitled, 1992. Pastel on paper, 29 ½ x 21 ¾ in (74.93 x 55.25 cm. Collection Museum of Modern Art (MoMA), © Estate of Joan Mitchell. Above images and top banner image are all Joan Mitchell works on display in The Long Run, The Museum of Modern Art, New York.
Ann Tempkin, MoMA's Chief Curator of Painting and Sculpture, explained:
In the collection galleries, the work generally on view is that made at the artist's moment of breakthrough or soon thereafter... We're calling this exhibition The Long Run. The vibrancy of these artworks refutes the notion that creativity diminishes with age. They champion the reality that great artists never stop exploring and taking risks. They also attest to the mysterious and beautiful fact that what may appear to be repetition is nothing of the kind: to face what will be one's next work of art is always an encounter with the new.
The Long Run will be on view through November 4.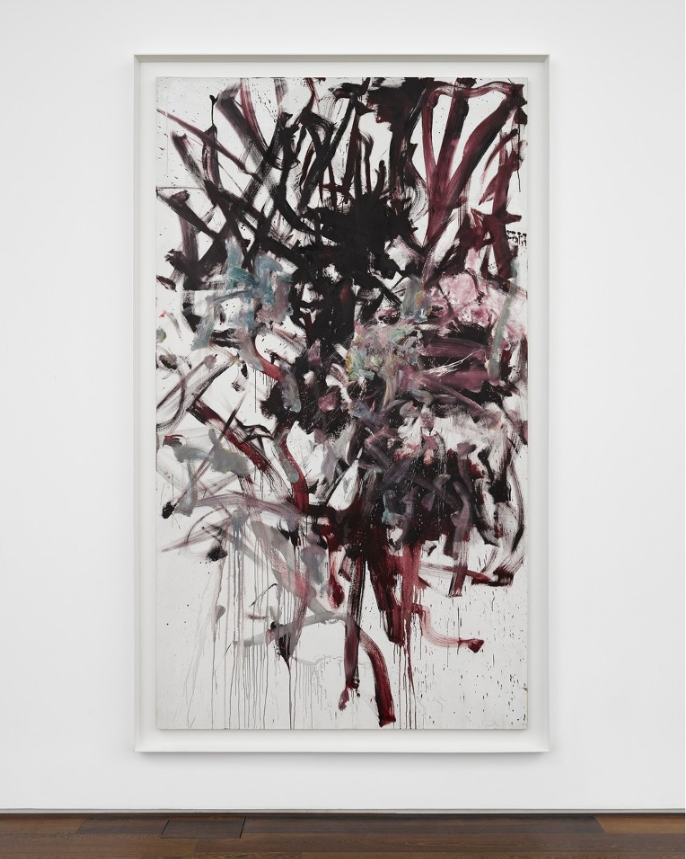 Joan Mitchell, Red Tree, 1976. 110 3/8 x 63 in (280.4 x 160 cm). © Estate of Joan Mitchell.
Across the pond, Mitchell's work is included in Surface Work at Victoria Miro, on view through June 16. Spread over three sites throughout London, Surface Work is an international, cross-generational exhibition of women artists who have shaped and transformed, and continue to influence and expand, the language of abstract painting. The exhibition title references a quote from Joan Mitchell, who stated: "Abstract is not a style, I simply want to make a surface work."


Joan Mitchell, The Good-bye Door, 1980. Quadriptych. Oil on canvas, 110 ¼ x 283 ½ in (280.035 x 720.09 cm) . Musée national d'Art moderne, Centre Georges Pompidou. Purchased in 1980, on long term loan to the Musée de l'Orangerie, 2017. © Bertrand Prévost - Centre Pompidou, MNAM-CCI /Dist. RMN-GP © Estate of Joan Mitchell.
Two group exhibitions featuring Mitchell paintings recently opened in France. In Paris, you can see her work at Musée de l'Orangerie in the group exhibition Nymphéas. L'abstraction new-yorkaise et le dernier Monet / The Water Lilies. The Abstract Art of New York and the last Monet, on view through August 20. This exhibition examines the work of New York School artists who were active in the mid-1950s, when Alfred Barr brought one of Monet's large panels of Water Lilies into the collection of the Museum of Modern Art in New York. The exhibition's curator notes that Monet was presented at that time as "a bridge between the naturalism of early Impressionism and the highly developed school of Abstract Art" in New York. In addition to several paintings in this exhibition, Mitchell's quadryptic The Goodbye Door is also on view at Musée de l'Orangerie, a loan from the Centre Pompidou. A review of the exhibition in the Financial Times describes the visual impact of the piece:
From the Orangerie's main staircase you sense a rush of air and opening-up of space as free, darting, slapped-on brushstrokes in purple, cobalt and leaf green come into view, cohering eventually into rhythmic patterns on an expansive white ground, luminous as natural light. This is Joan Mitchell's seven-metre polyptych The Goodbye Door, an iridescent, assured abstraction of ripeness and bloom. At once luxuriantly unfolding, and suggesting the first glance of a garden seen from a door left ajar, the composition has intense visual echoes of Monet's water lily paintings: ecstatic, gestural and also elegiac.
Mitchell painted it in 1980 in Vétheuil on the Seine, in her house with a view of Monet's former home there. The work marked the end of her relationship with painter Jean-Paul Riopelle, and declared her love of nature (rather than people): "I like trees because a tree is not a person. When I talk about love, I don't mean loving a boyfriend. I mean loving a tree." The title also implied a farewell to America. "French artists have a sense of beauty—a sense of colour—that isn't allowed in New York," she said. "To me, painting is French."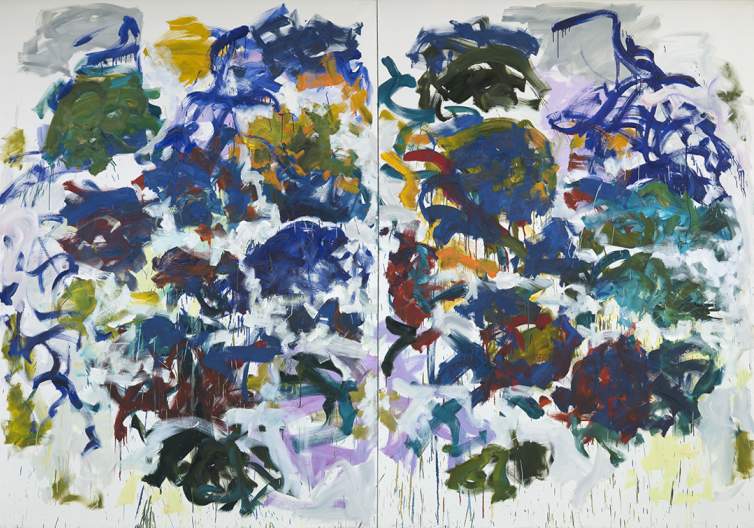 Joan Mitchell, Sunflowers, 1990-1991. Oil on canvas, 110 1/4 x 157 1/2 in (280.035 x 400.05 cm). Private collection. © Estate of Joan Mitchell.
In Arles, France, the Fondation Vincent van Gogh Arles recently opened Soleil Chaud, Soleil Tardif. Les modernes indomptés / Hot Sun, Late Sun: Untamed Modernism, on view through October 28. This thematic exhibition exploring the use of the sun as a subject and metaphor in modern art includes two Mitchell paintings from private collections and five etchings on loan from the Fondation Maeght, along with work by Adolphe Monticelli, Vincent van Gogh, Pablo Picasso, Sigmar Polke, Giorgio De Chirico, Germaine Richier, Alexander Calder, Etel Adnan, and Sun Ra.
And lastly, in Japan, Nagoya City Art Museum recently opened the group exhibition Monet's Legacy, on view through July 1. The show, which includes two Mitchell paintings, looks at the depth and the breadth of Monet's works examined in comparison to other modern art. The exhibition moves to the Yokohama Museum of Art from July 14 – September 24.
See other Journal entries filed under: