Joan Mitchell: The Last Decade Opens at Butler Art Museum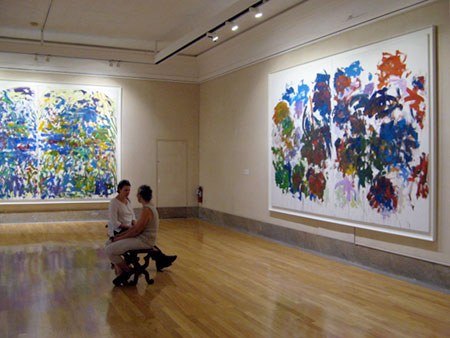 Offical Press Release from Butler Art Musuem below, download PDF here.
YOUNGSTOWN'S BUTLER ART MUSEUM PRESENTS LAST WORKS BY MASTER PAINTER
JOAN MITCHELL EXHIBITION OFFERS EDUCATIONAL PROGRAMS AND EVENTS
For Immediate Release:

(Youngstown, Ohio) The Butler Institute of American Art, located at 524 Wick Avenue in Youngstown, will present works by famed American Abstract Expressionist painter Joan Mitchell beginning June 10 and continuing through August 5, 2012. This premier exhibition, titled Joan Mitchell (1925-92): The Last Decade, will be seen within the Butler's Beeghly Schaff and Ford Galleries, located on the main level of the museum. This works in this exhibition include oils on canvas and limited editioned lithographs. All the works are from the collection of the Joan Mitchell Foundation, courtesy of Cheim & Read Gallery (both located in New York City).
According to Butler Director Dr. Louis Zona, "The Butler Institute, our country's first museum of American art, is honored to present the final works of legendary painter Joan Mitchell. It is appropriate that these fourteen works by a American genius of abstraction will be exhibited among paintings by her contemporaries of the twentieth century. Energetic, bursting with color and emotion, these large works are among the most impressive of Joan Mitchell's vast output of artistic expression."
Stephen Holden of the New York Times wrote of Joan Mitchell, "[Her]. . . canvases have a grand chaotic romanticism. While celebrating the physical universe with an ecstatic love of color, they don't shy away from expressing a harsh, feral apprehension of nature and its violence."
Joan Mitchell was born in Chicago in 1925. After graduating from the School of the Art Institute of Chicago in 1947, she was awarded a James Nelson Raymond Foreign Traveling Fellowship, which took her to France in 1948. There her paintings moved toward abstraction. Returning to New York in 1949, Mitchell later participated in the famous "Ninth Street Show" (1951), and established a reputation as one of the leading younger American Abstract Expressionist painters. Throughout the next forty years, she regularly exhibited in New York, maintaining close friendships with many New York School painters and poets. In 1955, Mitchell began dividing her time between New York and France, and in 1968 she settled in Vétheuil, a small town in the countryside outside of Paris. There she worked continuously until her death in 1992.

During the almost 50 years of her painting life, Mitchell's commitment to gestural abstraction remained firm and uncompromising. Mitchell gave personal support to many young artists who came to stay with her at Vétheuil. This generosity often had a life-changing impact on those artists who spent time with her. Mitchell's generosity continued after her death with the formation of the Joan Mitchell Foundation, which supports and recognizes the work of individual artists.

In addition, the Foundation mission includes the promotion and preservation of her legacy, which includes her remarkable body of work, her papers, including correspondence and photographs, and other archival materials related to her life and work.
A number of special programs and events will highlight this very special exhibition. A selection of activities are:
• Sunday, June 10, from 1-3 pm, there will be an opening event for the exhibition;

• Sunday, June 17, at 2 pm, Butler Director Dr. Louis Zona will present a free art talk, "Joan Mitchell in Historical Context," in the museum's Beecher Center auditorium;

• Groups may call to schedule a tour by Butler docent volunteers who will guide visitors through the Joan Mitchell exhibits (330.743.1107, ext. 115);
• Those who wish to experience this exhibition with youngsters may call 330.743.3630 to register for Free Family Day programs, set for July 13 (grades 1 & 2), July 20 (grades 3 & 4), and July 27 (grades 5-8);
• Free docent tours of this or other Butler exhibitions, may be scheduled by calling 330.743.1107, ext. 115. Summer Camps, bus tours and groups of all ages are encouraged to call.
The Butler Institute of American Art is the first structure built to house a collection of works by this nation's
visual artists. Founded in 1919, the Butler has become known as "America's Museum."
For further information, contact Kathryn Earnhart, [email protected] or call 330.743.1107, ext. 123.

See other Journal entries filed under: