Announcing 2015 Recipients of Painters & Sculptors Grants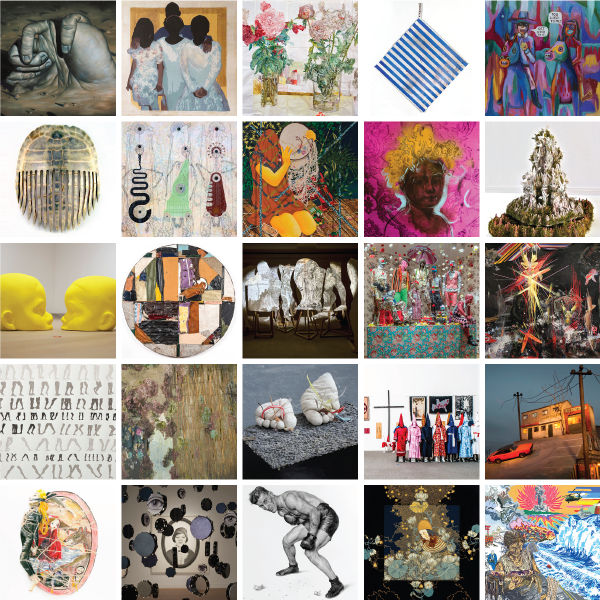 New York, NY - The Joan Mitchell Foundation is pleased to announce the twenty-five recipients of the 2015 Painters & Sculptors Grant Program in the amount of $25,000 each.
Seth Alverson, Houston, TX
Tyanna Buie, Detroit, MI
Dawn Clements, Brooklyn, NY
Elena del Rivero, New York, NY
Jim Denomie, Franconia, MN
Celia Eberle, Ennis, TX
Carlos Estevez, Miami, FL
Amir H. Fallah, Los Angeles, CA
Scherezade Garcia, Brooklyn, NY
Heidi Lau, New York, NY
Faheem Majeed, Chicago, IL
Charles McGill, Peekskill, NY
Stas Orlovski, Los Angeles, CA
Ebony G. Patterson, Lexington, KY
James Perrin, Nashville, TN
Amy Pleasant, Birmingham, AL
Lina Puerta, New York, NY
Nathaniel Robinson, Brewster, NY
Paul Rucker, Baltimore, MD and Seattle, WA
Tracey Snelling, Oakland, CA
Claire Stigliani, New York, NY & Knoxville, TN
Lava Thomas, Berkeley, CA
Vincent Valdez, San Antonio, TX
Stephanie Wilde, Boise, ID
Jave Yoshimoto, Omaha, NE
The Painters & Sculptors Grant Program was established in 1993 to acknowledge painters and sculptors creating work of exceptional quality through unrestricted career support. The first year of grants was awarded in 1994 and the Foundation has funded individual artists annually since that time.
Nominators from across the country are invited to recommend artists whom they feel deserve more recognition for their creative achievements and whose practice would significantly benefit from the grant. The candidates' images were viewed for consideration through an anonymous process by a jury panel that convened this fall at the office of the Joan Mitchell Foundation. Nominators and jurors include prominent visual artists, curators, and arts administrators.
Established in 1993, the Joan Mitchell Foundation is an artist-endowed non-profit organization. The Foundation celebrates the legacy of Joan Mitchell and expands her vision to support the aspirations and development of diverse contemporary artists. We work to broaden the recognition of artists and their essential contributions to communities and society.
In addition to the Painters & Sculptors Grant Program, other programs undertaken by the Foundation include the Emerging Artist Grant Program, free art education programming for New York City youth and young adults, grants to arts organizations, the Creating a Living Legacy (CALL) program that supports mature artists in the areas of studio organization, archiving and inventory management, as well as grants to artists and arts communities in need of emergency support after a disaster. The Joan Mitchell Center in New Orleans is an artist residency center that hosts national and local artists, and provides public programming that serves the broader community of New Orleans.
For more information on the Joan Mitchell Foundation and its recipients, please visit our website at joanmitchellfoundation.org.
Contact:
Allison Hawkins
Grants Program Director
212-524-0100
See other Journal entries filed under: