Joan Mitchell Foundation Announces 2015 Emerging Artist Grant Program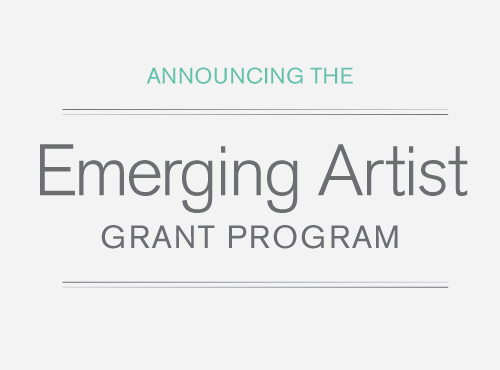 The Joan Mitchell Foundation is excited to announce the Emerging Artist Grant Program, a new initiative designed to assist emerging visual artists across the United States. This pilot program will award a diverse group of ten artists with an unrestricted grant of $12,000 per artist in addition to professional support throughout the year.

The Foundation seeks to award visual artists who demonstrate excellence in their work, a commitment to their careers and artistic communities, and a willingness to engage in the varied support provided by this program. Recipients will have the opportunity to build relationships with one another, the Foundation, and an expansive community of arts professionals. The combination of funding and supplemental programming is intended to further recipients' artistic practice, encourage career sustainability, and best equip them to make their own artistic choices and forge a unique career path.

A primary purpose of this program is to provide artists with access to opportunities that can effect positive change in their lives and, in turn, the field at large. Historically the Foundation has supported emerging artists through our MFA Grant Program; this program was suspended in 2013. As an organization that values cultural equity, we hope through this new initiative to benefit a population of artists beyond just the sphere of higher education, a system that can suffer from homogeneity and a lack of equity. We will thoughtfully engage a broad group of emerging artists and prioritize diversity in all areas, including artistic practice, geographic location, gender, age, background, socio-economic level, sexual orientation, ethnicity, and all levels of educational attainment.

The Foundation defines "emerging" as those early in their artistic careers (regardless of age), who are gaining momentum, and may be at a critical juncture in their career when this support would be the most impactful. These artists demonstrate potential in their practice through risk-taking and pushing their work in dynamic ways, and are not yet considered well established professionally by indicators such as major gallery representation, significant exhibition history, awards and commissions, or sustaining an income derived solely from art sales.

The Foundation will engage nominators nationally to recommend artists and an independent jury panel will select the program finalists. Nominators will include visual artists, curators, and professionals from arts organizations and the academic community. Nominators will be selected by the Foundation and participate anonymously: we cannot accept unsolicited requests or applications.
UPDATE: For expanded thoughts about this grant and our nominator process, please visit our From the Foundation page.

*****
Established in 1993, the Joan Mitchell Foundation is an artist-endowed non-profit organization. The Foundation celebrates the legacy of Joan Mitchell and expands her vision to support the aspirations and development of diverse contemporary artists. We work to broaden the recognition of artists and their essential contributions to communities and society.

For more information on the Joan Mitchell Foundation and its recipients, please visit our website at joanmitchellfoundation.org.

Contact: Allison Hawkins, Grants Program Director, [email protected]
See other Journal entries filed under: