Joan Mitchell Center Launches Artist-in-Residence Program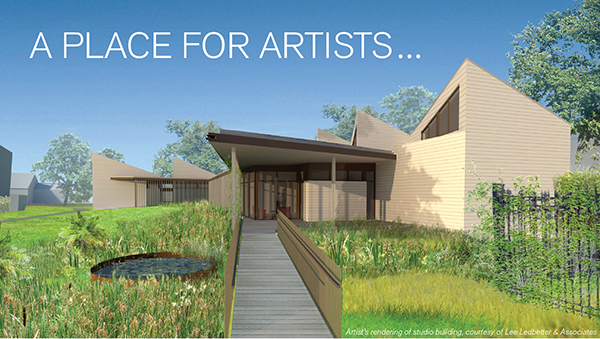 The Joan Mitchell Center, a program of the Joan Mitchell Foundation, is excited to announce the launch of its Artist-in-Residence (AIR) program. The inaugural group of artists-in-residence includes twenty-one artists selected from throughout the United States. Residencies will begin this fall at the Joan Mitchell Center's newly-designed campus in New Orleans including LEED Certified Silver studio and living spaces in the heart of the city's historic center. This announcement comes after the launch of Joan Mitchell Foundation's Emerging Artist Grant Program earlier this year and continues the Foundation's history of supporting living artists through granting and professional development.
"The Joan Mitchell Foundation is committed to honoring Joan Mitchell's legacy of supporting artists," says Christa Blatchford, Chief Executive Officer of the Joan Mitchell Foundation. "The Joan Mitchell Center's Artist-in-Residence program allows us to deepen this support by offering artists both time and space to create work, as well as opportunities for visiting artists to engage with the local arts community and experience the rich cultural possibilities of New Orleans."
The Joan Mitchell Center will host 76 artists-in-residence during the fall, spring, and summer sessions of 2015-2016. The AIR program consists of residencies lasting one to five months, with special tracks for community-engaged practices and New Orleans-based artists. In 2013, the Center ran a pilot session of the residency program with twenty-four nationally recognized visual artists from the Foundation's recipient pool. Later that year, the Center piloted a local emerging studio program which included ten artists from the New Orleans community, culminating with "Convergence: [email protected]", a Prospect New Orleans satellite exhibition curated by Deborah Willis, Ph.D. These two pilot sessions laid the groundwork for the Artist-in-Residence program, establishing the framework and best practices for the residencies.
"We're thrilled to see our many years of work here in New Orleans come to fruition with our inaugural Artist-in-Residence class," says Gia Hamilton, Director of the Joan Mitchell Center. "Our studio spaces will allow artists from New Orleans and around the world to be truly inspired and bring their unique artistic expressions to life. Creating such a place to spark and fuel creativity is exciting; we can't wait to see what's to come."
Located in the historic Faubourg Tremé neighborhood, the Joan Mitchell Center campus was purchased by the Joan Mitchell Foundation in 2010. Office of Jonathan Tate led the extensive renovation of the historic buildings on campus and Lee Ledbetter & Associates designed the new 8,000 sq. ft. studio building. The LEED Certified Silver building includes ten studio spaces ranging from 350-800 sq. ft., a common area, and a media lab. A second building comprised of three separate structures is home to eight private artist living spaces centered on a common room, library, and deck. The main house, built in the 1790's, contains the Joan Mitchell Center administrative offices and two additional guest rooms used for short term lodging for curators, critics and arts professionals. The "Indigo" building at the front of the campus has served many purposes over the years—a bar, cooking school facility, Caribbean club, and more— and is now used as a facility for public programming and community partner programs.
"The Joan Mitchell Center allows us to strengthen our commitment both to artists and New Orleans," says Alejandro Anreus, Ph.D., President of the Board of The Joan Mitchell Foundation. "We believe the Center will have a lot to offer artists; these wonderful new facilities are located in such a culturally-rich part of the community that will inspire our artists in many ways."
Fall 2015 Inaugural Joan Mitchell Center Artists-in-Residence:
Artists-in-Residence:
Blane De St. Croix sculptor | Brooklyn, NY
Glexis Novoa painter | Miami, FL
Helen O'Leary painter | Brooklyn, NY
James Biederman painter | Long Island City, NY
Julie Green painter | Corvallis, OR
Lauren Adams painter | Baltimore, MD
Lavar Munroe painter | Germantown, MD
Lehna Huie painter | Brooklyn, NY
Lisa Segal painter | Brooklyn, NY
Maia Cruz Palileo painter | Brooklyn, NY
Pam Cardwell painter | Brooklyn, NY
Philemona Williamson painter | Montclair, NJ
Robert Hodge painter | Houston, TX
Roy Staab sculptor & installation artist | West Allis, WI
Shoshanna Weinberger painter | Newark, NJ
Vandana Jain sculptor | Brooklyn, NY
Xenobia Bailey sculptor | New York, NY
Community Engaged Artist-in-Residence: This program assists artists in developing relationships with a variety of communities and fosters direct, reciprocal relationships between resident artists and local community members and organizations.
Heather Hart sculptor | Brooklyn, NY
Emerging Artists-in-Residence: Intended as a transformative opportunity for New Orleans artists without adequate studio space, this program provides New Orleans-based artists dedicated studios for five months in concert with robust professional development support. Members of local community organizations nominate artists for this residency. Artists are selected through a review process with an outside panel of jurors.
Cecelia Givens painter | New Orleans, LA
Miro Hoffman painter | New Orleans, LA
Paul Wright painter | New Orleans, LA
ABOUT THE JOAN MITCHELL CENTER & JOAN MITCHELL FOUNDATION
The Joan Mitchell Center is a program of the Joan Mitchell Foundation, which celebrates the legacy of the artist Joan Mitchell and expands her vision to support the aspirations and development of diverse contemporary artists. The Foundation works to broaden the recognition of artists and their essential contributions to communities and society. In turn, the Joan Mitchell Center's mission is to support local, national, and international contemporary visual artists through residencies and professional development. The Center aspires to be a place for creation, innovation and transformation; supporting values of community, diversity and social equity; providing a forum for artists and a welcoming, inclusive gathering place for the arts and the broader community of New Orleans.
Historically, the Foundation has been committed to supporting visual artists through grants, resources and opportunities. Starting in 1994 with its first Painters and Sculptor's grants, the Foundation has continued to support artists most recently with the launch this year of its new Emerging Artist Grant Program.
ABOUT JOAN MITCHELL
Joan Mitchell (1925-1992) was born in Chicago and earned a BFA from the Art Institute of Chicago in 1947. In the early 1950s, she participated in the vibrant downtown New York art scene; during this time, she began to paint in a style that became known as Abstract Expressionism. In 1955, she moved to Paris, France, and later moved from the city to a small town called Vétheuil, where she had more space to paint and was surrounded by nature.
"My paintings repeat a feeling about Lake Michigan, or water, or fields...it's more like a poem...and that's what I want to paint." – Joan Mitchell
The myriad things that comprised and moved within Mitchell's world - water, sky, trees, flowers, weather, dogs - created images and memories from which she worked. She observed her landscape intensely, and her acute visual observations of form, space and color in life are part of the visual memories she drew upon while painting.
Mitchell's paintings, drawings and prints are held in numerous public collections, nationally and internationally.

###

Media Contact:
Emily Reimsnyder or Andrew Freeman
Bond Public Relations & Brand Strategy
[email protected]
[email protected]
504.897.0462
See other Journal entries filed under: