JMF Art Education Student Wins Congressional Art Competition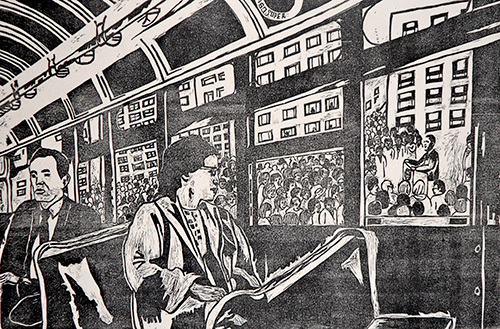 We are extremely proud of our Art Education student Lobsang Tsewang, who has been selected as a winner in the 2013 Congressional Art Competition. His winning artwork, made while a participant in the Joan Mitchell Foundation Art Education Program, will be displayed at the U.S. Capitol for one year. Lobsang is excited for his upcoming trip to Washington DC, where he and his fellow winning students will be honored at an awards ceremony.
Lobsang Tsewang is currently enrolled in jumpstART and has been a participant of Summer Portfolio Intensive and Saturday Studios.

About the Competition, from house.gov: "Each spring, the Congressional Institute sponsors a nationwide high school visual art competition to recognize and encourage artistic talent in the nation and in each congressional district. Since the competition began in 1982, more than 650,000 high school students have participated. Participation in the contest is at the discretion of each Member office. Students submit entries to their representative's office, and panels of district artists select the winning entries. Winners are recognized both in their district and at an annual awards ceremony in Washington, DC. The winning works are displayed for one year at the U.S. Capitol."
See other Journal entries filed under: