In the Studio: Ronny Quevedo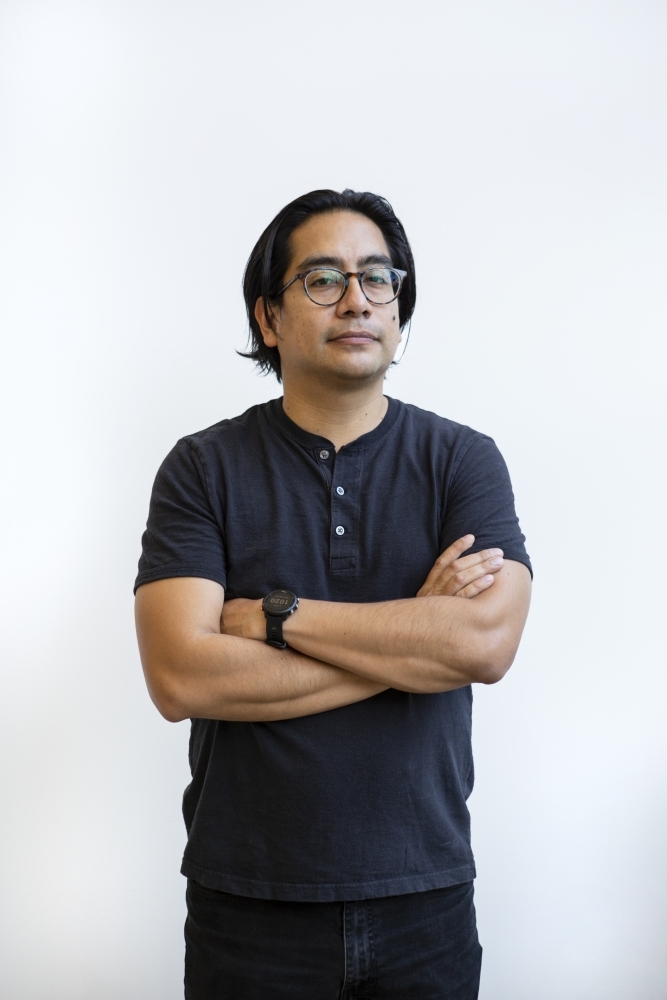 Ronny Quevedo is a New York-based artist and 2021 recipient of the Joan Mitchell Fellowship. We interviewed him about his work and studio processes in May 2022. The following is an edited transcript of that conversation.
---
In my work, I tend to think about spaces that I've been to or spaces that are being re-imagined. They vary, but often stay within the range of playing fields, abstract fields, or drawings of constellations. Topography and cartography are a big part of my work—the way that we map our past and presents, and, in particular, mapping spaces of play. I'm thinking about sports diagrams that operate within the gym, but also games that operate on a pitch or arena and require a bigger amount of physical space to play, like soccer or football.
These fields, or fields that are being re-imagined, tend to run parallel to this notion of movement from one place to another. I'm thinking about home, and thinking about foreign spaces—sites that are in constant negotiation. It's about how we acclimate and how we operate and navigate spaces that are new to us. It's a question about inventiveness and re-imagination.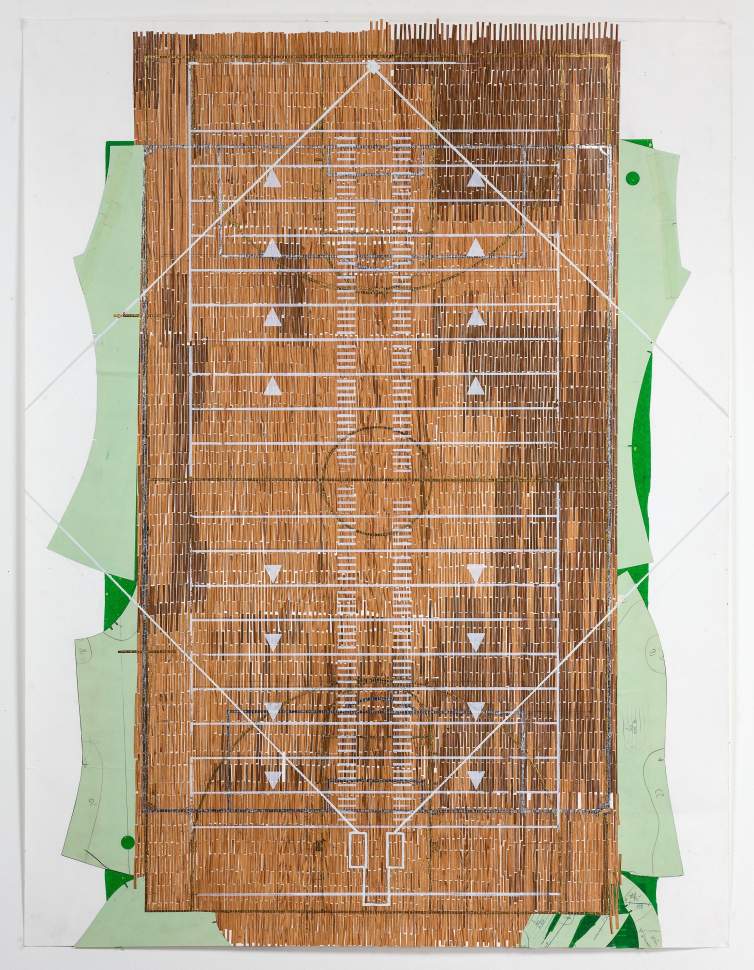 I've concentrated on playing fields—thinking about indoor soccer leagues in particular, as it relates to New York, and the world at large. I've also been exploring space—thinking about constellations and stars. Sometimes, I'm drawing on places that I've been to—that I've played games in, operated in, or grew up in—and in other instances it's almost a collective imagination of what we think the cosmos looks like, or what we imagine outer space to look like. The idea of looking down on a field—the aerial bird's eye view—is really key to me. I think it's probably the best way to bring together a sense of convening; it constructs a space that we can all project ourselves into.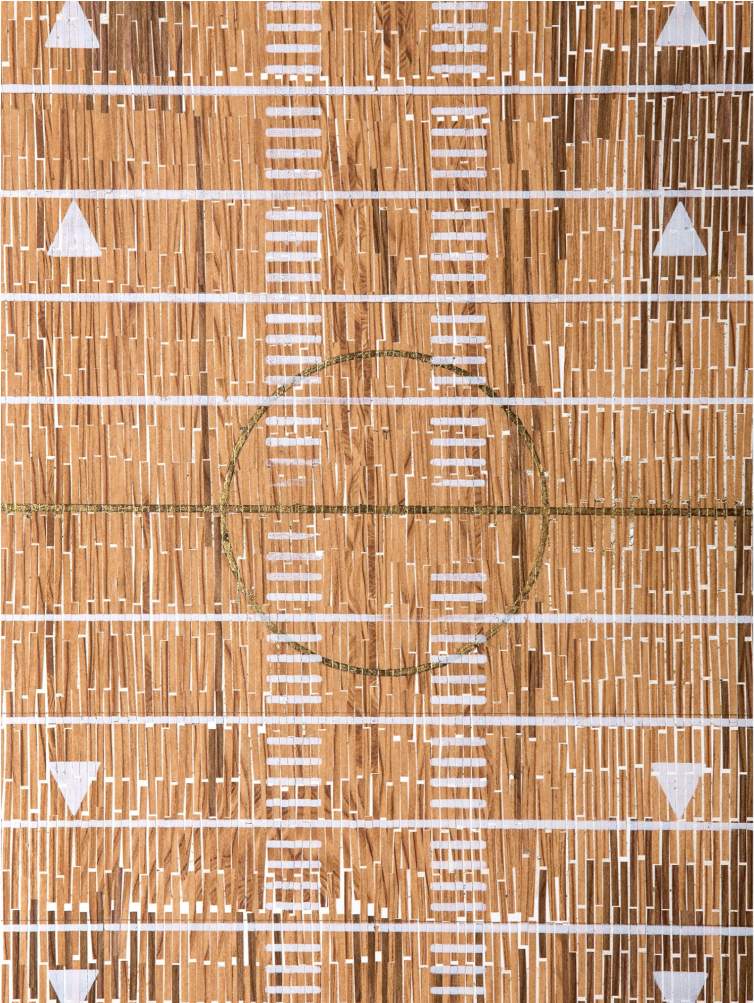 In the past, a lot of my work has been mixed media. I make some of my drawings by cutting sheets of contact paper into strips, scaling down the way one would apply planks of wood to the floor. The drawings, in a way, are schematics for spaces that could exist. The small pieces of contact paper that look like wood veneer are applied one by one onto the surface of a panel or sheet of paper. That kind of fragmentation is also a new visualization of space informed by process.
Another component that I'm incorporating into the work is a transfer process—transferring wax material onto different surfaces. This kind of back and forth forwards the idea of resistance—highlighting what gets transferred and what doesn't from one drawing or from one copy to the next. This method of working greatly informs my new studio work.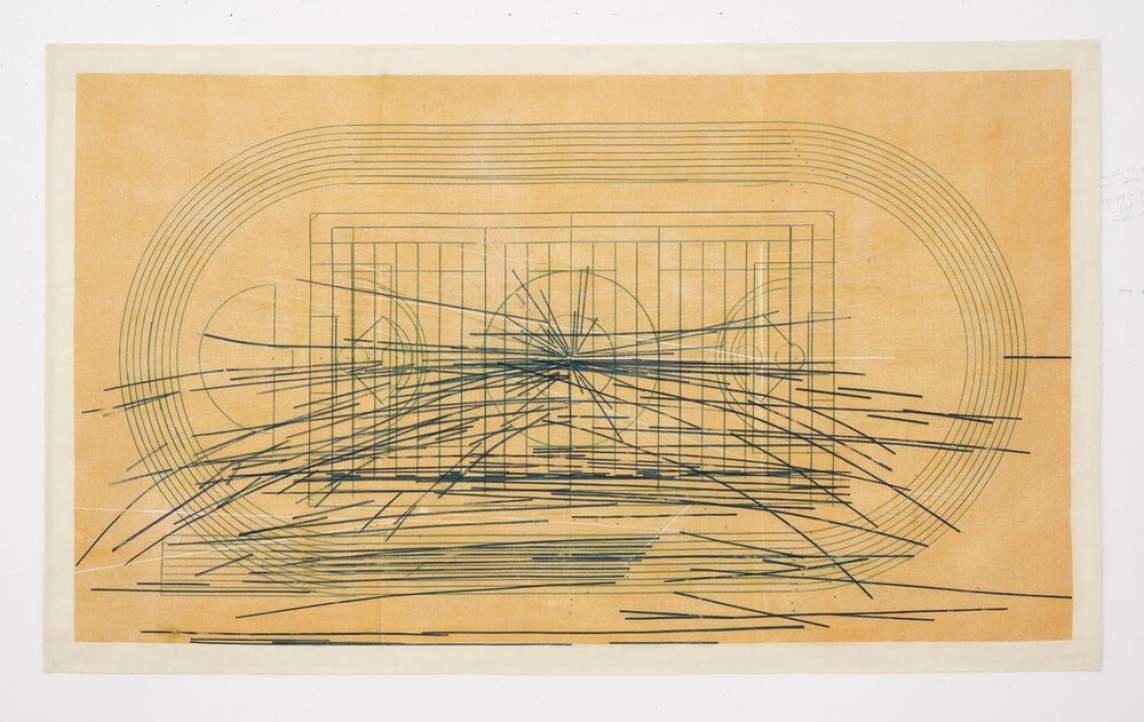 I try to be as conscious as I can about what the materials I choose are supposed to imbibe or represent. Recently, I've begun to focus on using muslin as a material, because it connects to my mom's history as a seamstress. I utilize this preparatory fabric that's used in garmentry for painting. A similar thought process has driven me to incorporate wax paper into my compositions. Wax paper is also used in dress-making, and, through my processes, I'm trying to transform and elevate it into a fine art material—the basis for a painting or a work on paper.
The idea of choosing these materials is to keep in mind the histories of the working class, the history of my parents. My dad is a soccer player, my mom is a seamstress. So I'm keeping, in a way, their legacy, by incorporating these objects and this imagery into my art.
When I'm making the work, I want the material to be front and center—readily apparent. I am hoping that the realization that this is muslin, wax transfer, or garment paper calls to mind a certain kind of labor tied to a particular class. For me, that's really important as a concept, and potentially something that stays with viewers, knowing that this work is meant to represent a history of labor.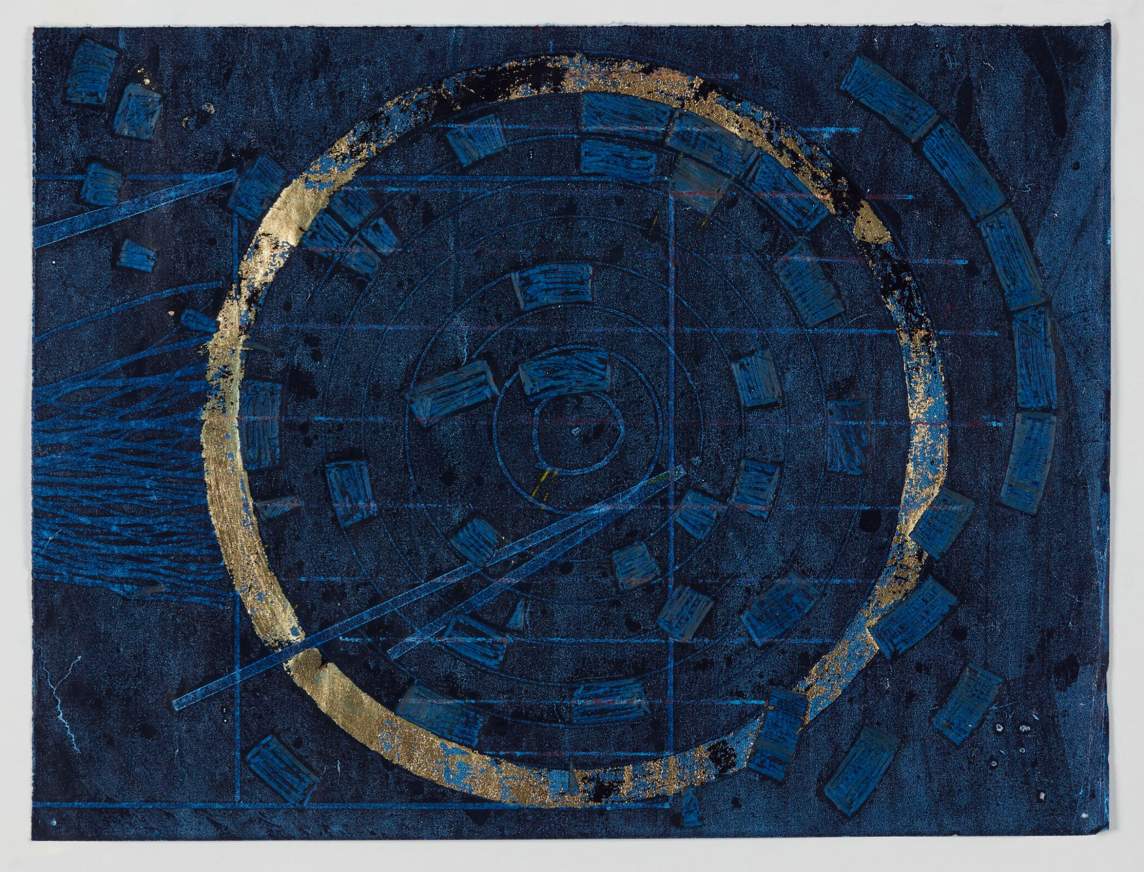 My current body of work takes the globe as a point of departure. I'm thinking about measurements and this notion of neutrality that we all ascribe to, and subscribe to, when thinking about foreign spaces or even foreign land. The work is indicated through latitudinal and longitudinal lines that range in size. These pieces have a lot to do with breaking down a circular grid and thinking about how these lines function in literal and metaphorical ways. At the same time, these compositions are also about how I can transform concepts that I take for granted and turn them into something new and re-imagined.
These works also incorporate pattern paper from garmentry. In relation to this material, I'm thinking about the body—notions of identity that are very fluid and constantly moving. Pattern paper is traditionally used as a way of mapping of the body—much like latitude and longitude are used to trace the globe. Together, these alternative modes of mapping raise questions about how we can think about new spaces and new identities. This group of work is intended to be shown at my solo exhibition in September at Alexander Gray in New York.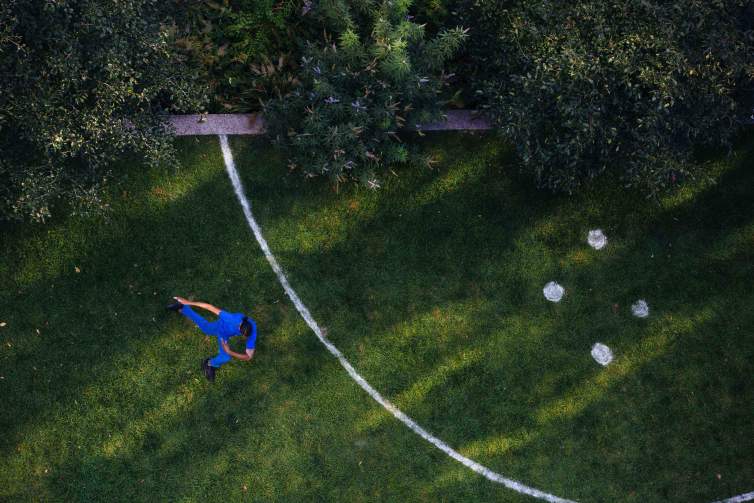 I've invoked the body in past work by collaborating with people, especially with dancers or choreographers, to do performances with sculptures that I make or drawings on fields. The relationship to the body is always there, because oftentimes when we think about these playing fields, we imagine the bodies of players moving within that space. That direct relationship to the body, and even the fragmentation of the body, has come into play more recently in this new body of work because of the nature of garment making. There are certain correlations between the movement of play and the idea of the body represented by clothing.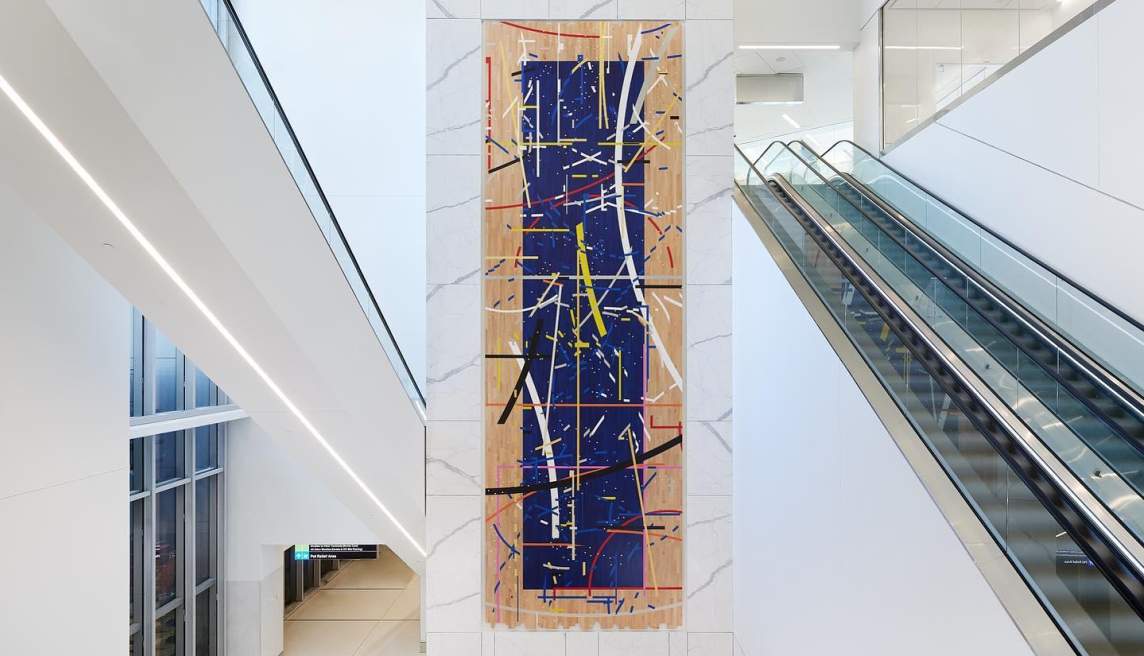 I just finished a new public work for the new Delta terminal at LaGuardia Airport, which was commissioned by the Queens Museum of Art in partnership with Delta Airlines and New York Port Authority. It's a really large site-specific, permanent public installation that was unveiled in June. That piece, which is titled Pacha Cosmopolitanism Overtime, is a gymnasium floor that is functioning as a mapping, of sorts, of these boundaries and borders that are constantly in motion. The work foregrounds the idea of transportation— of travel—which is so key to so many identities. It's a tribute to the migrant communities that make NYC home and the indoor soccer leagues that made up my childhood, and para mi viejo.
The work is a series of fragmented lines that come from the gymnasium floor and the soccer field. They are then painted onto a series of panels made out of gym flooring. The whole piece is about 45 by 15 feet; it spans the three floors of the new terminal. People will see it from different vantage points. Another component is silver and gold leaf that is applied onto the panels, so the work is a response not only to the architecture, but also to the time of day. Throughout the day, the piece changes based on reflection of these different materials.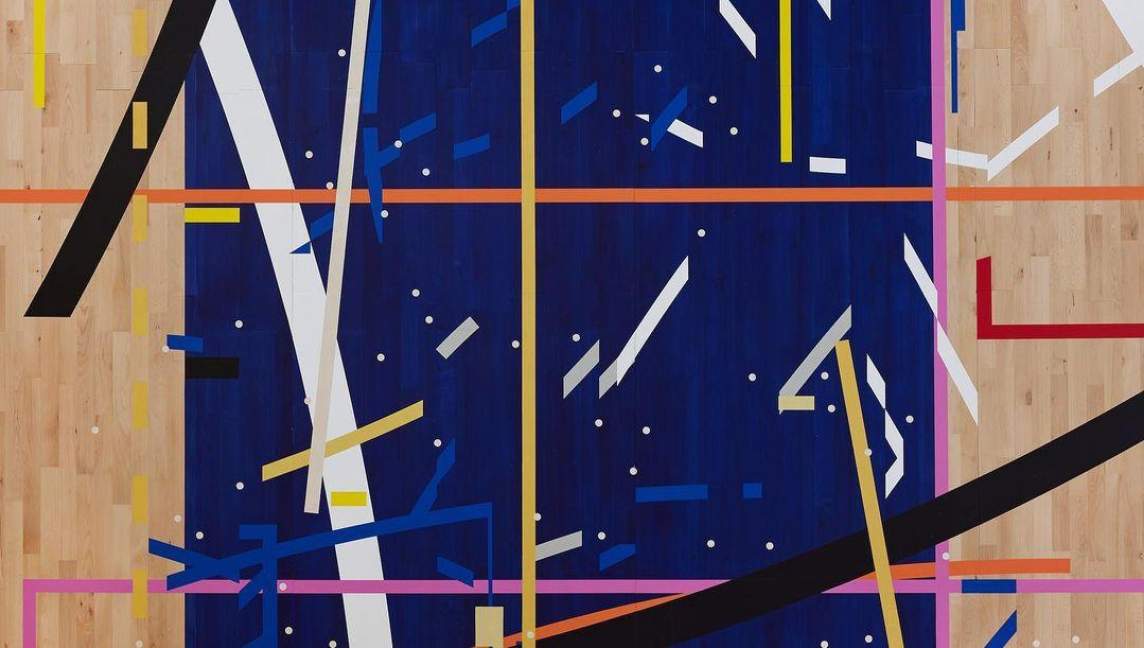 I'm really excited about this piece, because, in a way, a lot of the drawings that I've done in the past—the diagrams of the fields, the planks of wood on the floor, for example— are schematics. I was really happy with them as drawings, but they were also meant to be something I could build in the future and scale up.
So now, ten years after the fact, I'm getting to see this thing that originated as a drawing actually fully constructed and fabricated for this piece at the airport, which is great. I'm really excited for people to see this piece, because I think it's a very vibrant work that is about possibility, and transformation.
---
Interview and editing by Jenny Gill. Learn more about Ronny Quevedo's work at ronnyquevedo.info.

See other Journal entries filed under:
Explore More Journal Entries