In the Studio: Luis Tapia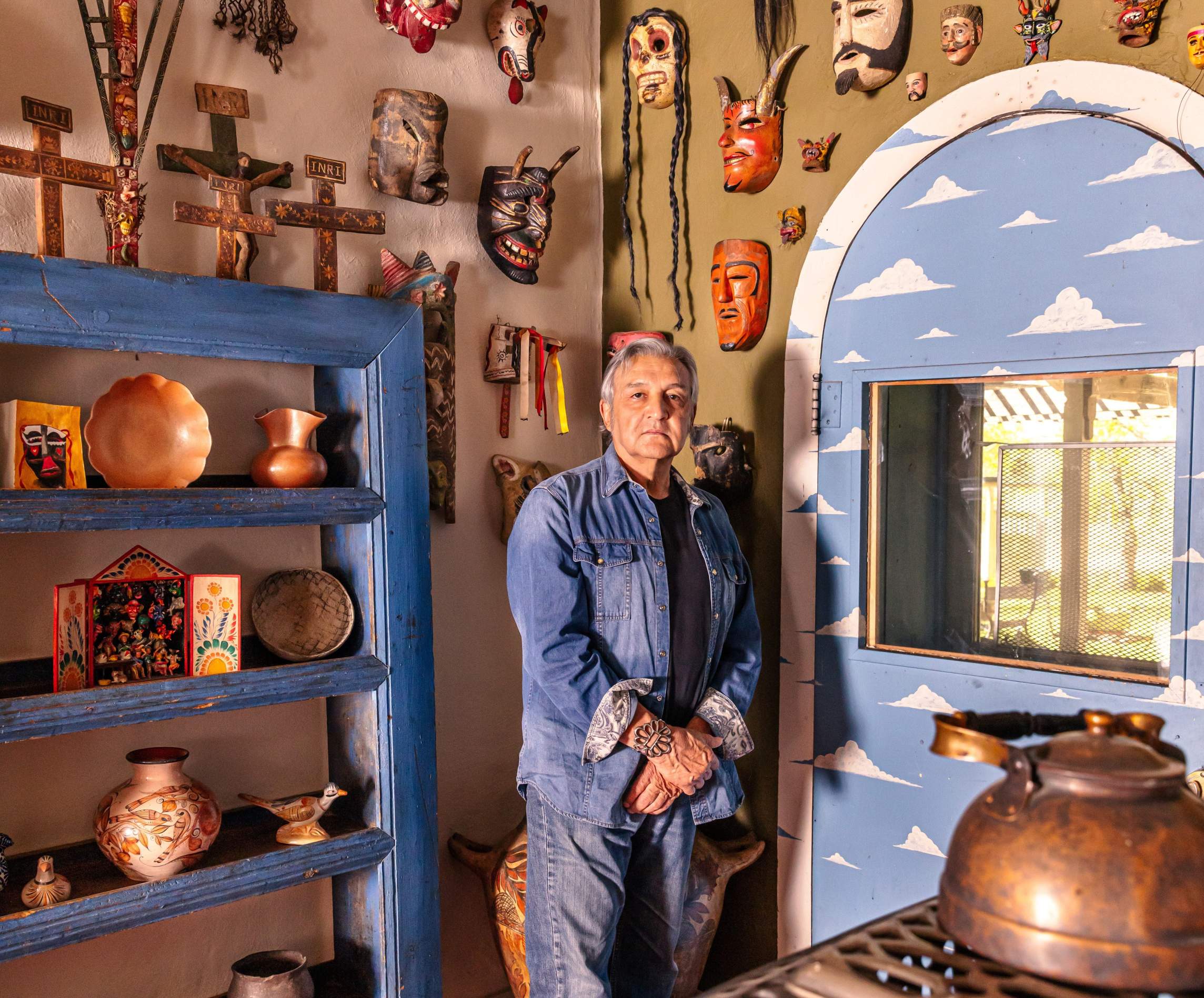 Luis Tapia is a Chicano sculptor and a 2021 recipient of the Joan Mitchell Fellowship. We interviewed him about his work and creative practice in July 2022. The following is an edited transcript of that conversation.
---
Primarily, I consider myself a wood sculptor. I'm based out of a traditional foundation of Hispanic art in Northern New Mexico, which is a tradition that goes back several hundred years. I originally started with a religious format, but as time moved on, I developed more social and political commentary to my work while still basing myself within the tradition of the past.

I do a lot of research into each one of my pieces regardless of what it is. When I was younger, I was doing research on the religious line. I came to find out that a lot of the saints that I was doing at that time, well, they're based on political situations and social commentaries from their time. So what I started to think about was, why not bring it up to date, bring those situations into the picture that we're going through today, based on what was going on in the past as well. And now, I've taken it quite a ways further.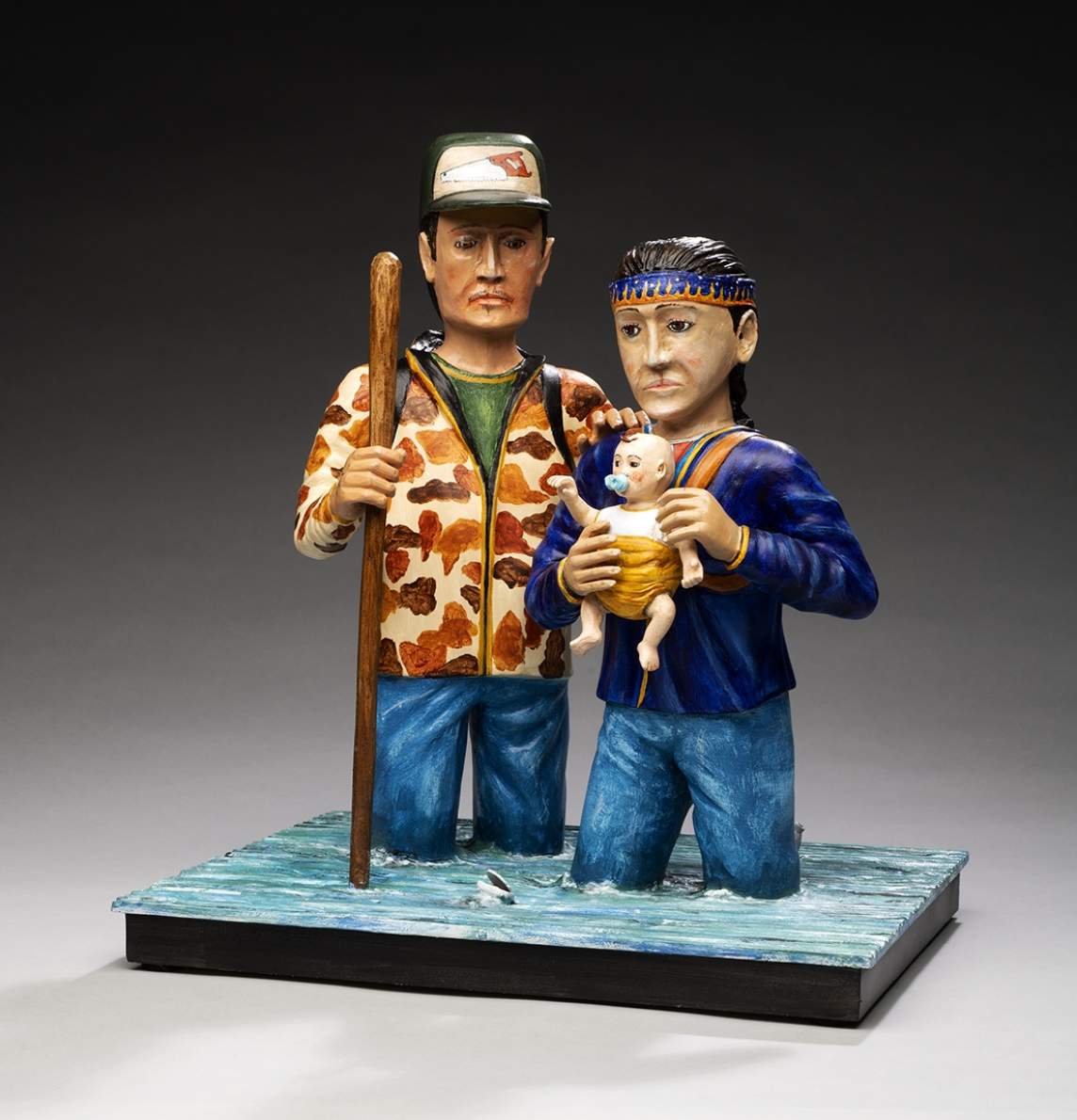 Just recently, I did a piece that's called Flight into the USA. It's based on the Catholic Christian scene of Mary and Joseph fleeing into Egypt. So I did this piece, which has three individuals, and interestingly enough, they're named Jesus, Maria, and José, which is Jesus, Mary, and Joseph. They're crossing the Rio Grande, knee deep in the river. So they're also fleeing. They're fleeing their country to protect themselves, to try to find a better place to live, to try to do something with their lives that they haven't been able to do, where they came from.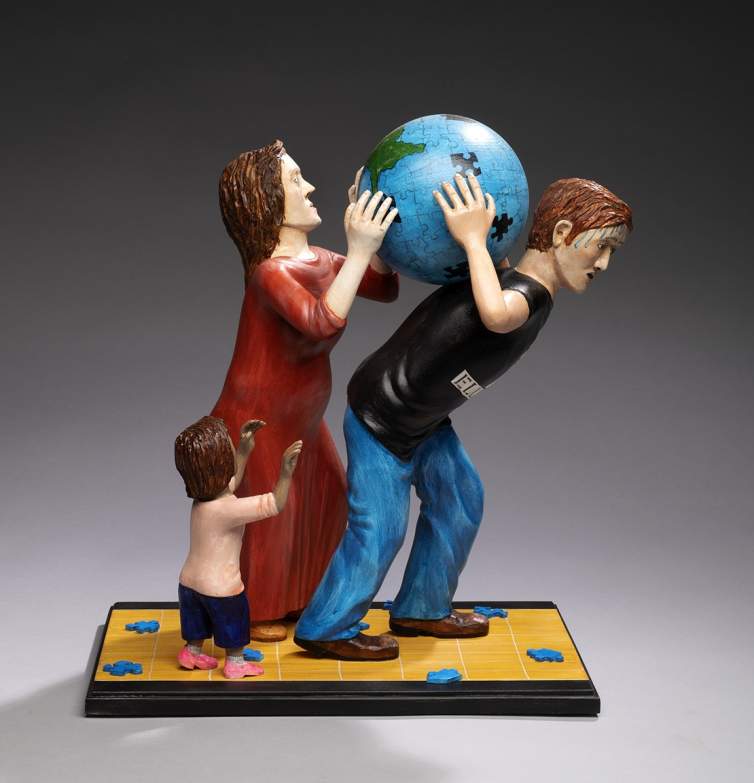 There's a million ideas going in my head all the time. You go down the street and something will pop into your head, or if you see somebody or something, you get a reaction. So those things get stored up in my mind. Eventually I start to think of a possibility, of a pathway, to develop this image that is my head. Being that I'm a sculptor, I work with wood. So I'll start with an image, a basic image. With that beginning, it becomes a conversation. I don't really know how the piece is going to end. I don't know how the middle's going to be at that point in time.
When I start working, I start to develop this relationship with the piece. I try to find out who this person is. I might have an idea that I want to do an immigration piece, but who is this person? Is this José? Does he have a mustache? Is he old? Is he young? Who is he? What's his sign? As time goes on as I'm working on the piece, which can take up to three months, I develop this relationship to finalize this process.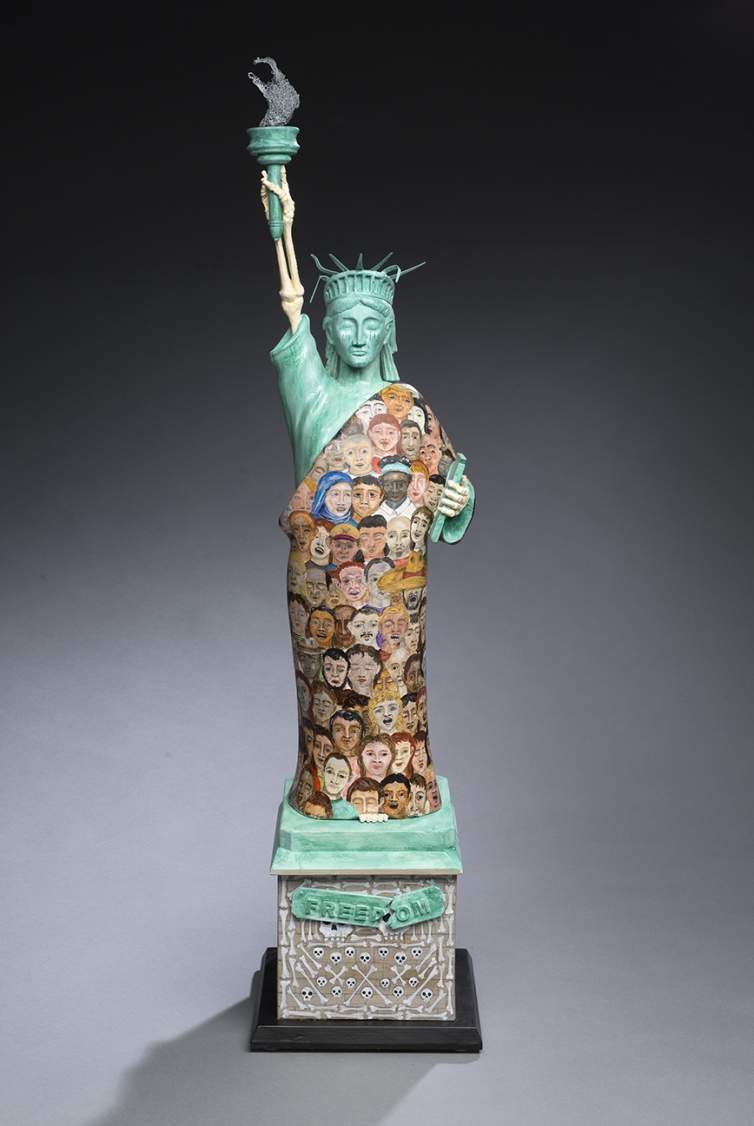 I like to put a lot of humor into my work as well. I think humor, it's unexpected in art somehow. People don't expect to smile or laugh. There's a beauty to art and people get deep into it, and it's heartfelt, and it's mental. It takes you mentally as well into deeper areas, but when you have a little bit of humor there, it opens up your heart a little bit more. I like expressing that. Personally, I like to think of myself as a humorous guy. I like laughing. I like smiling. Even though we're dealing with a lot of issues in this world today, that is trying to take that away from me, but I still try to keep the upper hand on it.
There's a piece I just finished, maybe three weeks ago, where the humor comes out, but it's also a tragic piece. It's called "Homage to a good bottle of tequila with a beer chaser." You'd have to look at it and see how you feel about it at the end. I don't talk about my work in depth, as to explaining exactly everything that's in there, because I like the viewer to find that. To study the piece. To see what they can find out of the piece, so they can have a conversation with the piece.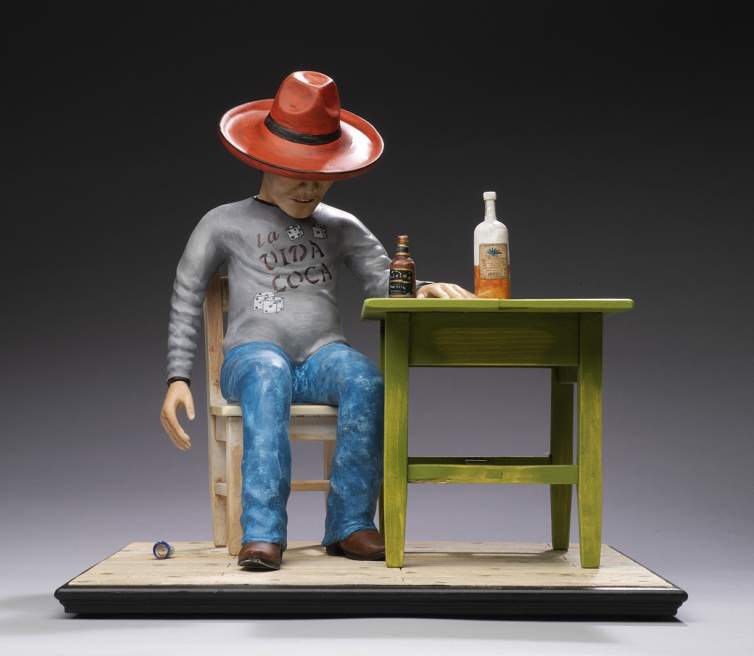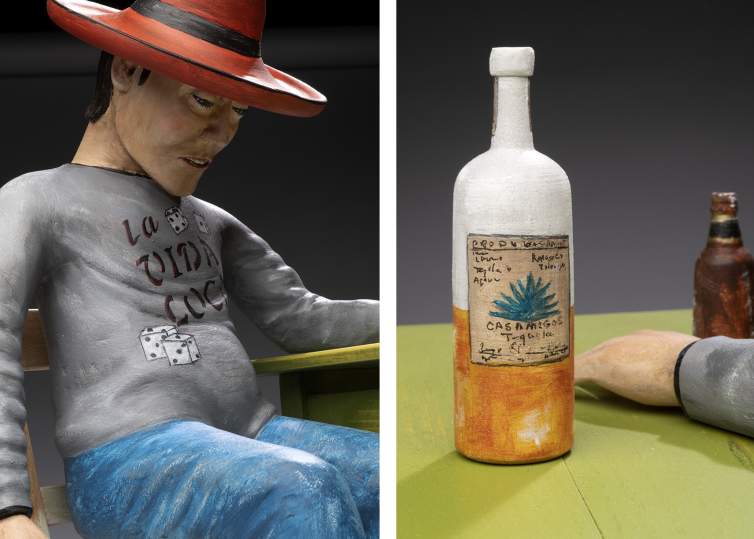 I try to put in a minimum of five hours a day in the studio, and that's seven days a week. I've been doing that for a number of years. When I was younger, I mean, it was 24/7. Now, my concentration on my physical work is five hours and I give that to myself every day. If I don't have that, I get a little nervous, because I've been doing it for so long. I'm very much focused in those five hours as to what I have to do. That doesn't mean that I don't think of art the rest of the day. I do. It's always on my mind. For instance, not right now, but this morning I was going into the studio and I was thinking of how I was going to approach a specific problem that I was having with the piece. So it's constantly in my mind, but physically I have a five hour deadline.

As a wood sculptor, I use everything from chainsaws, to hand tools, to table saw, band saw. I mean, everything. When you're a wood sculptor, you're a hoarder in tools. You can't help it. It's just what happens.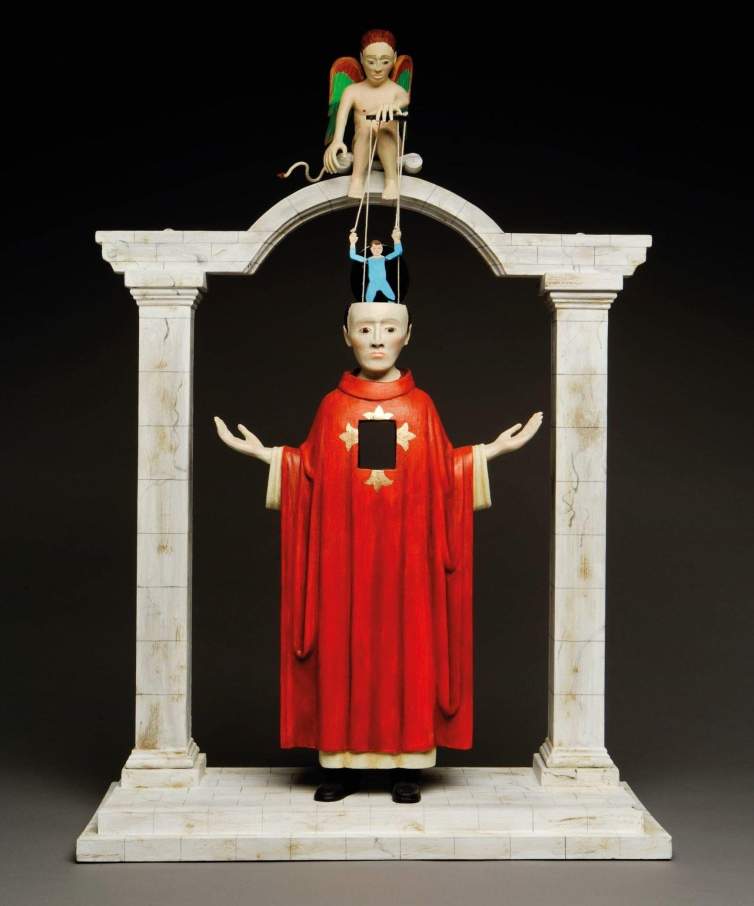 The color in my work, again, goes back to the traditional aspects of the santo carving, which of course dates back 400 years or so. Originally when I started working on these images, the pieces that I was using as examples, the traditional pieces, were very dark. You could tell there was color there, but they were very dark. But, I was looking at pieces that were a couple hundred years old.
I came to realize that the original pieces underneath the varnishes that had tarnished, because of smoke and other reasons, were bright colors. To me that became like a celebration, because I was working with religious imagery at that time as well. I wanted my religion, my expression of religion, to be a celebration. So I started to brighten up my colors more and more. I continued to use acrylics, but I use the brightest colors that I can.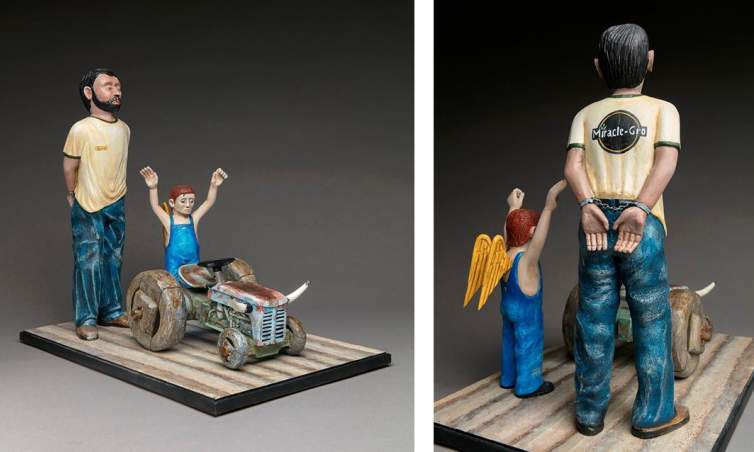 Years ago I tried teaching, and it was kind of fulfilling, but it was also hard because it affected my work. I couldn't work because the energy that I gave to the teaching took away from my work. Now, I hope my influence is within my work. I concentrate on my imagery, and not only on the images, but on the craftsmanship of the work. I think that I've influenced a lot of artists, and that through the years, I've changed the idea of the tradition of my culture that I was raised in. I think there's a place for the traditional work, but there's also a place for expansion, and there's a place for more conversation and to open it up more. I think the younger people are reacting to that at this point in time and I see more and more people turning to the type of work that I do today.

Interview and editing by Jenny Gill. Learn more about Luis Tapia's work at luistapia.com.

See other Journal entries filed under:
Explore More Journal Entries