In the Studio: LaToya M. Hobbs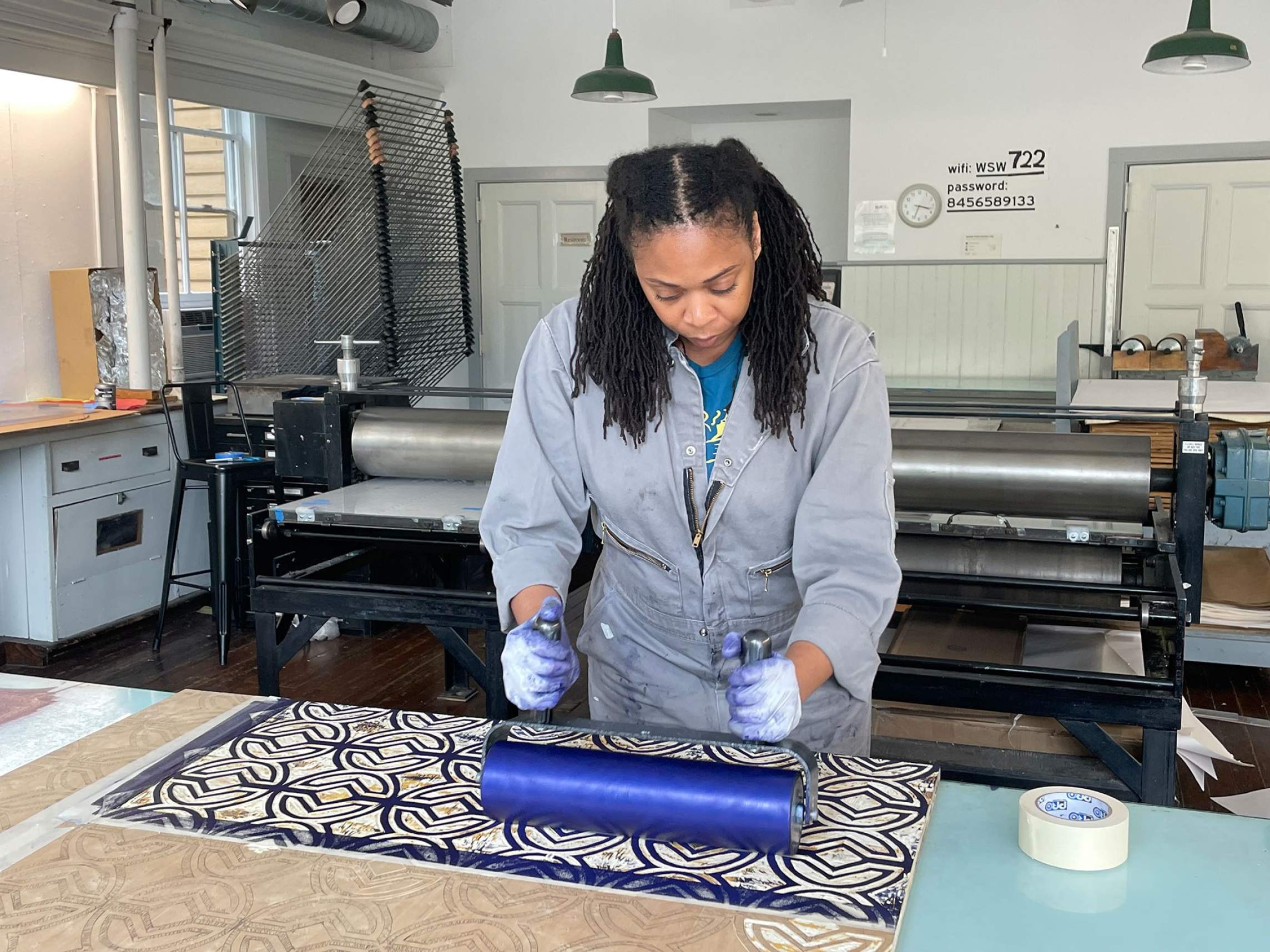 LaToya M. Hobbs is a Baltimore-based artist, wife, and mother. In Spring/Summer 2023, Hobbs participated in a virtual residency with the Joan Mitchell Center, provided to deferred artists to accommodate unique circumstances created by the COVID-19 pandemic. We interviewed her about her work and creative practice in July 2023. The following is an edited transcript of that conversation.
---
I'm a painter and a printmaker. Most of my current works involve a synthesis or marriage of elements from both aspects of those genres. I'm also really interested in the idea of the "matrix as art object," meaning that I activate wood panels through carving in the same way that I would prepare a woodblock for an edition of works on paper; but instead, I present the wood panels themselves as the finished works, often incorporating other techniques such as drawing, collage, and painting.

My work is steeped in figurative imagery that expresses themes of motherhood, sisterhood, spirituality, and cultural identity. I'm excited by producing narrative portraiture that gives viewers insight into my life and those in my broader community.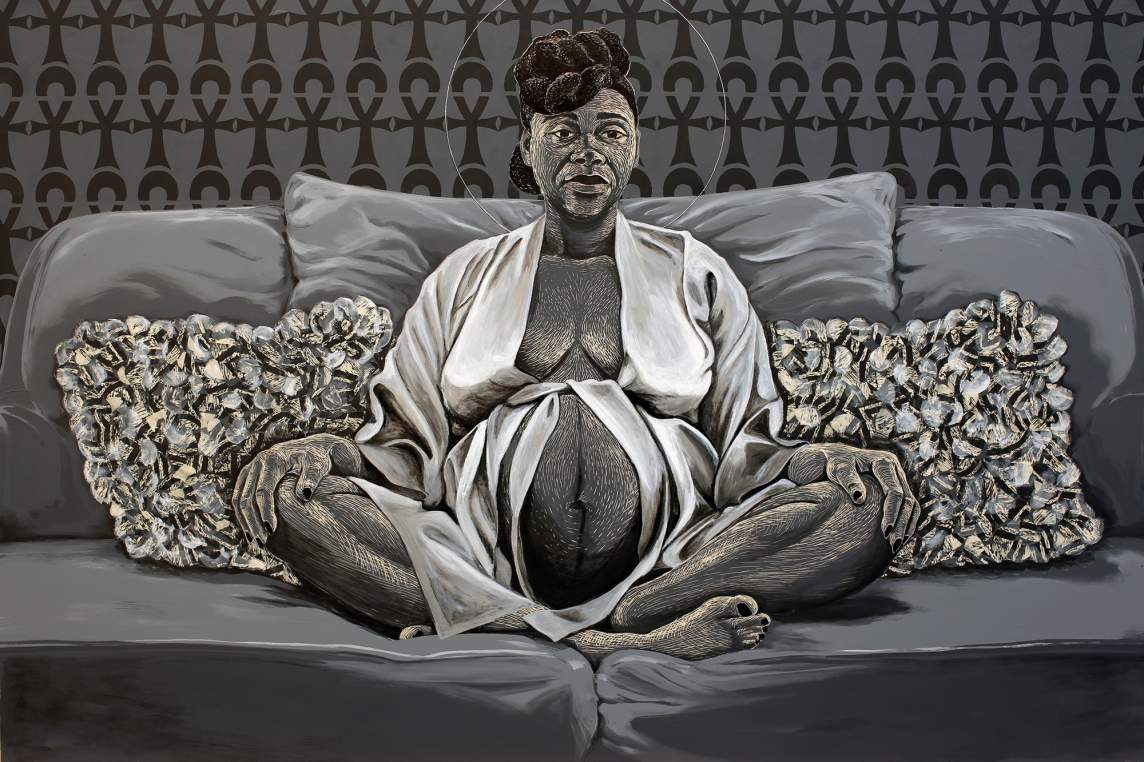 The evolution of my current practice is rooted in my foundation as a printmaker. Under the umbrella of printmaking, I am most drawn to woodcut, which involves carving away from a surface or matrix to create an image. I'm bringing that element to the forefront of my practice but thinking about it through the lens of my experience as a painter.
When I'm beginning a project, I start with the imagery. I primarily do portraiture and most of my sitters are friends and family. I often work from photographs resulting from photoshoots done by me or through the guidance of my husband, Ariston Jacks. After I select an image to work from, I make decisions about the composition, color palette, materials, and patterns that will be incorporated.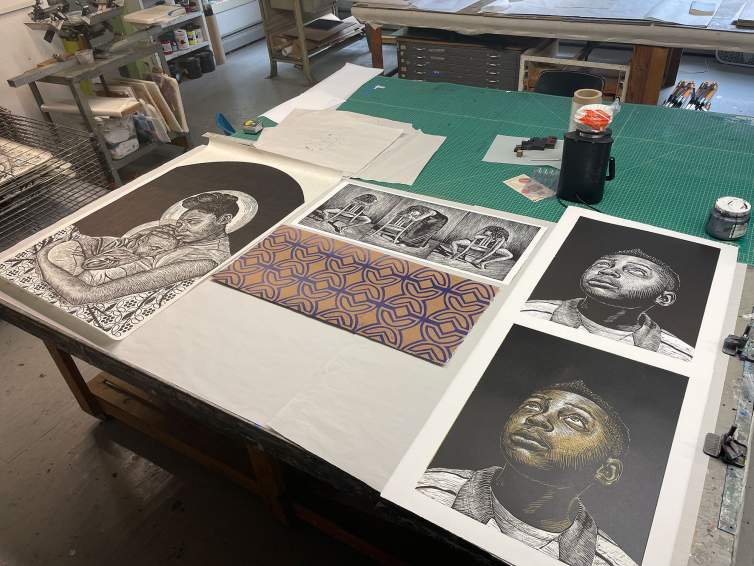 Depending on the size of the work I do a small sketch to scale; other times I go straight to the wood panel. The majority of the time, I prep my wood panels by painting them with a flat black acrylic paint. From there I develop a detailed sketch with white pencil to lay out my composition. If any collage elements or patterned backgrounds are going to be in the work, I put those in next and I develop any areas that will be carved last. Once all the main elements of the work have been established, I assess what needs to happen to bring the work to completion.
I really enjoy working large-scale and giving myself and viewers the opportunity to be engulfed with the imagery when they interact with my work. I've always worked large but I would say that the scale increased dramatically in 2020 with the production of my work Carving Out Time.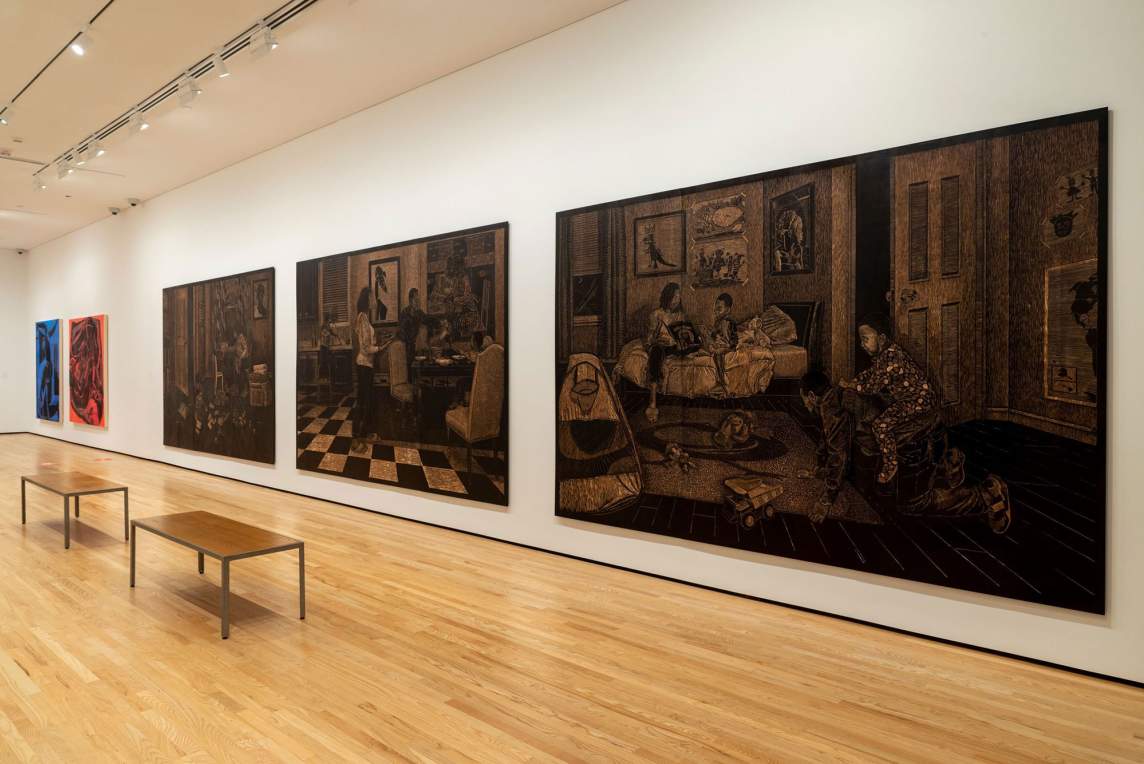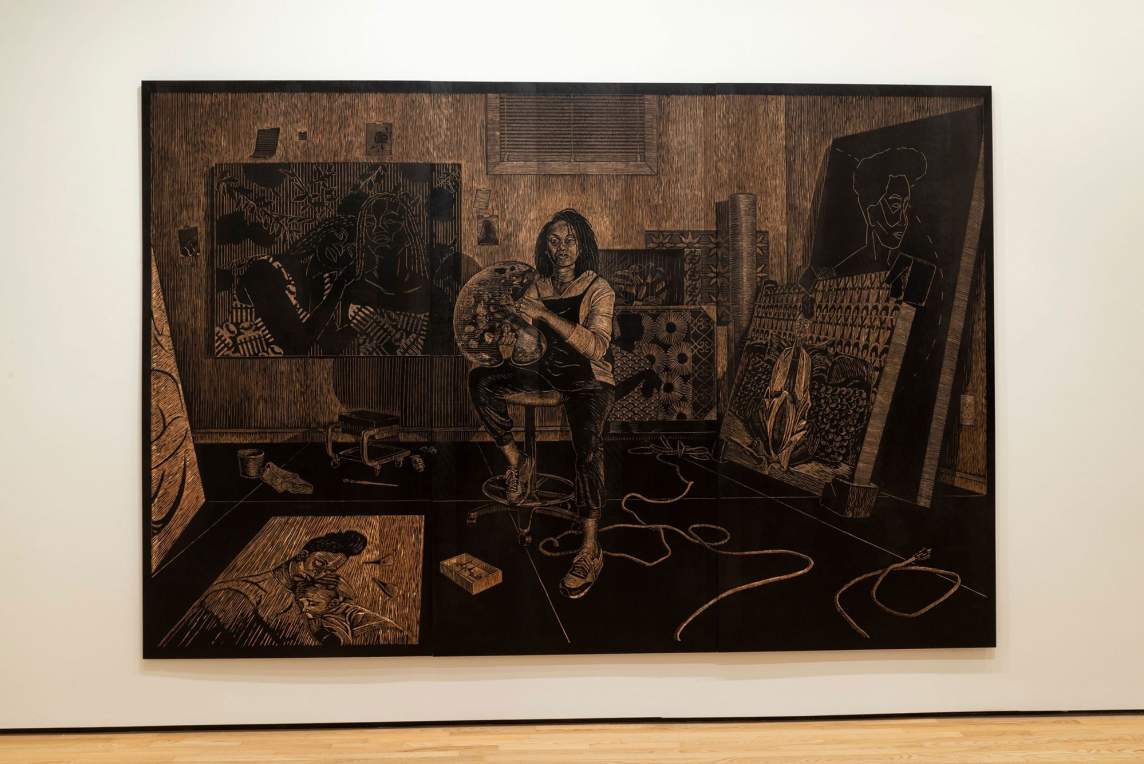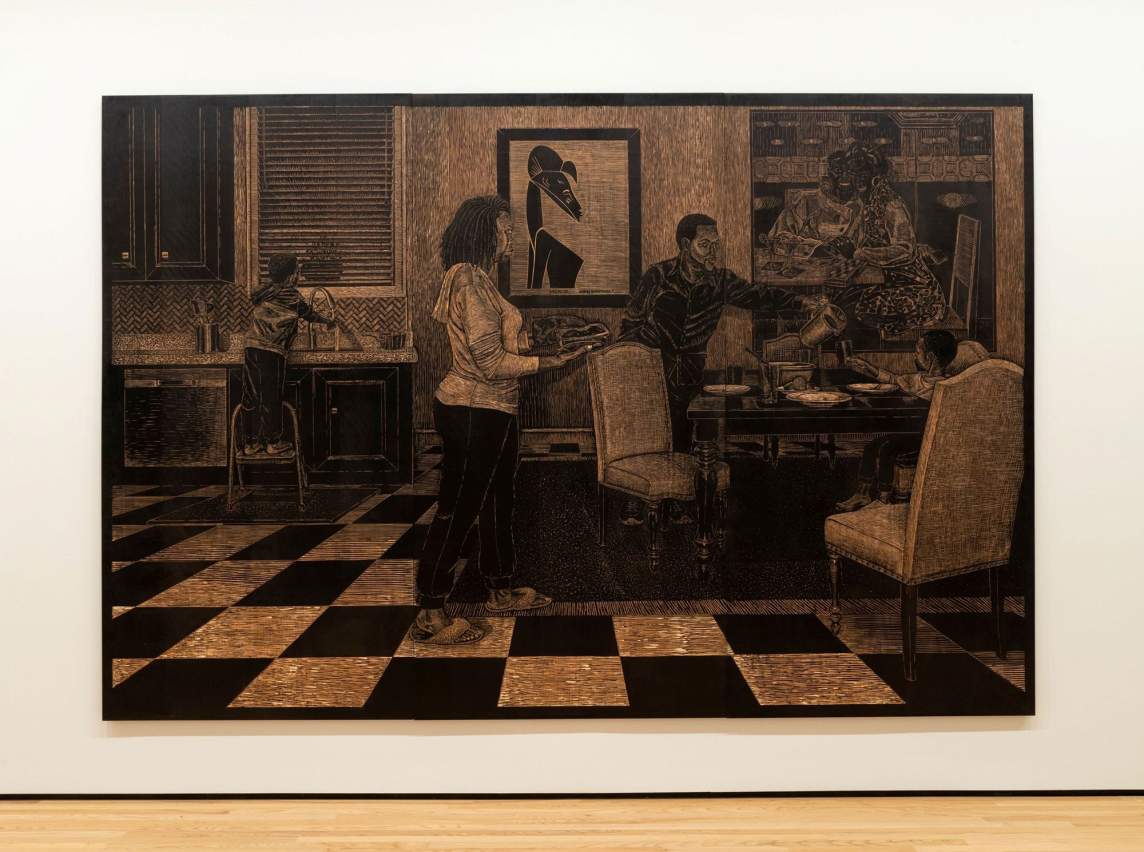 Carving Out Time is one work composed of five scenes that serves as a visual representation of a day in my life as a mother and practicing artist. The five sections of the work are titled Morning, Homeschool and Housework, Dinner Time, Bedtime for the Boys, and The Studio. With each progressive scene viewers are able to experience moments of my life that I hope are reflections of their own lives.
The scale of the work aids in this because the spaces are life-sized and viewers are able to be fully engulfed by the work. This monumental relief carving measures 60ft in its entirety and truly exemplifies the idea of presenting the "matrix as art object" because the work exists in two forms: the wood panels, which debuted at the Baltimore Museum of Art in 2021 and are now part of its contemporary art collection, and a small edition of woodcuts on paper that were printed from the blocks.
I also used this work as an opportunity to highlight some of the artists who have had an impact on my practice by recreating their works which adorn the walls of my familial space(s). Throughout these scenes or domestic spaces, references are made to the works of Elizabeth Catlett, Alma Thomas, Valerie Maynard, and Kerry James Marshall.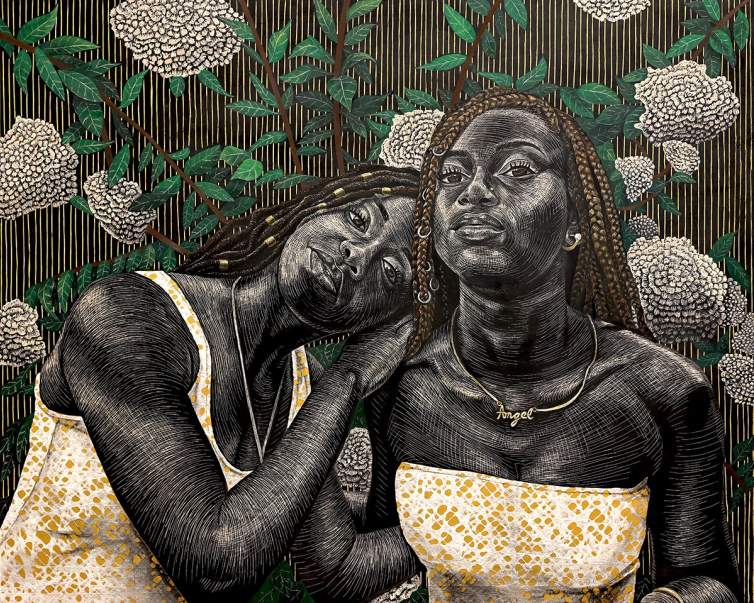 I had a recent show at the Virginia Museum of Contemporary Art, titled Flourish, that closed on June 11. It was a combination of new and existing mixed media and carved works on wood panels. The title, "Flourish," which means to grow or develop in a healthy or vigorous way, is a reflection of the growth I've experienced in my practice of the past few years and the aspirations I have for my family, friends, and broader community. To symbolize this idea of flourishing, a lot of the works in the exhibition had flowers and foliage incorporated in the imagery, a new element I've started adding in my work.
Two of my favorite works from the exhibit completed earlier this year were Erin and Anyah with Hydrangeas, a portrait of my step-daughter Erin and niece Anyah with hydrangeas filling the background; and Flourish, a portrait of Mahari Chabweara, the founder of Studio House in Baltimore, MD.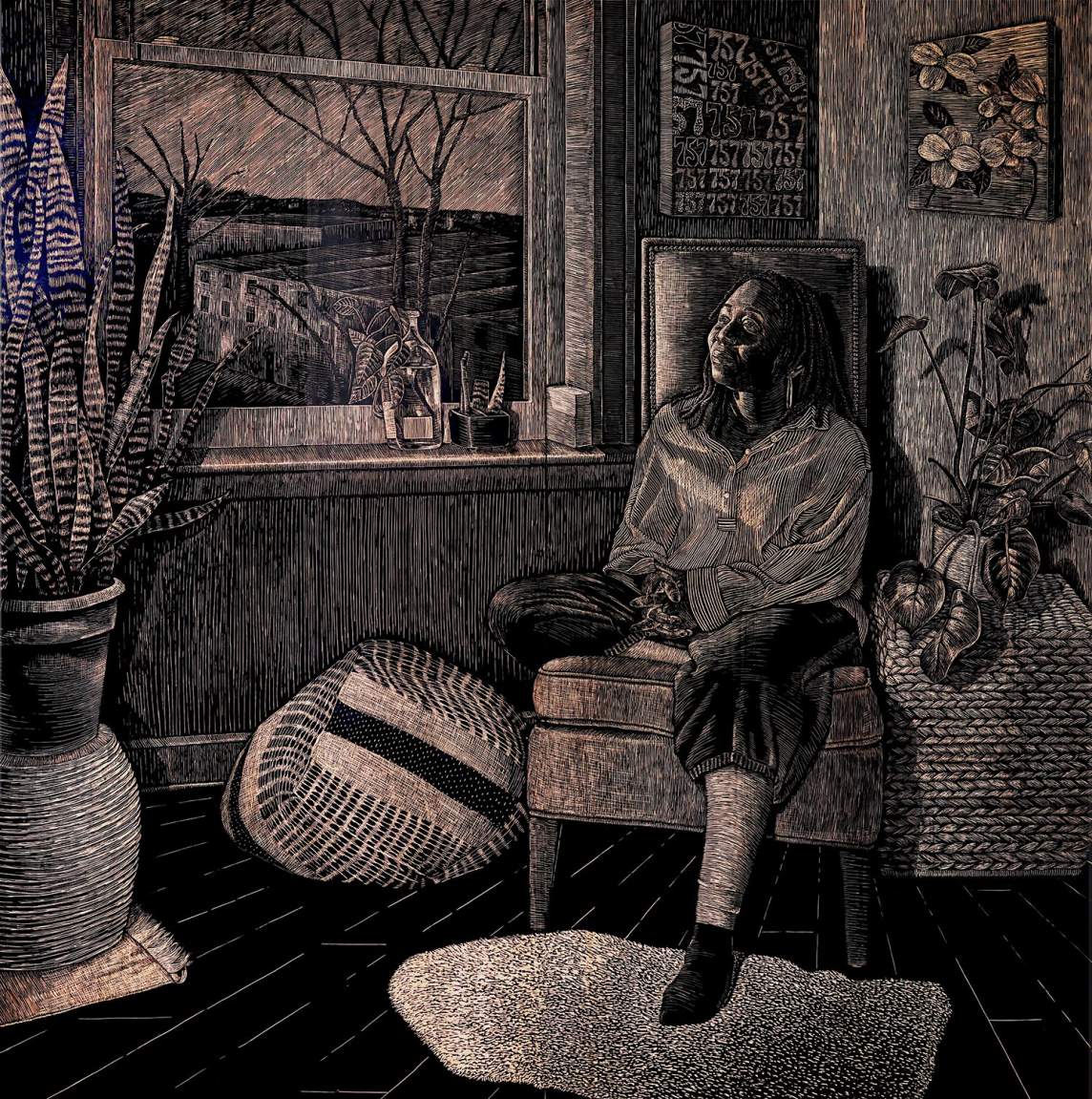 In this work, Mahari is seated on a chair in the corner of the main living space at Studio House. Light hits her face as she gazes out of a window that expands the depth of the work by showing a block of Baltimore row houses in the distance. Inside, plants of various types surround the space creating a luscious and homey environment. Last year, I was invited to be a guest at Studio House and that welcoming experience inspired this work.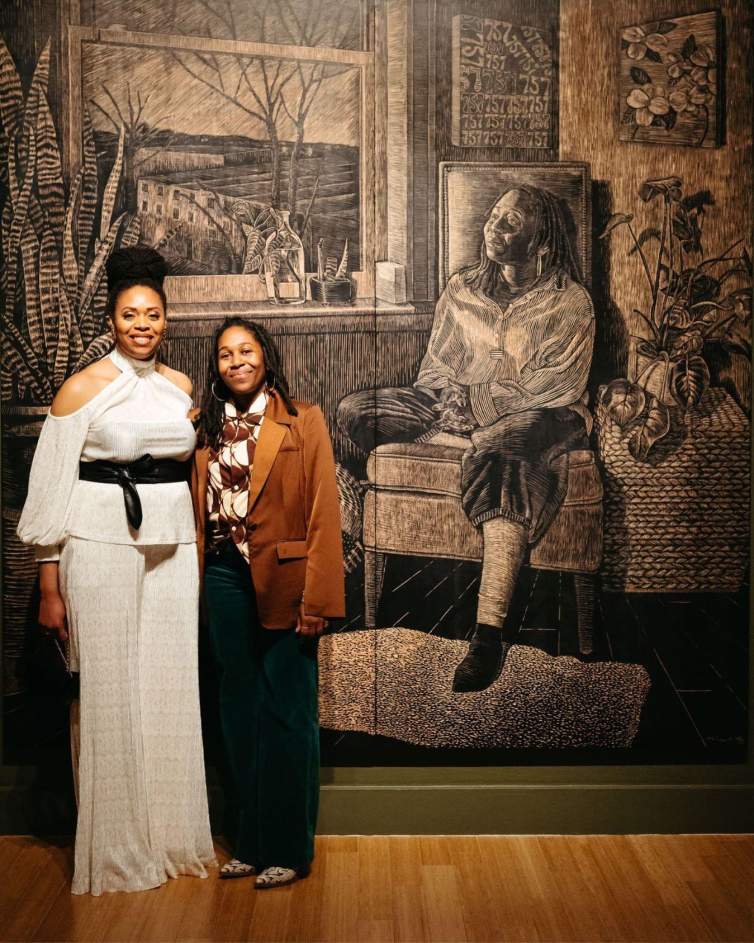 So far, this summer has been a combination of work and much needed rest. In June I was able to spend some time at the Women's Studio Workshop where I had full access to the printmaking studio. While there, I made some exciting new editions of woodcuts/works on paper in preparation for the IFPDA Print Fair in October. Now I'm back in my Baltimore studio preparing a few new works for my upcoming solo exhibit at the Frist Art Museum in Nashville, TN, opening in January of 2024. My 2024 Spring exhibition schedule is shaping up nicely and there will be opportunities to see the full sets of both the panels and prints from Carving Out Time.
Interview and editing by Jenny Gill. Learn more about LaToya M. Hobbs' workhere.
See other Journal entries filed under:
Explore More Journal Entries