In the Studio: Justin Favela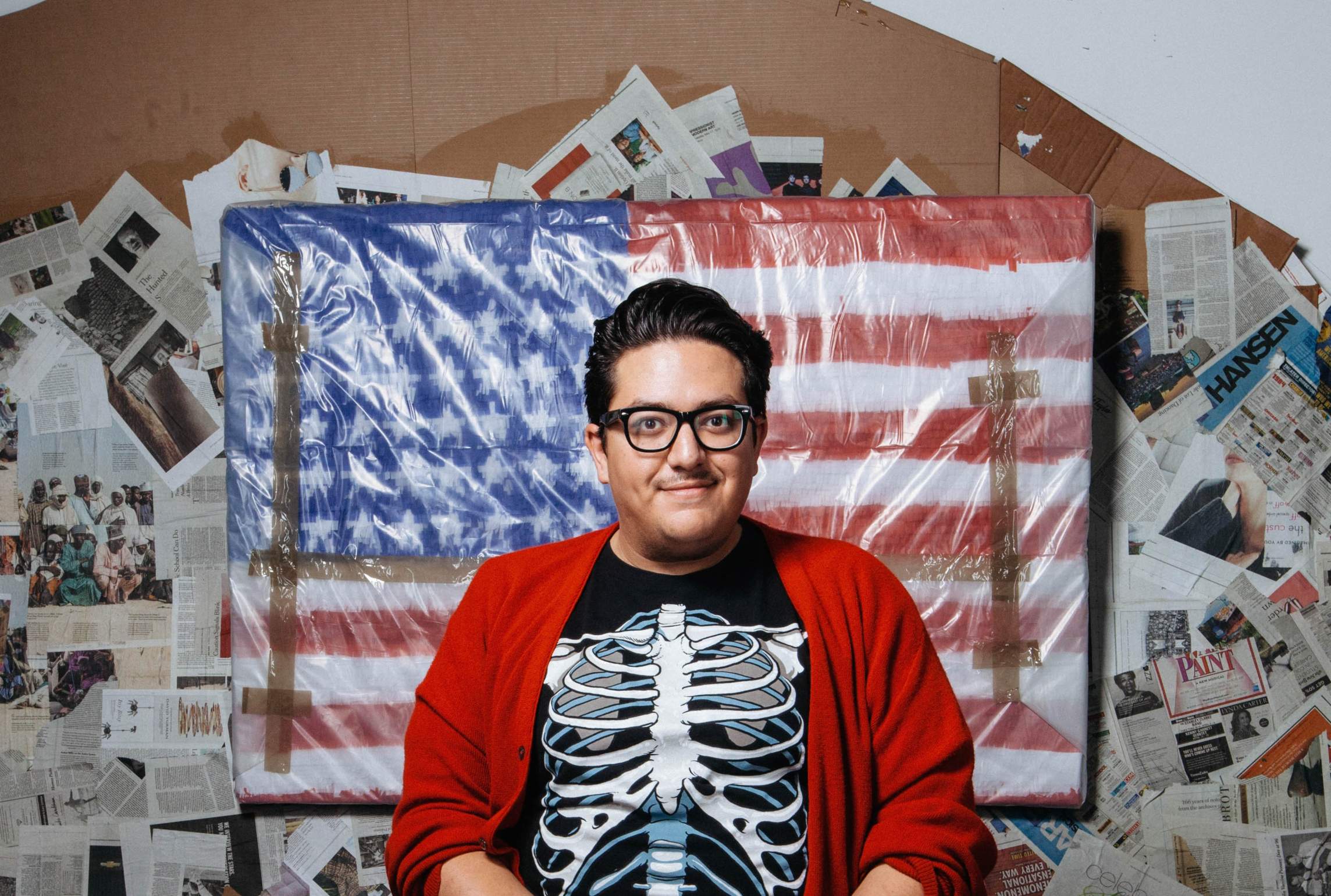 Justin Favela is an artist based in Las Vegas and a 2021 recipient of the Joan Mitchell Fellowship. We interviewed him about his work and creative practice in August 2022. The following is an edited transcript of that conversation.

---
My work investigates and celebrates my own heritage and my identity as a queer, Latinx, Guatemalan-Mexican-American in the Southwest. I like to make a lot of art that references traditional Mexican or Latin American craft, specifically cartoneria, which is piñata making, and decorative craft, different forms like that. It fluctuates between making smaller works—objects—and then bigger installations.
I also like to reference art history, specifically the White art history that is taught to artists in the United States, and spoofing it in the tradition of the Chicano movement. I am following along in those footsteps. My work has also turned into institutional critique here and there, when I work with big institutions and I point out the inadequacies in what they might think is a very diverse and welcoming space.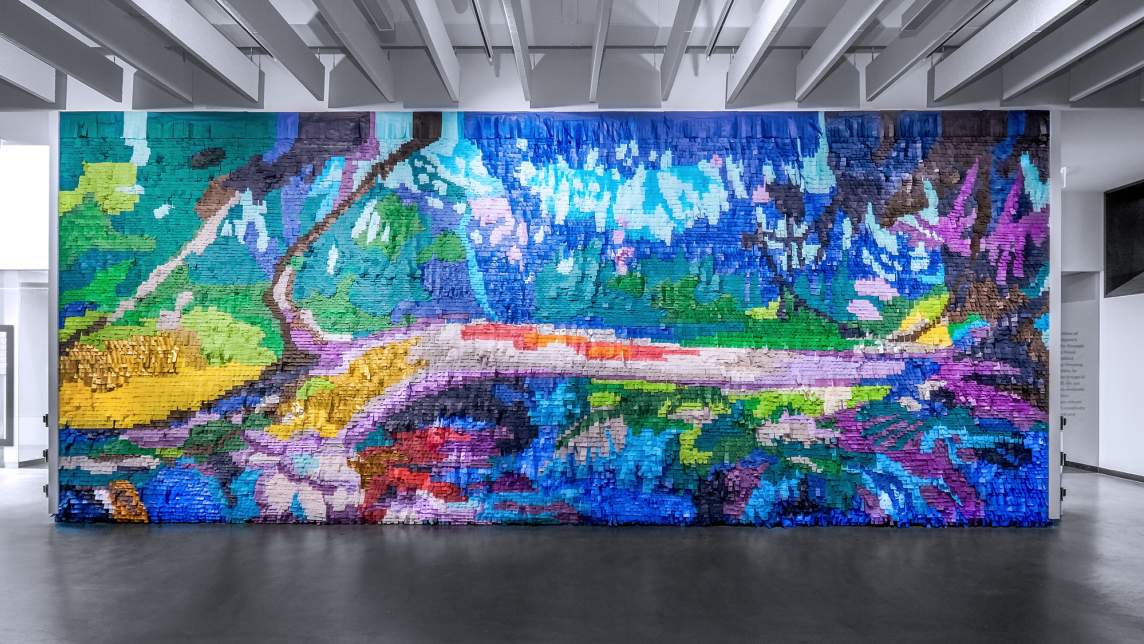 Most of the time my work is in a piñata style. And when I first started making piñatas, it was really about taking that symbol and playing with it, because the piñata belongs to everybody in the United States. It doesn't really matter where you come from. You can get a piñata at your local grocery store and have it for your kid's birthday. So it was really about reclaiming the piñata as a symbol of Latinidad. And then it shifted because I started thinking about the piñata less as an object and more as a style or medium.
I mostly work on-site. Usually it's me at a museum or at an art space, using the space as my studio for a couple weeks at a time to a couple months at a time. Things have changed recently because of the state of the world and I have had to figure out how to make work modularly. Because of that, I've figured out how to make the murals ahead of time and puzzle-piece them together when I get to the institution or to the gallery. I think from now on, it's going to be a combination of both.
In 2021, I had a big solo show at the Des Moines Arts Center in Iowa. Because of the pandemic, I actually was thinking about this show for years because it got postponed a couple times. I was able to finally do it after the first round of vaccines when we were allowed to travel again, so it was really great to be able to kick off a new show after being home for so long.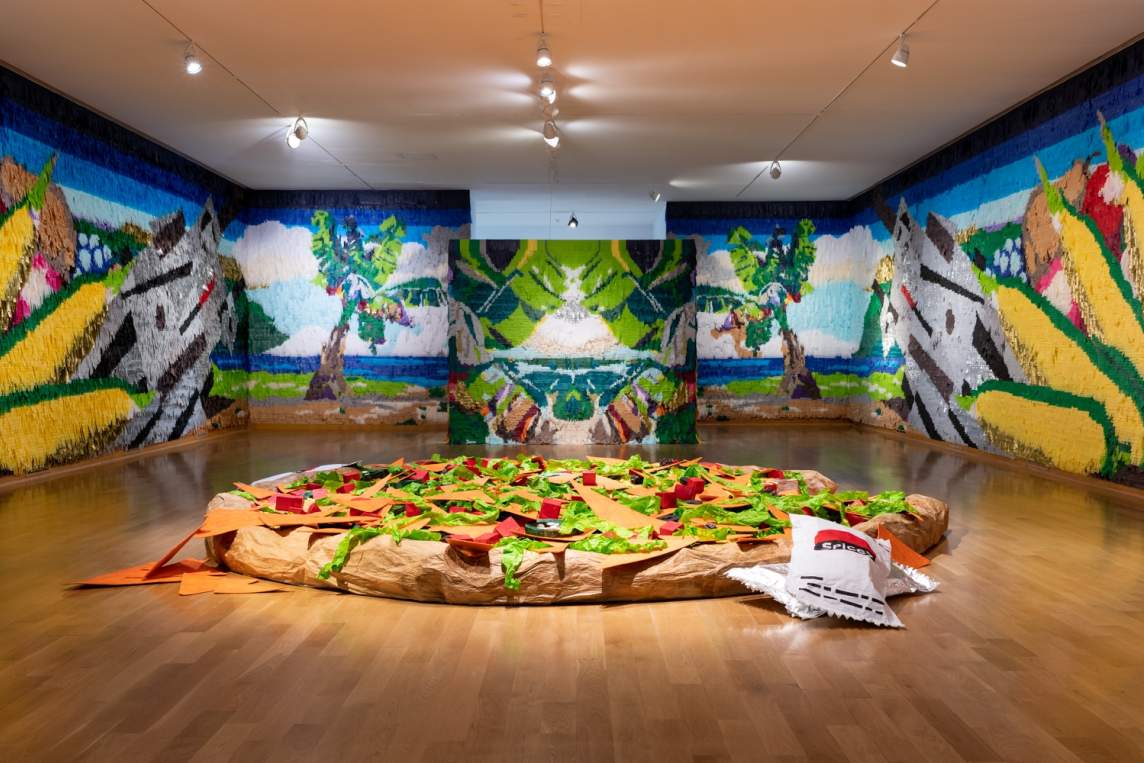 It all started with the title of the show, which is Central American. With this exhibition, I really wanted to honor my Central American heritage because I feel like people assume that I'm just Mexican because that's the default Latino identity in the Southwest. So I really wanted to focus on and celebrate my Central American identity and investigate that. I heard a comedian once make a joke about how close-minded and US-centric Americans are, when America really goes from Canada all the way down to the tip of South America, right? So the comedian made this joke that the Midwest is Central America. I thought that was a really funny observation because Des Moines is literally right in the center of the country.
With this show in Des Moines, I wanted to celebrate Central American culture, but also look at the Central Americans that were in the center of the United States. There are a lot of Guatemalans, Salvadorians, and other different types of Central Americans in Iowa doing agricultural work and also working in factories. I really wanted to honor them and celebrate them and learn more about them, so I teamed up with the museum and with an advocacy group and really started to think about that.
Then when I got to Des Moines, I started researching works in the museum's collection. There are a lot of really amazing paintings by the iconic Grant Wood, who is from Iowa, and also a lot of beautiful landscape paintings. I started to really look through the collection to see if Central America was represented in the collection. There were a few landscapes that were a little bit more tropical. There was a painting by the artist Carlos Merida, who is a Guatemalan painter. So that became a theme of the show: this progression of iconic Iowan landscapes that flow into this tropical landscape. I turned a gallery in the museum into this piñata chapel that celebrates both landscapes and the merging of those two cultures.

And at the center of that space was this giant 20 foot in-the-round sculpture of a taco pizza, which is a very special, a very American dish that I tried for the first time when I did my first site visit to Des Moines. So instead of your regular pizza ingredients, it has taco sauce, beans, cheese, and taco meat on top of it. And then they put lettuce and a bunch of tortilla chips or Doritos on top of that—like all the toppings for a taco on a pizza, just imagine that. I thought, this is wild that this was invented in Iowa, but at the same time, it makes so much sense. So the giant taco pizza is an homage to Claes Oldenburg, one of my favorite artists, whose work is also in the museum's collection.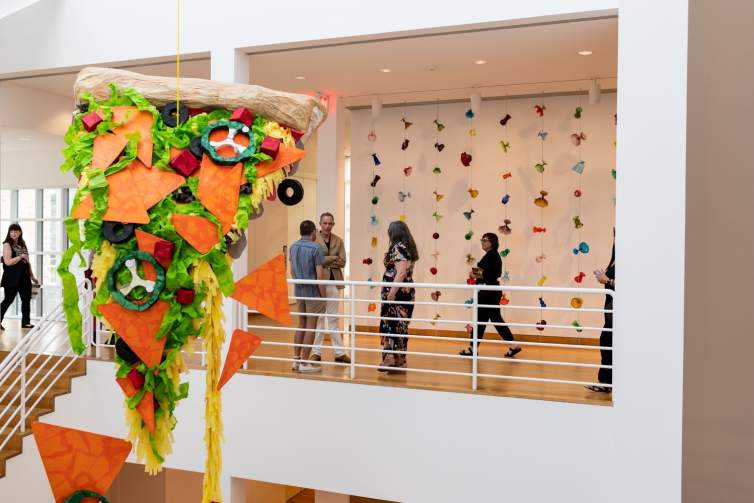 Okay. And then the cherry on top of this pizza is that the Art Center has this beautiful atrium that goes up three stories. I asked if I could make a taco pizza chandelier, like a mobile, to hang in the center, so it looked like one of the slices from that big pizza sculpture was actually hanging in the atrium. And from my research on eating taco pizza, all the ingredients just fall off, right? I was really channeling my love for art history with this piece, and I kept thinking, I really wanted to make this a religious piece, almost like a resurrection or like the Ecstasy of Saint Teresa—what would that look like if it was a taco pizza slice floating up in the air?
Central American was a really fun show. It took me a couple months to fully install, and it was the show that reopened the museum to the public, so I was just lucky to have such an eager community that just wanted to see art. Everybody at the museum from the maintenance crew to the directors were all there helping me with the project, because everybody was just so excited to see new work.

Most recently, I've been working on an exhibition that opened September 1 at St. Edward's University in Austin. I love Texas, and I have such a supportive community there, so I never pass up an opportunity to work there. The show is called Revoloteo, which means flutter in Spanish. It's based on the recent news that the monarch butterfly is on the endangered species list. So I'm thinking about this butterfly and what it means to a lot of Mexican Americans, and specifically undocumented Mexican folks in the United States, who see the monarch as this symbol that is not affected by a border. It travels through Michoacan, up through the United States for its migration through Texas.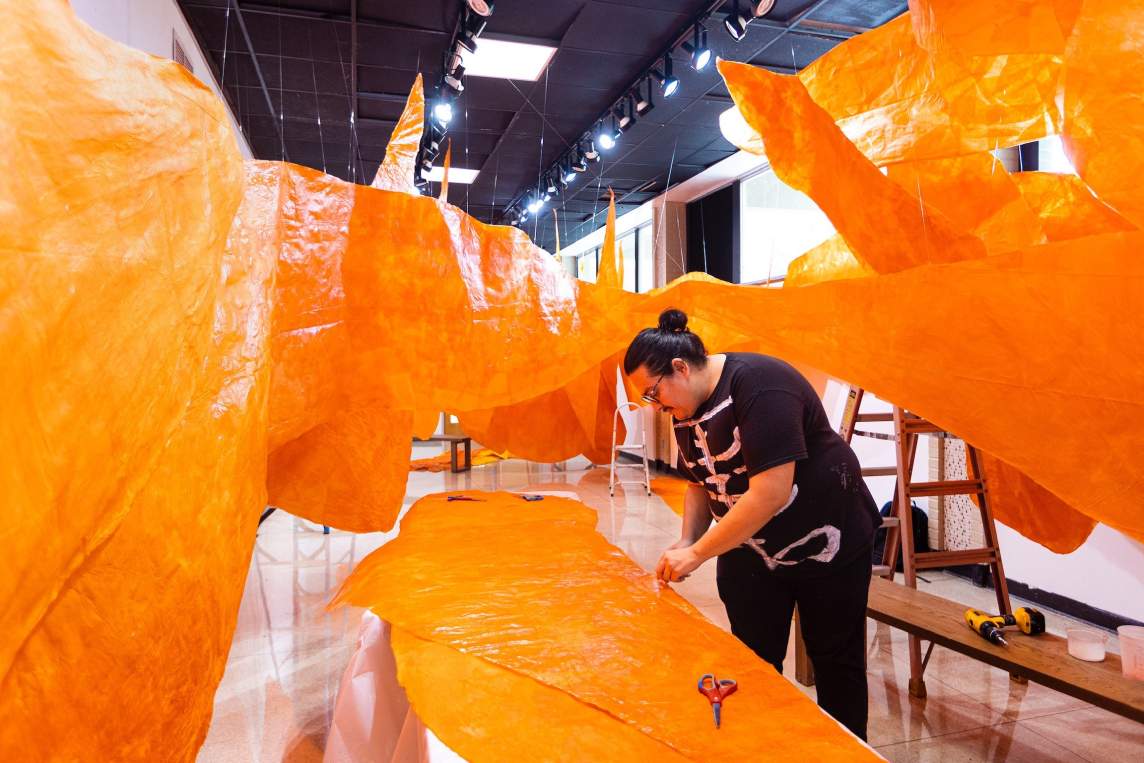 When I visited St. Edwards, I also found out that their library got rid of all its books, which was shocking to me. Now the library is a big computer lab and all of the books are gone because the school decided to go all digital. That fact that there were no physical books in the library of a Catholic school, evoked images of book burnings, bonfires and the inquisition. The colors of a monarch butterfly remind me of flames. I'm combining the idea of the disappearance of books and the dwindling population of the monarch in this installation and making this abstract wildfire of giant butterflies wings.

This fall, I'm also in a group show in Las Cruces, New Mexico, at the university art museum there, NMSU Art Museum. It's a show called Contemporary Ex-Votos, where artists are responding to the collection of retablos that they have there, so I'm tapping into some of my religious trauma and responding to religious imagery. I'm making big cardboard neon signs for that exhibition. It opens at the end of September. And I'm also making a new lowrider piñata for the Mingei International Museum in San Diego.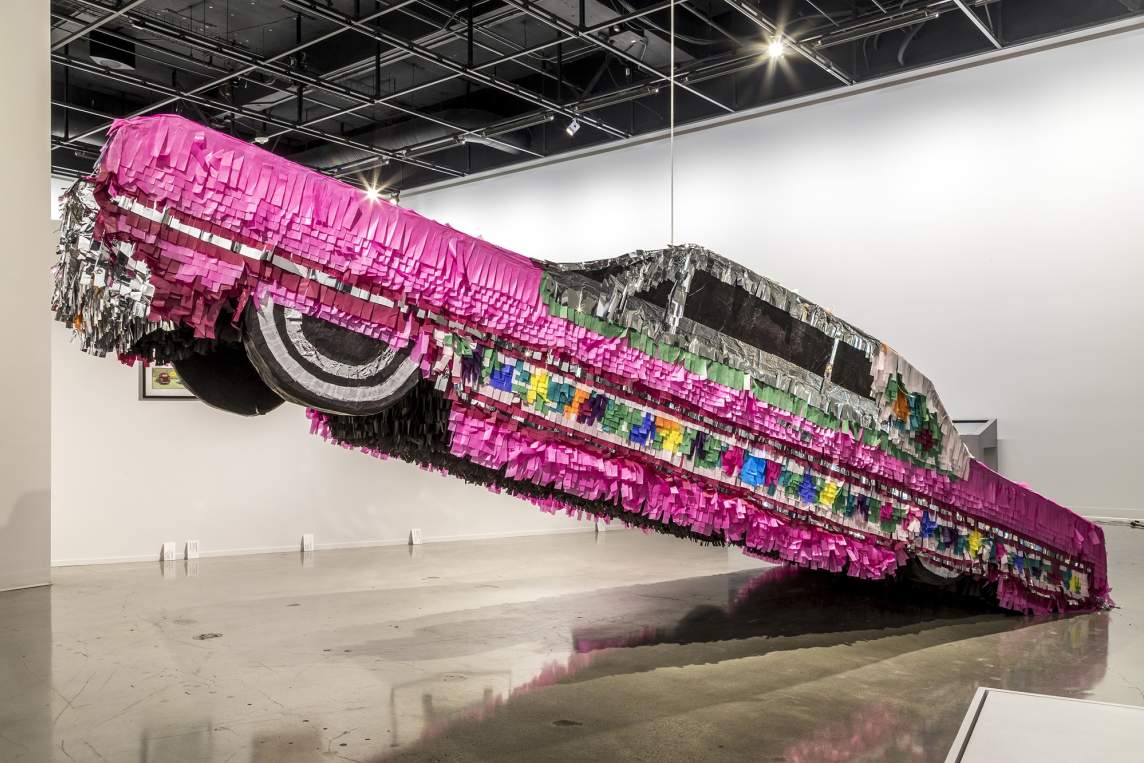 Aside from these current exhibitions, I'm also working on a book. For almost two years now, I have been collaborating with the folks behind the publisher Riso Riso in Austin, Texas, on a book of my work. This collaboration made me realize that I wasn't an emerging artist anymore. You know, when I was five years into being a full-time artist, I thought, alright, I'm an artist. But then they keep calling you an "emerging artist"—I'm continually emerging. But really, I've been making art for more than 10 years, and this book is going to cover 2011, when I had my first solo exhibition, to 2021, so 10 years of practice. It's going to be a big coffee table book and we're thinking of it as an object, as one of my own sculptures. So we're getting really creative with it and really celebrating my community in the book. It's coming out later this fall, and I'm really excited about it.
Then, I'm also starting an artist residency in Springdale, Arkansas, with my friend Cara Martinez. We'll start hosting folks in 2023, but I'll be moving to Arkansas in the middle of September to start connecting with the community there. I'm excited to live in a different part of the country and develop a residency that will hopefully serve the local community.
Interview and editing by Jenny Gill. Learn more about Justin Favela's work here.

See other Journal entries filed under:
Explore More Journal Entries