In the Studio: Jonathan Lyndon Chase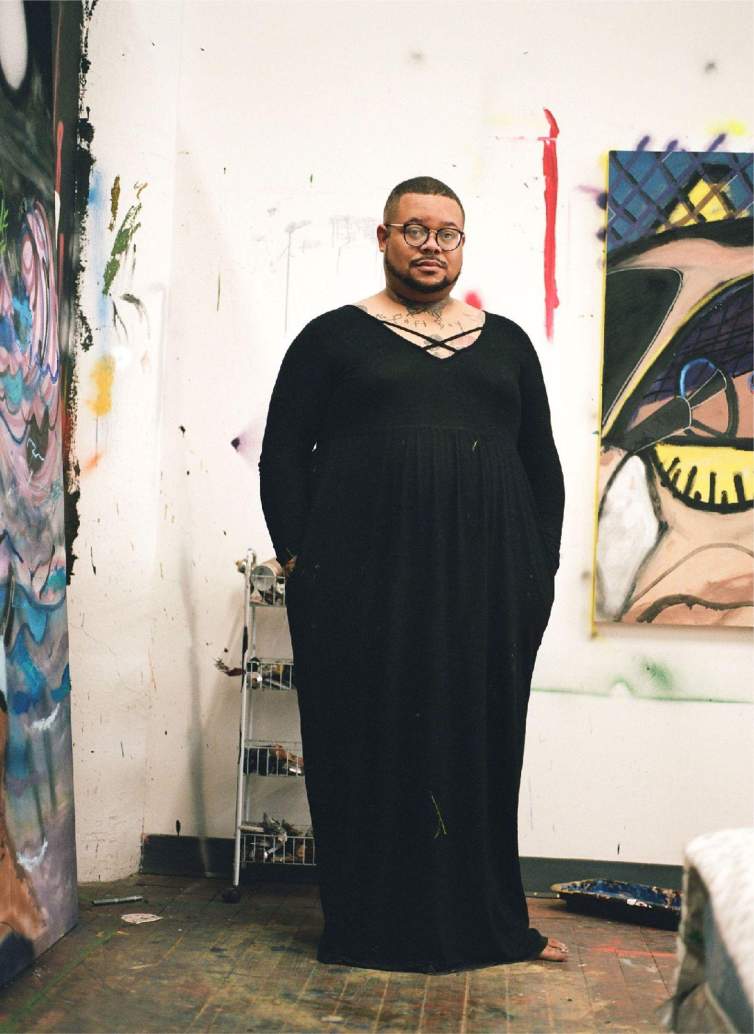 Jonathan Lyndon Chase is a Philadelphia-based interdisciplinary artist and 2022 Joan Mitchell Fellow. We interviewed Jonathan about their work and creative practice in March 2023. The following is an edited transcript of that conversation.
---
My work is primarily about everyday experiences: what it's like being a city person, a Black person, a queer person, and also being non-binary. The body and space relationships between the private and the public are really important to me. And gender issues. I think my work is political, definitely, in relationship with different spaces and different artworks. But I'm really interested in beauty, the body at rest, showing love and tenderness in my work, and also eroticism.

My first love is drawing. I'm mostly known for my paintings, but I do make work that isn't always in service to painting—just drawing as itself, collages, video, sculpture. My work often takes form as installation, like developing environments. For example, I did an installation at the Fabric Workshop with a laundromat. I'm working on doing a kitchen / supermarket right now.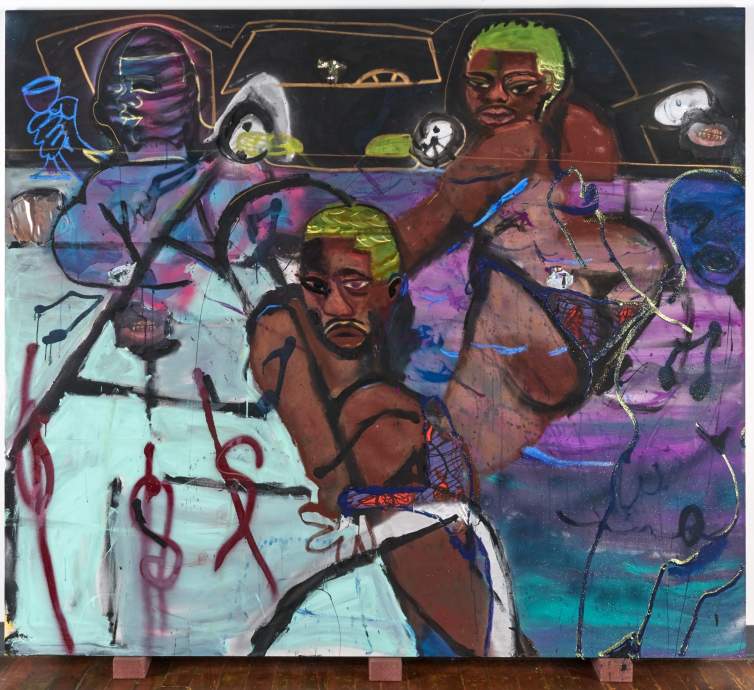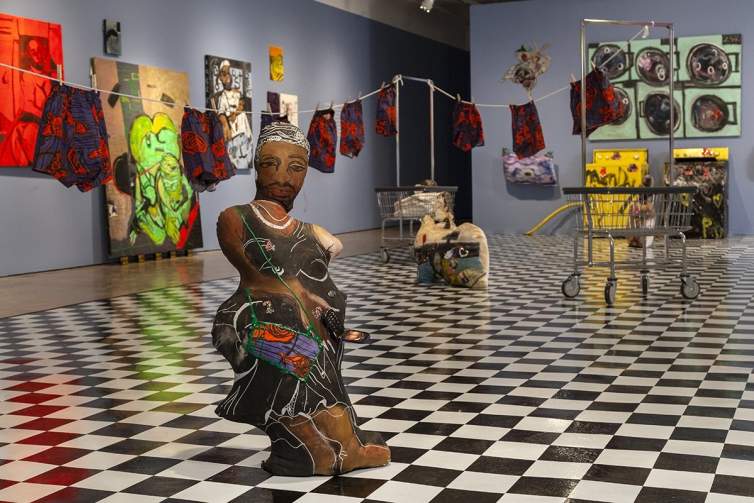 My studio is in the Kensington section of Philadelphia, in the Macon building. Some people ask me, "Why didn't you move to New York?" My home is here in Philly, and I like to talk about the city of Philadelphia a lot. It's a big part of my work.
I came into this space in 2018. I was doing a Rubell Museum residency when they were doing construction. I really loved the beautiful space so I decided to keep it. Just having this space allowed me just to work much bigger. After about a year and a half of us staying here, we decided to rent the next door, too. I primarily use the space next door for storage and photography, but it's slowly turning into another workspace.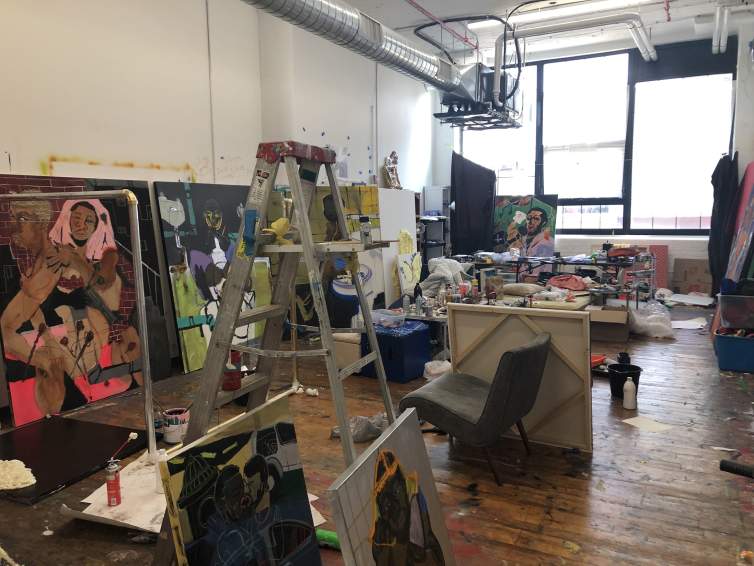 My process gets started with just walking through the city, something I find beautiful catching my eye, something like that. I'm really into poetry. Dreams also influence me a lot. What will usually happen is that I'll have a sketchbook, and because there's always just so much coming in, I use it to organize. It'll start off with a drawing. This [references sketch] is a quick little jot down idea of what I want the painting to look like. Colors probably will come. They always come later.

I also really love working from photographs as a jumping off point. Sometimes, they are photos that I take. Sometimes they're outside places, or from porn websites, or something that people send me, a friend's photo, just all kinds of those things. It's kind of a living document. I have an assistant help me dump my camera and my online drives, and then I start organizing them—like, these are brooms, or these are blue things, or these are sneakers. I'll have a whole bunch of binders, and then I start organizing the related stuff together.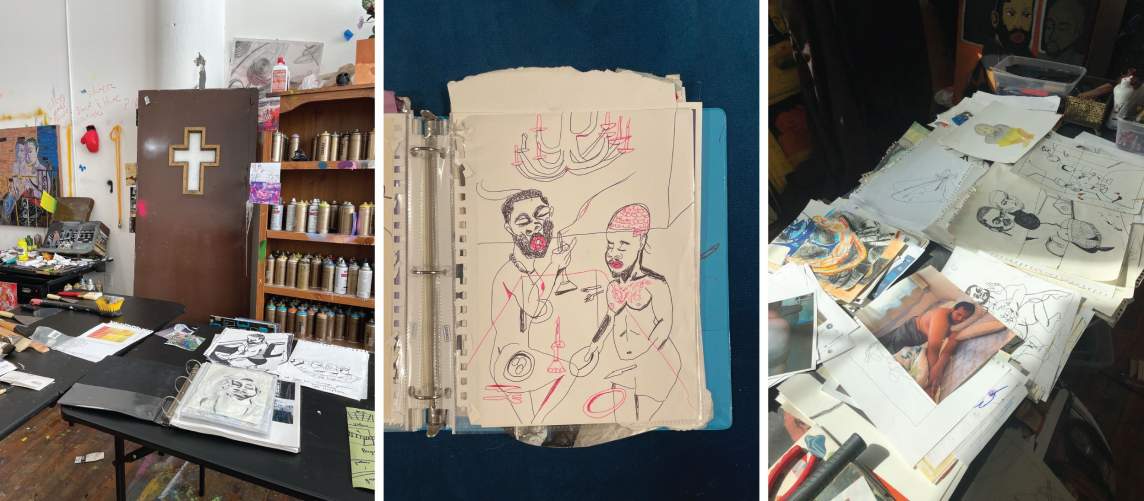 I write a lot, too. It started out with just ideas, especially poems, and then it grew into its own kind of thing. I make horror science fiction stories with Capricious. That's my publisher with Company Gallery, so this is how I started out. I have a book out that's called Wild, Wild, Wild West and Haunting of the Seahorse. That's my first go at it.

Sometimes, these walls are just covered with source material. It kind of symbolizes my mind a little bit, all these pockets of things. All this stuff that I'm gathering and organizing can turn into anything, really, like a painting, or give me my installation ideas, stuff like that. I have to try to make a process of the intuitive and the kind of chaotic part, with the order and the structure. I think that speaks to another thing that influences my work, which is my everyday experience as a person living with bipolar. I find it's also just really satisfying, the act of organizing something.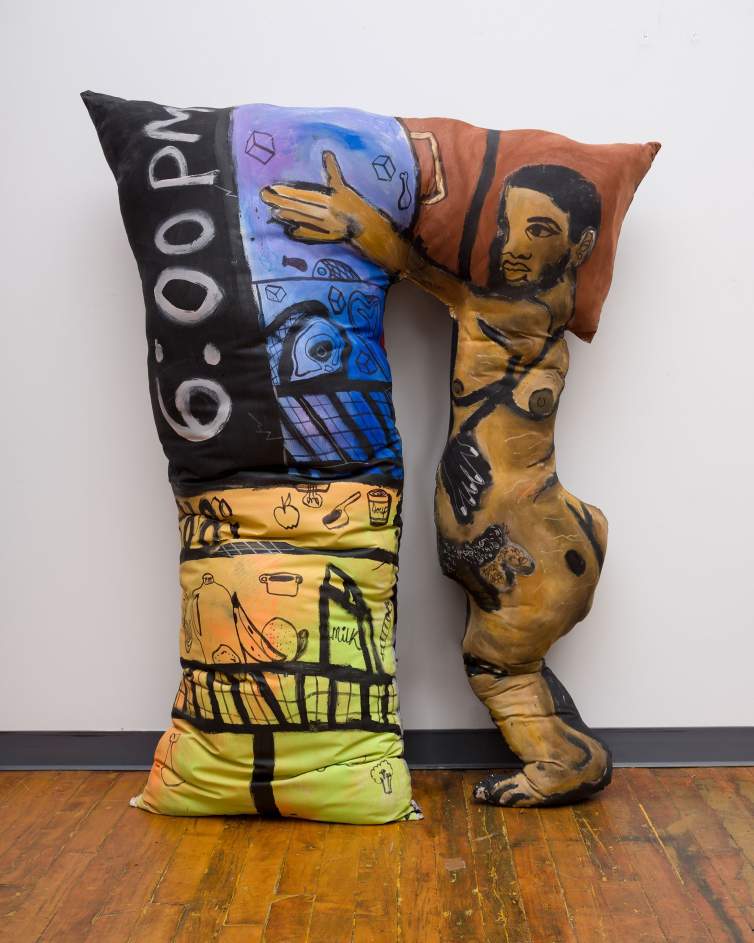 In addition to my paintings, I make soft sculptures. It's my effort to get pieces or moments out of the flat surface and into something that is kind of in-between. This is an experimental part of my practice. The sculptures are an area of my work that I'm the most unsure of. When I think of a painting, I'm always thinking of people like Chris Ofili or Eric Mack who are exploring what a painting can be, and how it interacts with space. That really fascinates me.

With the soft sculptures and with my paintings that have 3-D elements, I'm thinking about the everyday object and the poetics around it. And thinking about hard and soft. Through a lot of art history, sculpture has been hard, macho or whatever. My grandma and my mom taught me how to sew, so that's where that more intimate, domestic quality comes in. I don't think that all sculptures have to be made of metal or steel or something like that.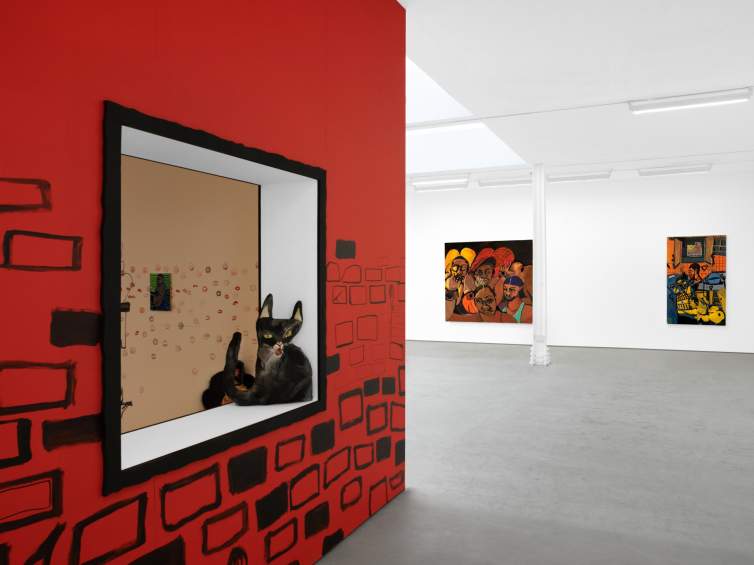 I had a recent show at Sadie Coles, in January. In terms of subject matter, it was centered around the public and the domestic. The solo show that I had before that, at Company Gallery, was titled Fog. For that one, I brought an actual pier into the gallery. It was really exciting for me, because I consider myself a little bit of a Maximalist. That show, Fog, had to do with the relationship with my late father. He died a few months after I was born, in 1989. He served in the Navy in the Korean War. The installation of that body of work was like a lot of my projects: it starts out with something very personal to me, but then in the research part, where the binders and all the stuff come in, I start thinking about other people and their relationships to this idea of masculinity, ideas about soldiers, and things like that.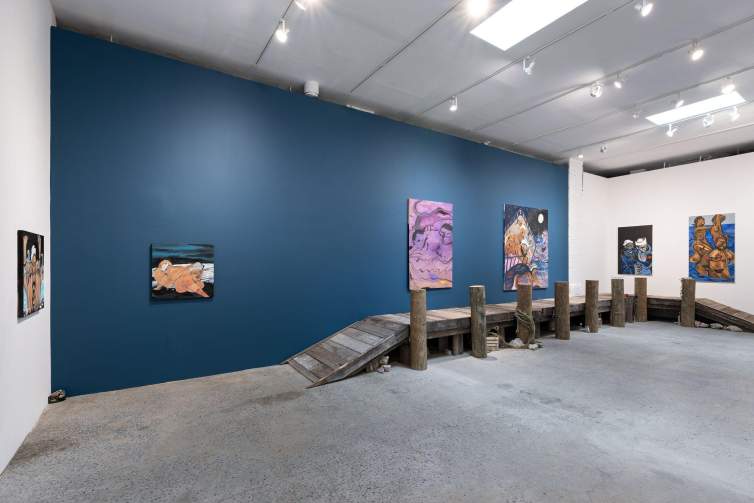 Thinking pictorially, it was really hard to find information specifically on what gay Black people were doing in the Navy. Even in queer realms, where they're using it as a roleplay or a picture that exists outside of history. There's a lot of information on Black people, definitely, but not specifically gay people. That's always something I'm interested in—trying to open up doors to start a conversation, where maybe other people will come in and be like, "Okay, this is a pool of information that just needs more attention."

I was invited to do a group show with Gio Marconi in November. It's in Milan, and the theme for the show is "Mother Boy," exploring different relationships between this idea of boy and mother that can be domestic, political, poetic, musical—all kinds of ways to think about that relationship. For my installation there, they're giving me a pretty cool space. There's a window in it, and I'm going to be turning the gallery into part kitchen, part supermarket.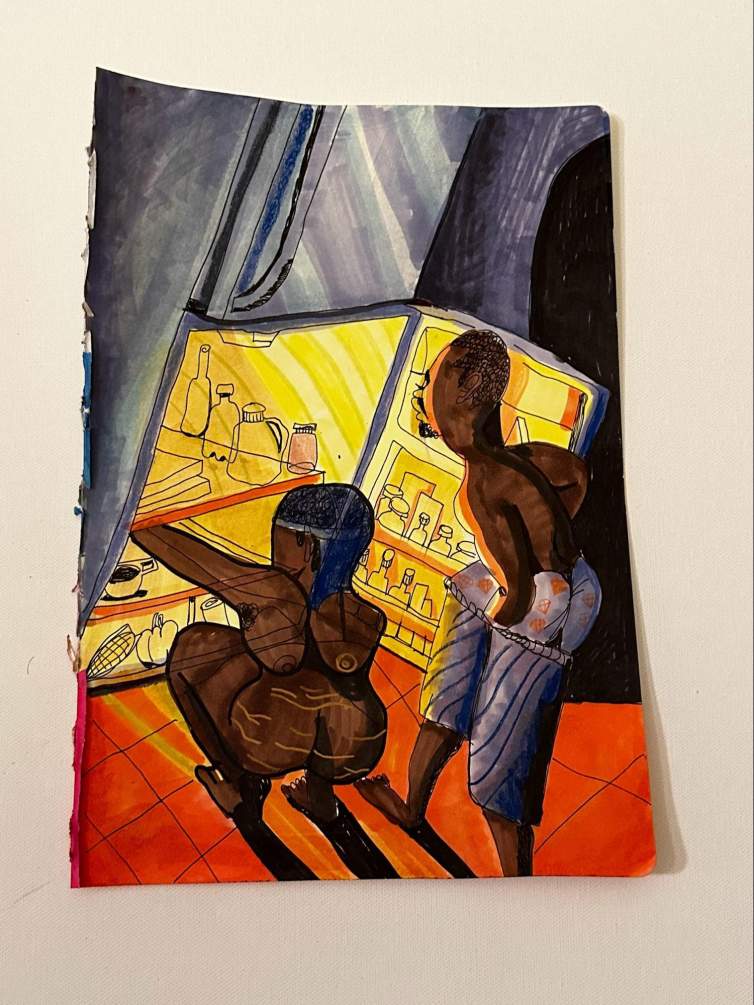 I've done smaller installations with the same theme. This will be my opportunity to fully realize some of the things I wanted to do that I couldn't do at a fair or when I'm sharing a space with another person. The exhibition will include video, painting, drawing, and lots of soft sculpture. I have people who can help me fabricate things to fully get that immersive feeling. So I'm super excited about that one.

I also have an upcoming solo project at Artists Space in New York, which will open in September. The theme is going to circle around barbershops and living rooms, which I'm really excited about, too. As spaces come, barbershops are very unique and full of history. They let me have the whole first floor for that show. I'm always looking for a challenge. That show will have some bigger, large-scale soft sculptures, video, drawing, and painting. I'm going to also be trying out lots of things with printed linoleum. So those are the things that are keeping me pretty occupied this year.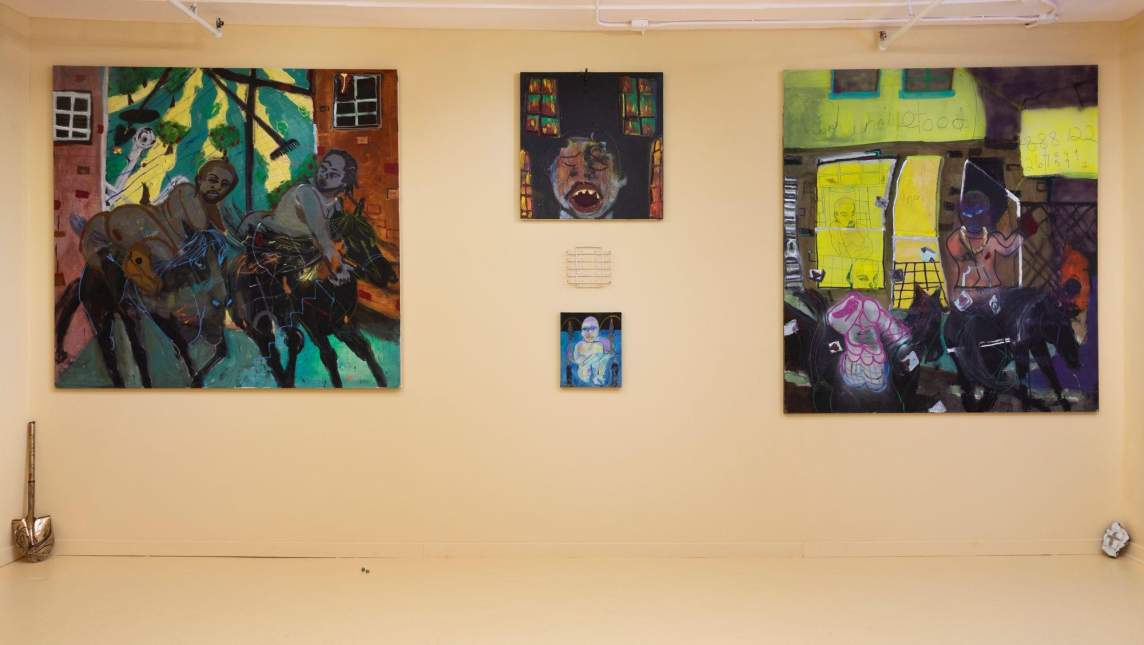 When I think about people encountering my work, I want viewers, no matter what background or walk of life they come from, to be able to see themselves in such a way that they can just love themselves and love their body. Some of the faces in my work, you'll notice, are what I would consider sort of mask-like. I feel like those are a little bit more open, where you could project yourself onto it. There's lots of overlay and transparency, because I am thinking of not only the physical body but the mental body, the emotional body, the spiritual body.

I am hoping that people can really interact with the work, to start thinking about slowing down, taking moments of rest as a kind of radical act, loving the body that you're in, especially living in a day and age, visually, where there's so much fraudulent AI stuff happening. I think it's really important to remember that and to just embrace who you are and what you look like. We have all these filters and these things that make people look perfect. I think it's very weird.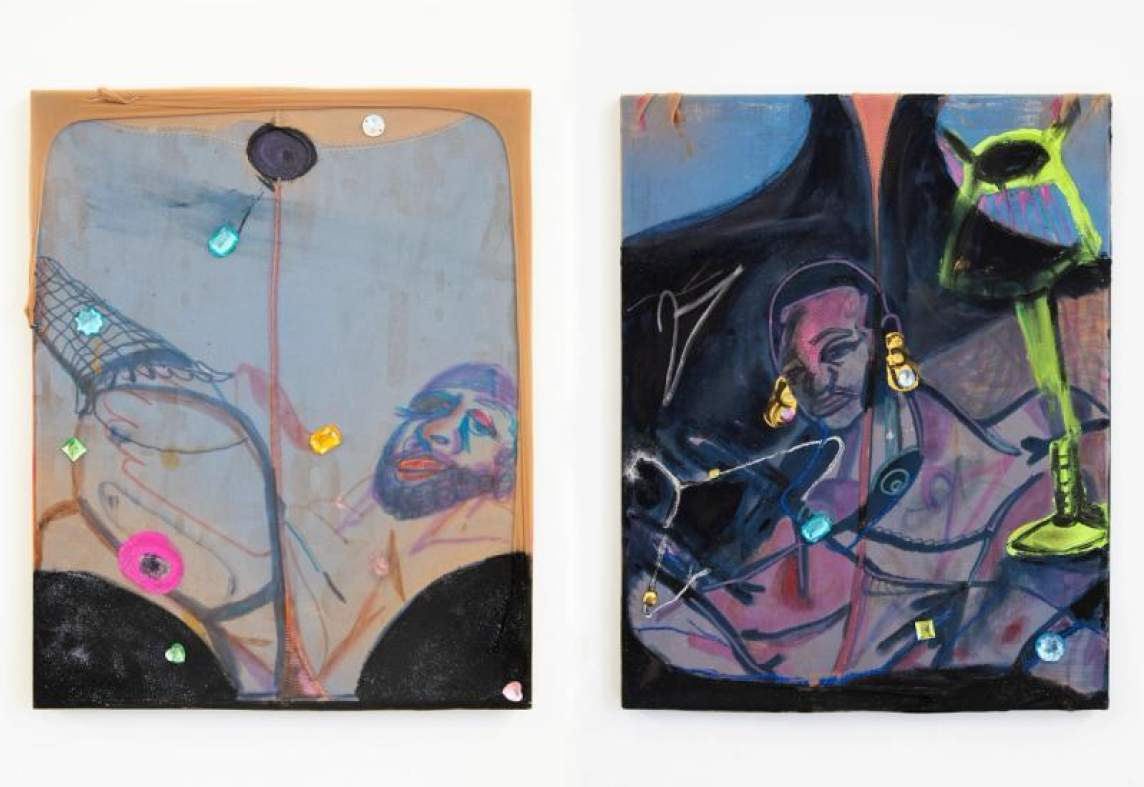 And especially, I think we need to see different kinds of queer, Black bodies in a way that centers tenderness and sexuality, especially because of the time that we're living in, where Black and queer bodies are facing violence and erasure in such a heightened kind of clash. I want people to see that you can't just erase this group of people. We're living, and we exist, and there are so many ways to exist in a body. There isn't one way to do that.
I know my work brings lots of joy and happiness to people. And I want to remind people that a part of all of that is also honoring grief, which I also talk about in my work, along with other emotions that we probably associate with being sad or being negative. I don't think any emotion is negative. There's this idea of toxic positivity, where we only look at what makes us feel happier. I want to remind people, it's all about the human experience, so it's okay to not feel okay. It's okay to feel sad or angry. There are dark parts of our personality. I want people to see it all in totality.
Interview and editing by Jenny Gill. Learn more about Jonathan Lyndon Chase's work here.
See other Journal entries filed under:
Explore More Journal Entries