In the Studio: Guadalupe Maravilla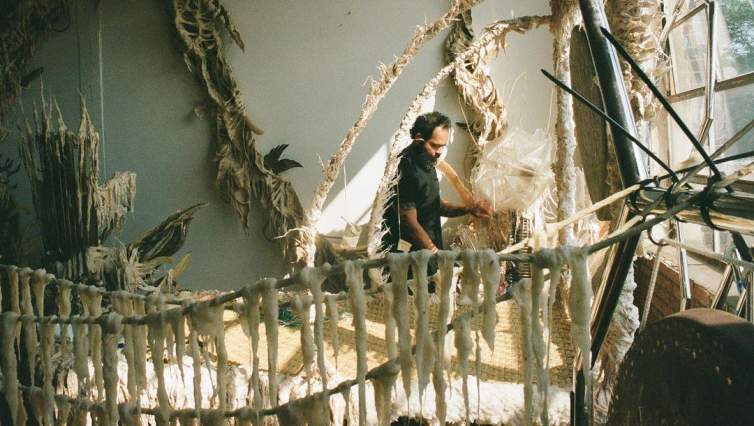 Guadalupe Maravilla is a transdisciplinary visual artist and a 2021 recipient of the Joan Mitchell Fellowship. We interviewed him about his work and creative practice in July 2022. The following is an edited transcript of that conversation.
---
I'm an artist. I'm also a healer, and I combine the two. My work takes form in sculpture, painting, or healing ceremonies in institutions or in community centers.
I respond to the world around me. I respond to my own experiences, whether they're surviving cancer, or being part of the first wave of undocumented children who come to this country unaccompanied, or the pandemic, or other things that have happened. These are very difficult challenges that I have come across, but also very positive things as well. And I gather all this and make new work out of it. I create my own micro economies around my practice.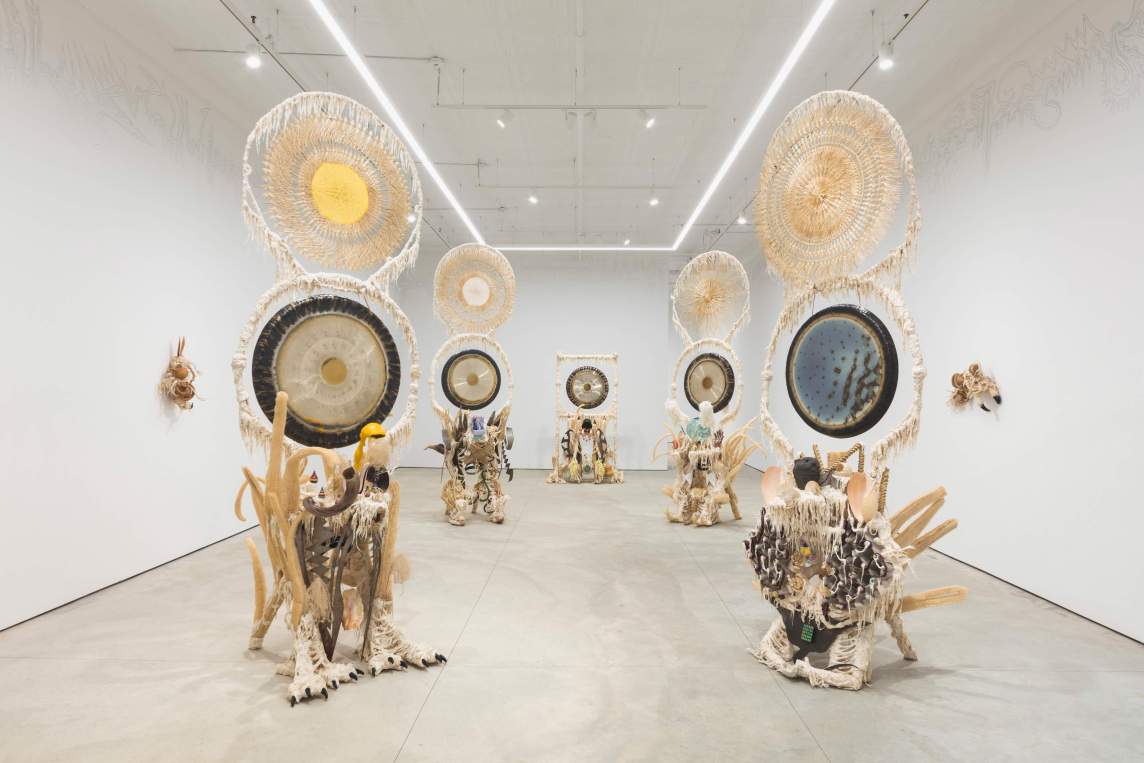 I was born in El Salvador in 1976. I was part of the first wave of undocumented children escaping civil war, and I came to the US unaccompanied when I was eight years old. This migration has continued for many different reasons since then—from El Salvador, from Central America—and that is nothing new. I'm definitely not the first to have gone through the experience. There are hundreds of thousands of people that were escaping similar violence. I was just one of the very few lucky ones that was able to get some stability in the US. I went to a university and got my master's degree and became a professor here and all this stuff.
I'm also a cancer survivor. I connect the traumas of my childhood to my cancer, because I believe that untreated trauma can manifest in the body into many different types of illnesses. For me, it manifested into a cancer. This is what I make work about, and that's how the healing work comes into play.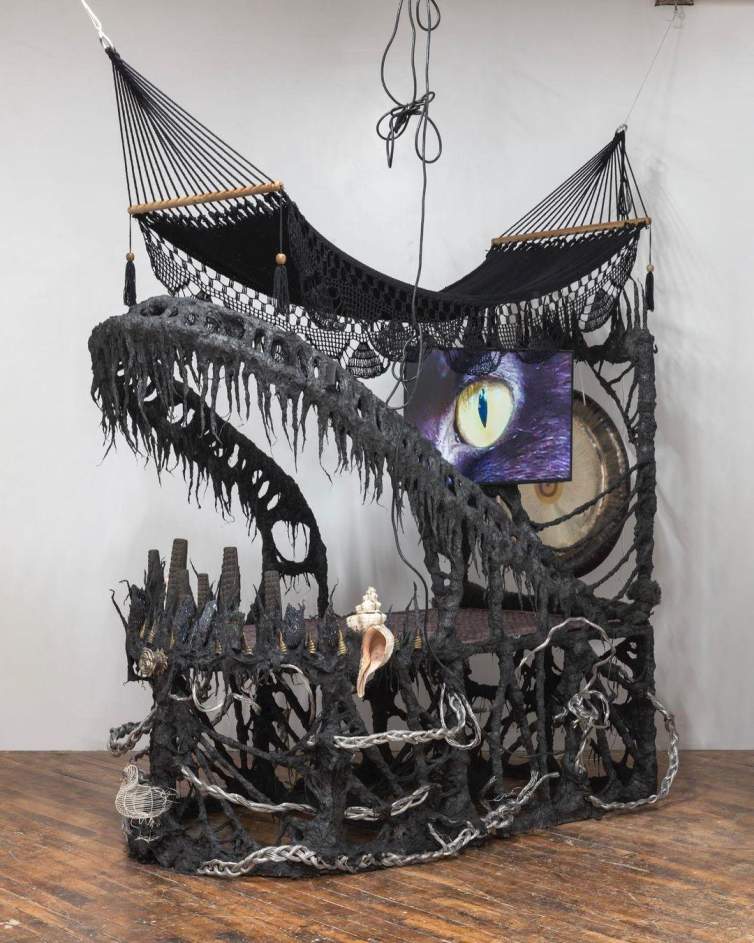 Part of the work that I'm doing is retracing my own migration route, so going back to parts of Mexico and Central America where I crossed as a child, going back to those lands as an adult, as a US citizen, and confronting places that I traveled. Originally I started doing that for my own self healing, to confront my own traumas, but eventually I started bringing back objects and then they became part of my shrine and eventually they started becoming part of my sculptures.
I also make friendships with people in specific places in the world that also become collaborations—again, creating a micro economy around my work. I create labor around the work and I'm able to have a whole team of people working for me now that become part of the work as well. The specific fabricators that I meet along the way that I hire for details of the sculptures. There's a fourth generation retablo painter that I met along my journeys who has become a big part of my practice now. His name is Daniel Vilchis, and he paints for me. I design compositions and I make a digital collage of everything. Then I send him a very finished model, a Photoshop model of what I want, and he paints it for me. We go back and forth for the little details. So that's something that flourished out of these travels that I do.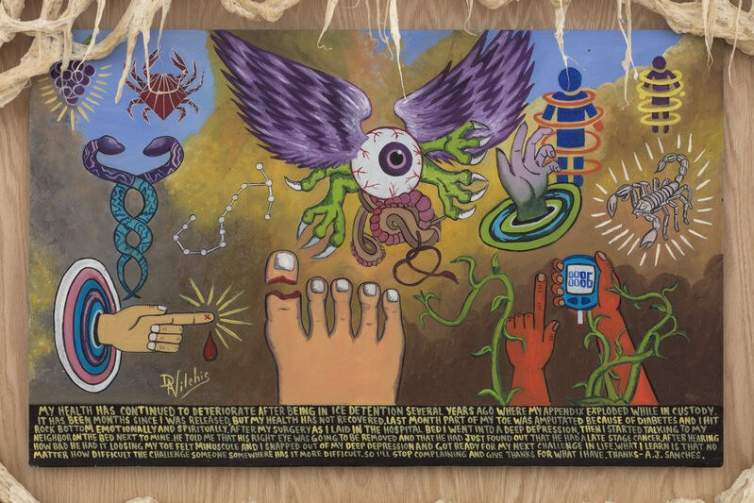 The form that my work takes depends on the space and the budget. Sometimes it can just be some paintings or sometimes it can manifest into a really big installation and then the big installation can turn into activating this installation. So there are multiple layers.
Currently I have four solo museum shows up at the same time. I have one at MoMA in New York, one at the Brooklyn Museum, a show at the Henie Onstad Art Center in Oslo, and one at the MCA in Denver. They all have what I call my Disease Throwers, which are my sculptures that are healing instruments. They're shrines and they are sculptures and they become activated through sound baths. We've done over 100 sound baths this year already and we're just halfway through the year. They're always sold out. They're always full to the max. It just shows what state we are in as a society that everybody needs some sort of healing.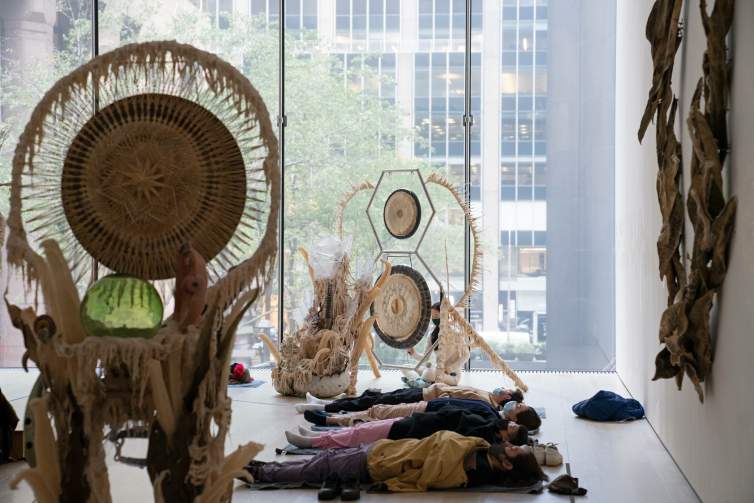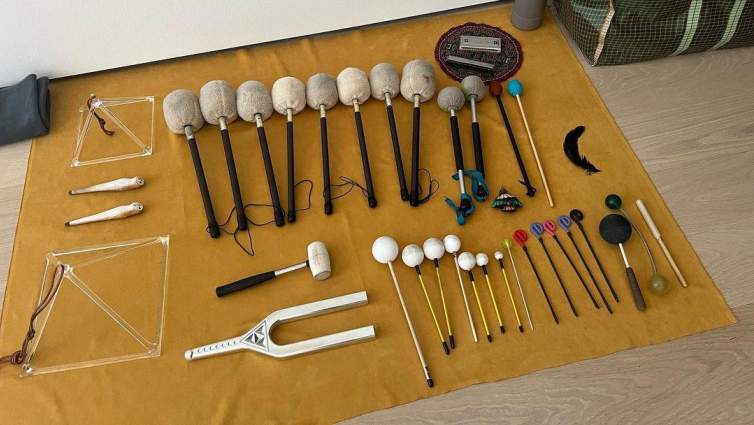 Because I have shows all over and the demand is so high, I have other sound healers who I work with. We've done so many ceremonies together at this point that I feel very comfortable with them there and they are comfortable playing my sculptures. This past weekend, I was doing a sound bath at a church for the undocumented community here in Brooklyn, and at the same time, my solo show in Denver was being activated by sound healers that I work with. They flew them over there and they got paid to do this work. They had four sound baths in two days for a couple of hundred people. And at the same time, I was doing the work for the undocumented community here that I don't get paid for. It's how I give back to the community.
To me, it's been really beautiful because I have the ones for the general public and I do the ones for the undocumented community every week, and I also have been doing a lot of sound baths for cancer survivors. I've been super busy with all of the sound activations, but also with my studio practice. I'm constantly in the studio, hundreds of hours per week, just really busy with the work. But it gives a lot back to me and it's been really beautiful in that way.

There are so many layers within the sculpture. I'm the type of artist that, when you look at something there's just so many different things happening at once. When my work is up in the museum, it's a sculpture. But when we're doing the ceremonies, it's like, "Okay, close your eyes and listen to it. Listen to the sculpture, listen to where it's taking you." So it's just completely different in terms of how you experience it. It couldn't be more extreme. One, you're experiencing with your eyes and the other, you're experiencing with your whole body and you're listening to it.
Aside from the current shows, there's a lot going on for me right now. I am doing a new project for the ICA in Boston. I've been very fortunate to have this giant project space that they have called the Watershed, which is this massive warehouse where they used to make ships, and I have to fill it. The show opens May 22nd. For this show, I am buying a retired school bus in El Salvador, and I'm going to hire a team of fabricators that are based in Mexico City. We have a warehouse there and we're going to transform this bus into a sculpture, into a gigantic metal instrument. We're going to take all the seats out and put gongs on top so when we play the instruments, people can go inside and lay across the bus. And then the bus will become a vibrational healing instrument for maybe 40 people at once.
The school buses are sold to El Salvador from the US so once the buses get to a certain age in the US, they get sent down to Central America and then they repurpose them for public transportation for another 20 years. And then they eventually retire them. So I will be buying one of these buses that's on its way out, bringing it back and turning it into a healing instrument in itself. So it's going to have this giant migratory path coming from the US to El Salvador and back. It will be completely transformed. And along the way, I'm going to document and make a small little film out of it as well.
I'm going to be completely devoted to this from now until May, when the show opens. In addition to that, it's going to be a bigger installation with other things happening, so that's what I'm focusing on right now.
Interview and editing by Jenny Gill. Learn more about Guadalupe Maravilla's work at guadalupemaravilla.com.

See other Journal entries filed under:
Explore More Journal Entries