In the Studio: Emily Gherard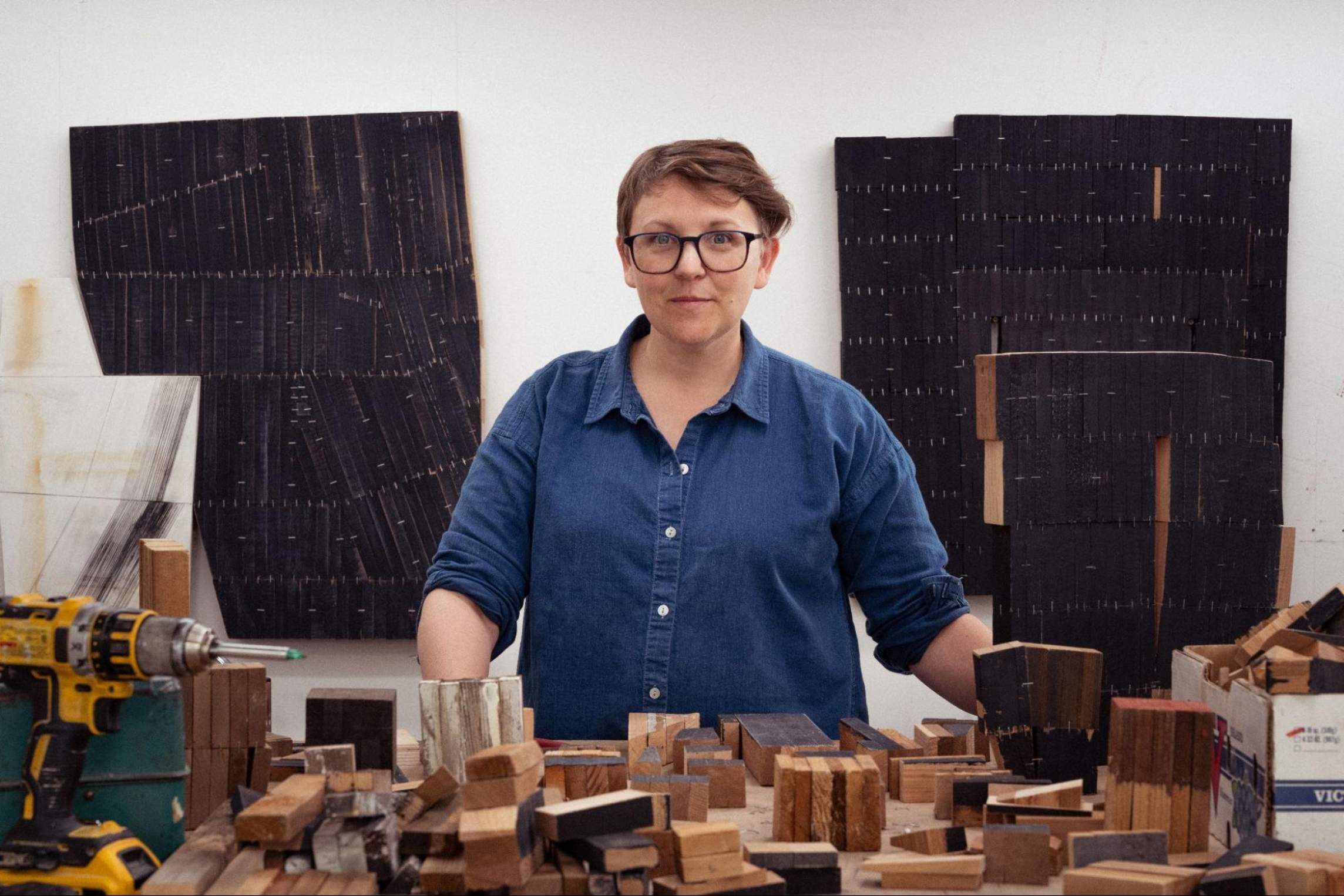 Emily Gherard is an artist based in Seattle and a 2021 recipient of the Joan Mitchell Fellowship. We interviewed her about her work and studio processes in May 2022. The following is an edited transcript of that conversation.
---
My current body of work consists of large drawings and wall sculptures—monolithic, sometimes geometric structures that are stand-ins for the human figure. They tend to be built out of the accumulation of either marks, small pieces of wood stapled together, or blocks of plaster.

The forms that I am building are typically based on historical figure paintings. I pull the figures' postures and then dovetail that with the original narrative of that historic work. Looking back, I started pulling from historical images early on. I love studying a piece and trying to understand it by making it. I think there is also that distance of time that makes it easier for me to find my own narrative in that past.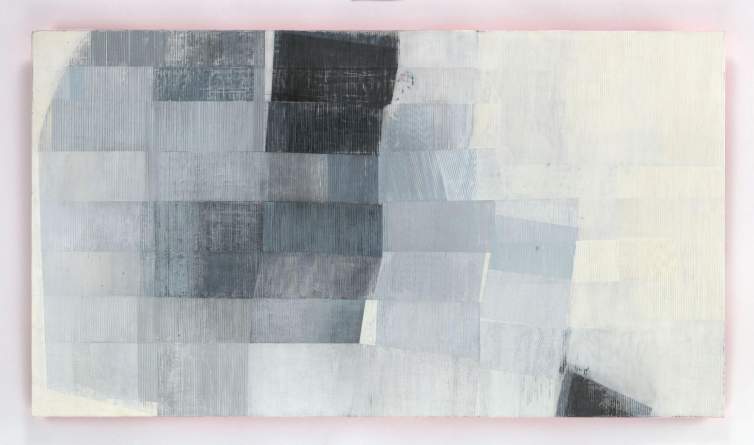 My work is completely abstract, so the source material is not apparent, but I am interested in the idea that these historical works that I love are more than the sum of their parts. Can you sense the original emotional content without those obvious narratives? Without the figure? Is there something in what I call the DNA of my work that is apparent despite the fact that the work is fairly abstract?
The piece that I'm currently working from is a Käthe Kollwitz print, called The Mothers. It features five women with their children. I love Kollwitz's work and I've pulled from it for years. She did this series multiple times through drawings, etchings, and sculptures.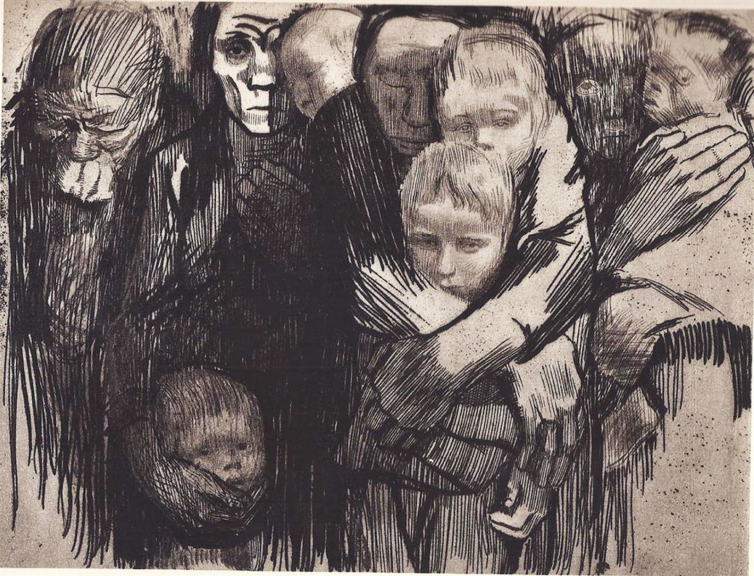 In this particular version, each of the figures is drawn in a completely different style. You have one mother who is built out of these small lines that blend into the background, another mother who almost looks like a woodblock where she's just desperate and the marks are really raw. There's a figure who is crouching over and she dissolves and is pulled apart into the mark-making. This is a wall of figures and each is radically different, expressed through the style of the marks. What's always drawn me to Kollwitz's work is her ability to link marks and touch to the content. It's very apparent in this piece.
In my own work, I'm always looking for a way to link the content with the process. I'm developing not just the materials used, but the process in which the materials are developed, and linking that with the content. To me, this Kollwitz piece does that so beautifully, so I am excited to see how I can build on her pieces by using different material combinations to create the different figures in her piece—linking the way she depicts each figure with my own experiences with motherhood.
I think that when you are working with your hands, the work expands and it expands and it expands. When I work with the plaster, it definitely has its own content and those ideas come through within that piece. So I start off with the idea, "Okay, I'm working on this Käthe Kollwitz piece and I'm pulling from it," but I get to a place where I am just working with my hands and I am building forms and building structures and my own narrative can come through.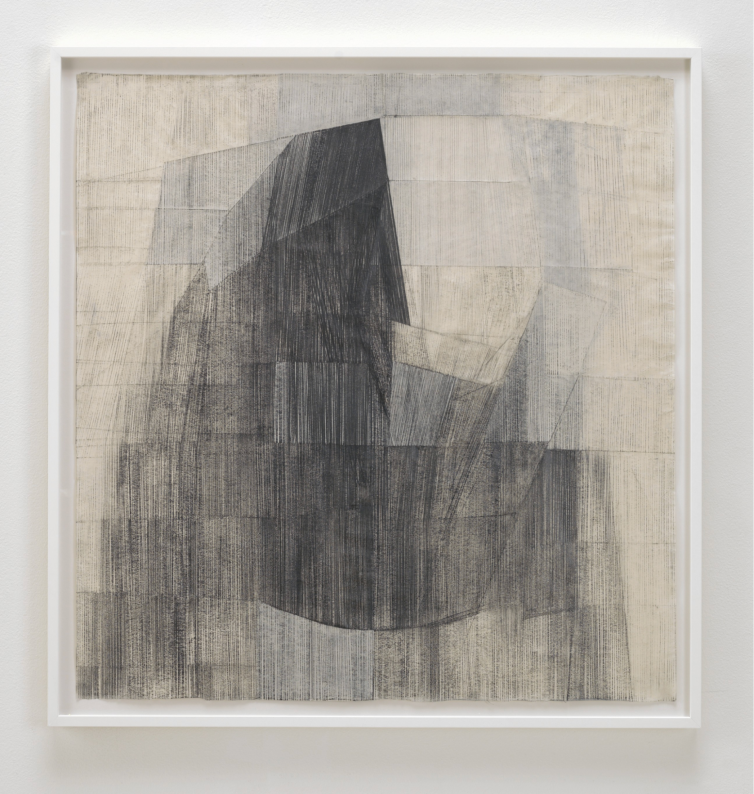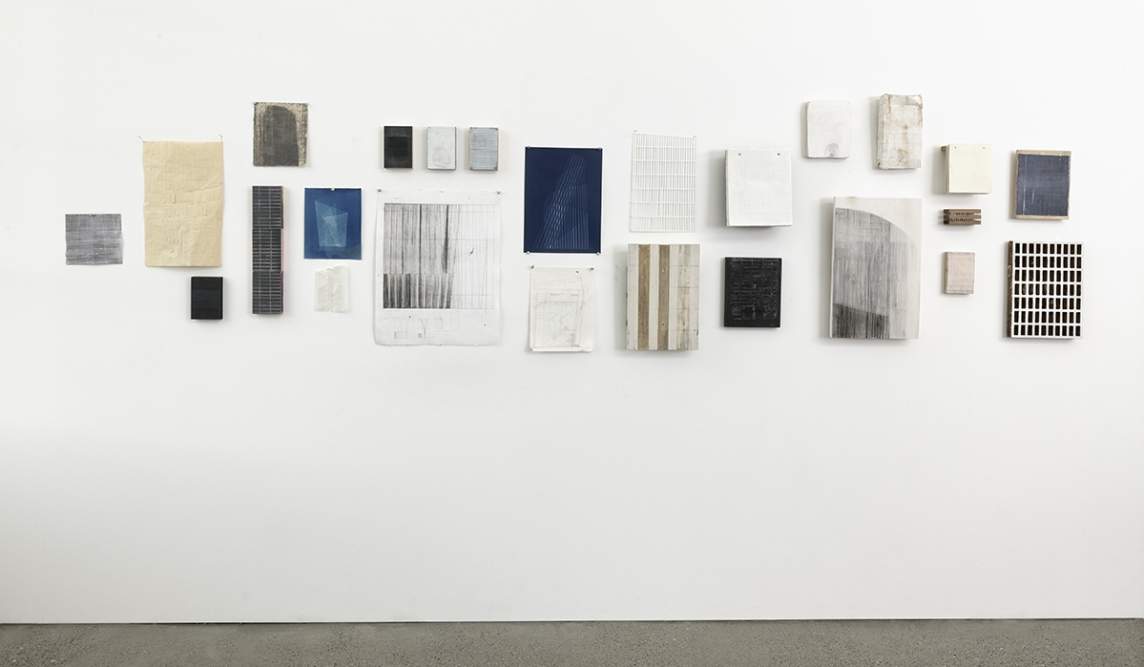 Six years ago, I moved away from traditional oil painting with my daughter's birth, naïvely planning to work with her in the studio. While that never came to fruition, it did mark the beginning of my extensive experimentation with materials. My studio practice transformed overnight from a slow, purposeful medium into a curiosity to try and use anything. Once I did that, everything just started to flood in. For example, I had been experimenting in plaster for 20 years, but as a side project. It just wasn't at the forefront of my studio practice until my daughter was born. These two things happened in tandem for me, which circles back to the Käthe Kollwitz print. Each of those figures is drawn differently and it says something about the figure. I'm dovetailing my own experiences with motherhood within that, because for me, this experimentation with materials and this exploration with all of these styles, they're very linked for me to becoming a parent.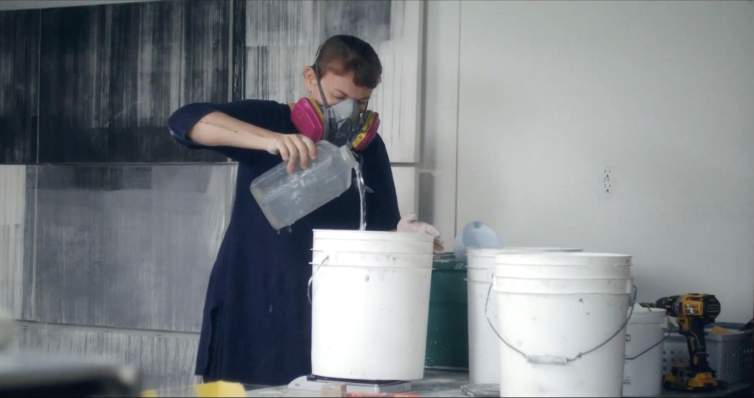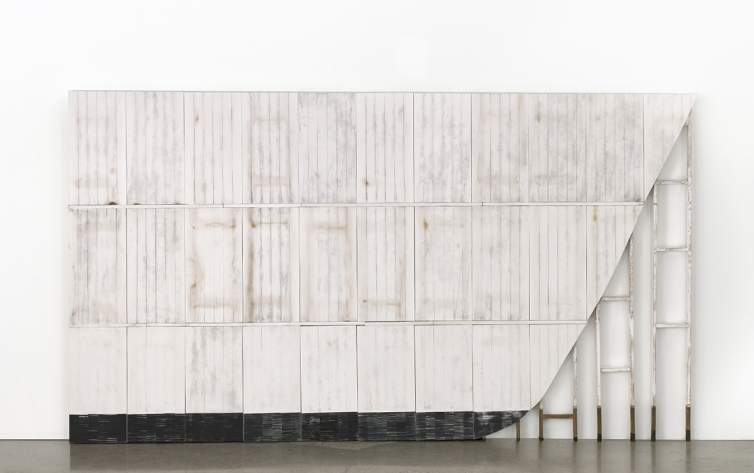 In recent years, I've been combining printmaking, plaster, and wood. I create plaster molds made out of printmaking plates. The plates have an image on them. They are inked up and wiped and wet plaster is poured into it. And as the plaster hardens, that image is transferred. In 2020, I had a show of these large plaster pieces that I had been working on for multiple years. At the end of that show, there was still a lot left on the table. The cedar structures that are the support structures within the plaster work started to play a larger role within that series.
When I embed cedar in plaster, the tannins—the brown stain from the cedar—seeps through and it creates this ghostly drawing. So, you look at the plaster piece and it has its own image on it, but also you can see the structure that's embedded within. That metaphor of seeing the surface and the structure within permeating through became important. So at the end of that show, I was interested in really pushing the cedar more. I had a studio just filled with wood scraps from the plasterwork. I started cutting those pieces of cedar up and making paintings with lots of repetitive, short marks that are blocks of painted wood stapled together. So I've been on this track of building structures out of wood with the idea that I can come back and combine them with the plaster pieces.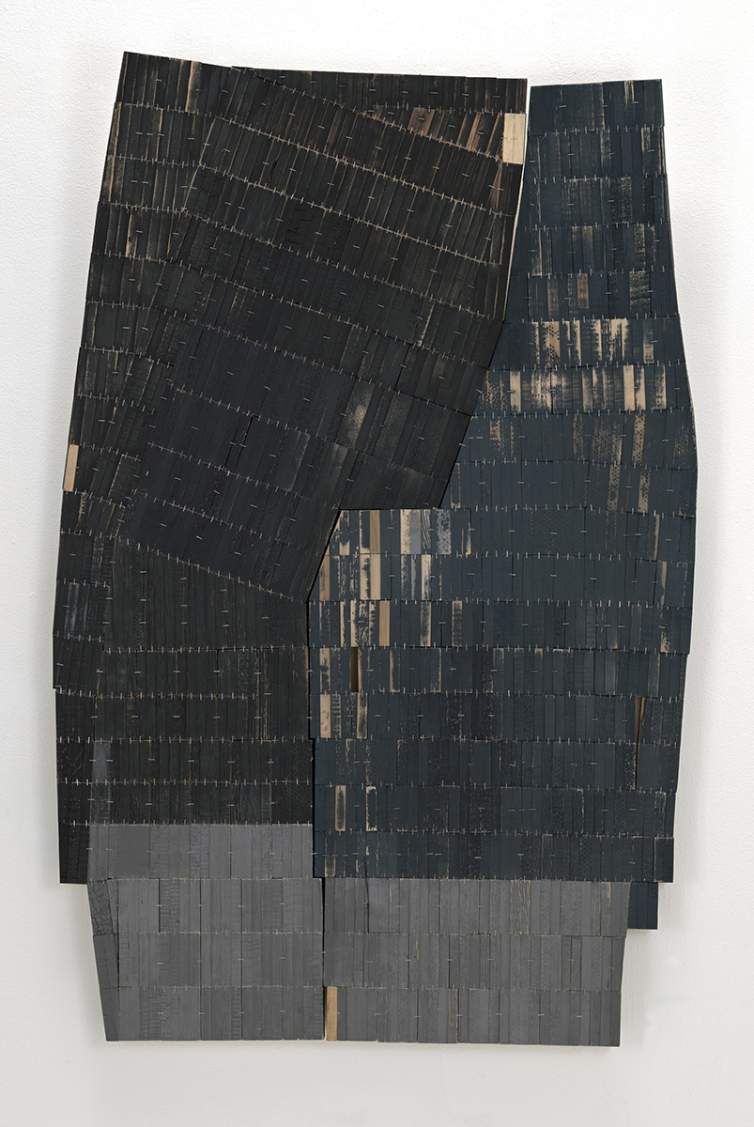 Often my work is described as "monochromatic" or using a "limited palette". While that probably gives an accurate visual description, color is very important to me. I just use it in a quieter way. I liken my use of color to a conversation. Some people walk into a room and say "hi" to everyone. Some people find one person and spend the night talking to just them. I am that latter person.
I love getting to that place in a piece where I can start having the quieter conversation— where the difference between a warm gray and cool gray matters and feels deliberate. For example, in many of the large plaster pieces, I found that if I drew on the warm plaster right when it came out of the mold with a white Stabilo pencil (a grease pencil), the lines would melt into the plaster and change the sheen of the plaster, creating ghost lines visible as you walked past the piece.
Often at the beginning of a painted piece, I use a bright vibrant palette. A few works stay this way; most become subtler, more neutral as I continue to work on them. I love the moment my eyes adjust to the work, seeing the slight changes in temperature. Then the rest of the world in my typically gray northwest landscape seems technicolored. I always feel like a sponge and I just love that moment. I look at everything around and pull it back into the studio.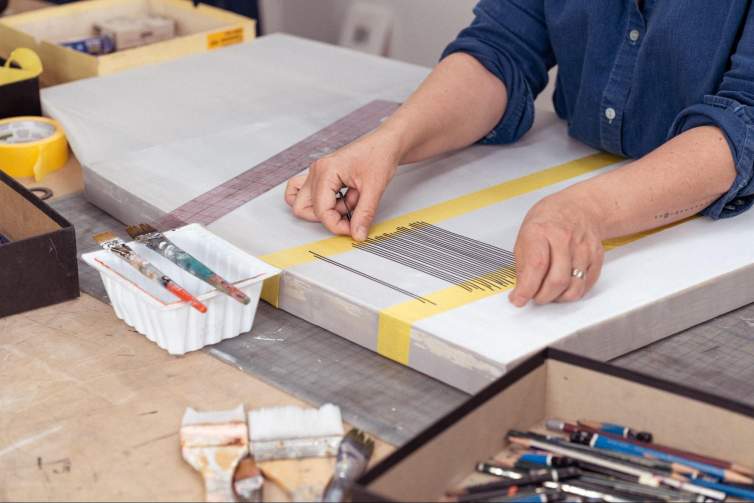 See other Journal entries filed under:
Explore More Journal Entries