In the Studio: Chie Fueki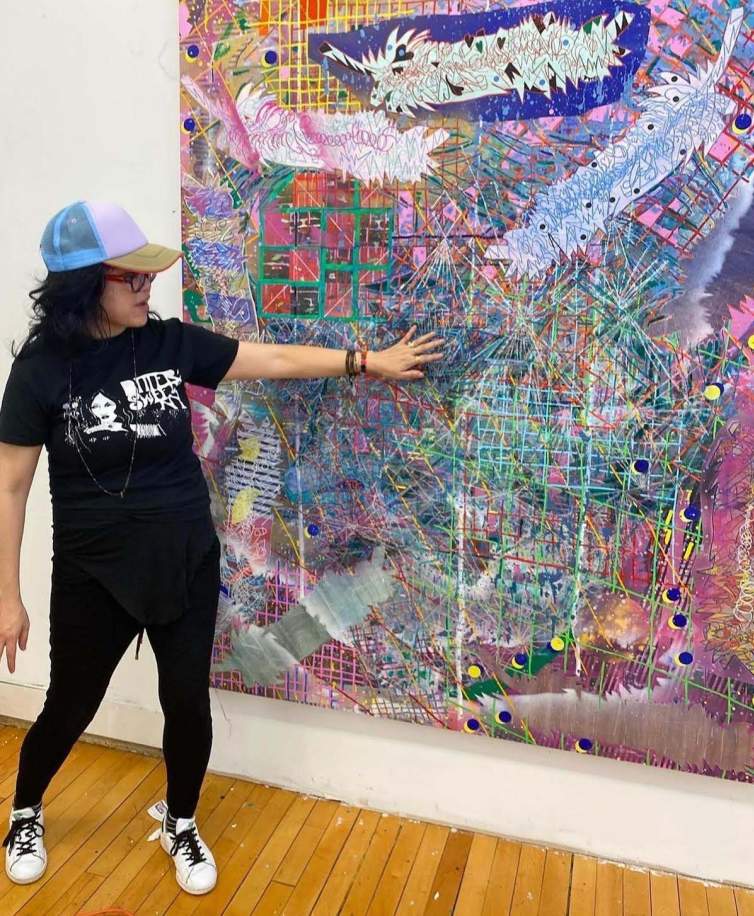 Chie Fueki is a painter based in Beacon, NY, and a 2021 recipient of the Joan Mitchell Fellowship. We interviewed her about her work and studio processes in May 2022. The following is an edited transcript of that conversation.
---
I am a painter who works with a lot of collaged elements. My paintings are on wooden panel support and most of the surface is covered with collaged mulberry paper that has been painted in different colors with acrylic. I use these paper pieces as building blocks to make my surfaces. But I don't only work with collage; I draw and paint, and make brush marks, and pour, and do all kinds of processes simultaneously. There are many layers and elements that are interwoven with each other. I am really aware that I am a mixed language painter, so I would like for the formal language of how the paintings are built to relate to what I'm trying to say with the painting.
In my work, I have been focusing on different motifs of painting, from portraits to landscape painting or ornamental arts. I made a whole body of work based on a particular sport, which was football at one point… So, the motif shifts around depending on my interests, but there is a lot of continuity with material experimentation and formal vocabulary. One of the reasons why I'm interested in painting is because it is a place where mixed language situations can happen visually. The idea of that really excites me, but essentially every day in the studio, I'm just working with the materials.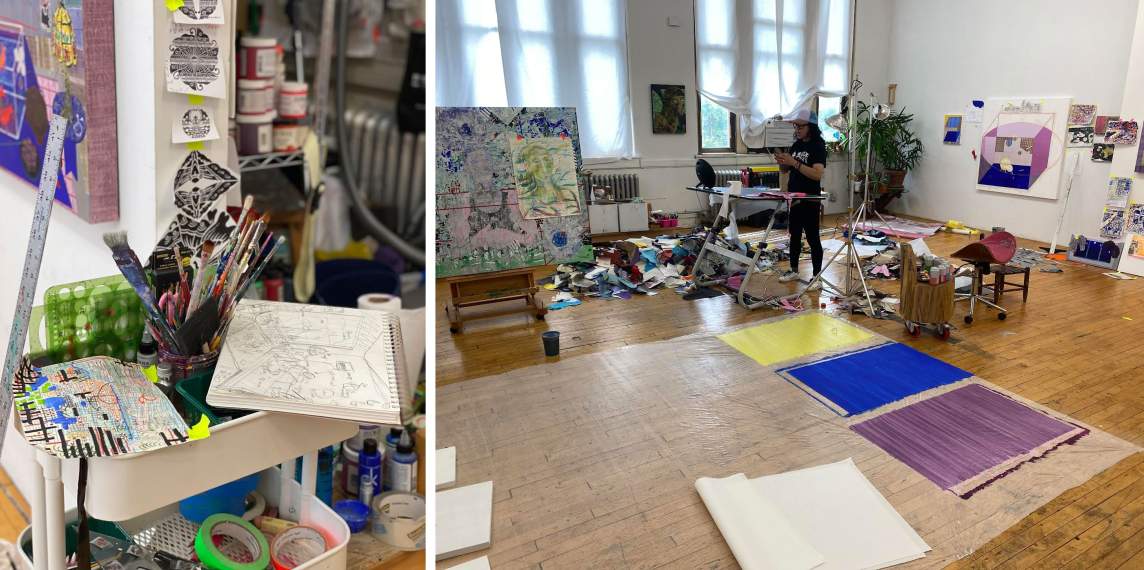 For example, I'm working with acrylic painting right now and all I've been thinking about for the last several days is if I can make acrylic paint look like half transparent marker, to get the paint to respond a certain way on paper or a panel, to wiggle and act in a certain way. And that's all I've been thinking about. So while in the background I am working through larger ideas with groups of paintings, day-to-day in the studio I'm mostly thinking about things like whether I can make a really transparent green act like a fluorescent color, but not with fluorescent paint.
Right now, I'm making a new body of work where I'm painting interior space, mostly without figures. The space that I'm focusing on is our apartment in Beacon, New York, which is a one bedroom apartment with a kitchenette, so a very box-like interior. We happen to live in a place from which we can see Mount Beacon beyond the Fishkill Creek. And so naturally, since we moved here, I've been very aware of the fact that we live in Hudson Valley. I recently located a painting of Mount Beacon by a Hudson Valley River School painter, and it's something I've been thinking about a lot. Because when I look out the window, the window itself is already immediately framing the view of the mountain or a view of the Hudson Valley itself.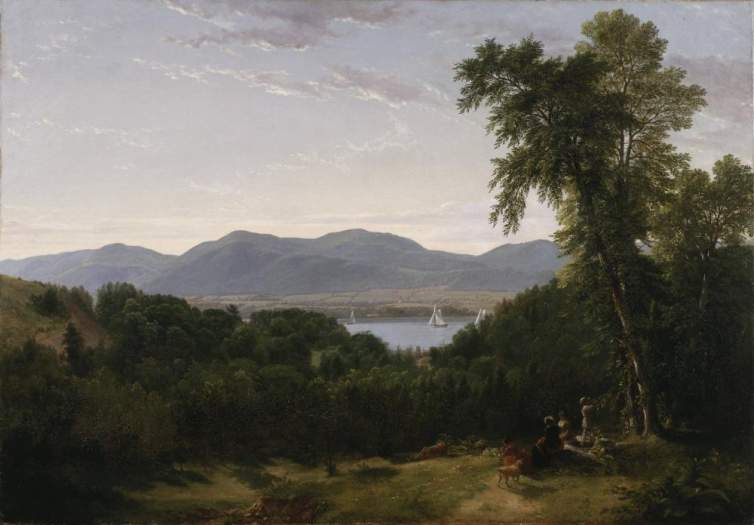 The initial lockdown of the pandemic, and the time spent in this space, really motivated me to think about this viewpoint from the apartment. At first, I thought wow, I should make a landscape painting since that's what I'm looking out at. But then I realized that making a painting of what I'm seeing out of my window just did not really work for the way I think about things. So I decided to frame the view of the window with two giant black ribbons that kind of acted like a curtain or a quotation mark. I called this installation Mountain Altar.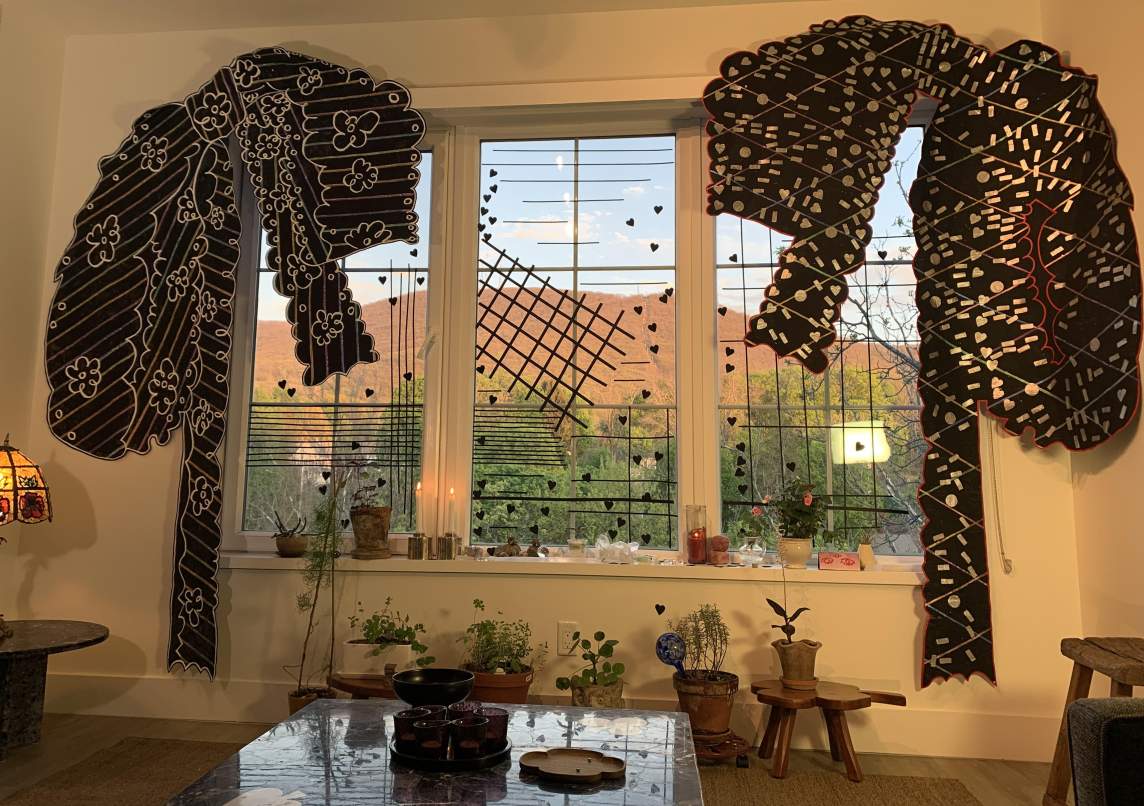 Ribbons have been one of the motifs in my work from very early on, as a recognizable ornamental decoration. The meaning can be fluid depending on its context, often evoking associations of a present or a gift. I am also interested in how commonly recognizable symbols and signs can shift meaning depending on context or scale. In the case of the ribbons that appear in Mountain Altar, I initially made a pair of ribbons on a small life-size scale—one from an observational cartoony drawing of a ribbon-tied lace, and the other a cut-out stencil made with hole punchers imitating an illusion of a lace ribbon. I enlarged these ribbon forms to construct the shaped paper paintings of the Mountain Altar installation. In the painting Brides (2021), these forms also appear at their original size, as the ribbons on the waists of Hilary and Ara's wedding gowns, and enlarged versions of those bows are also located at the top of the painting, ornamenting the one-point perspectival space of the chapel where they were married.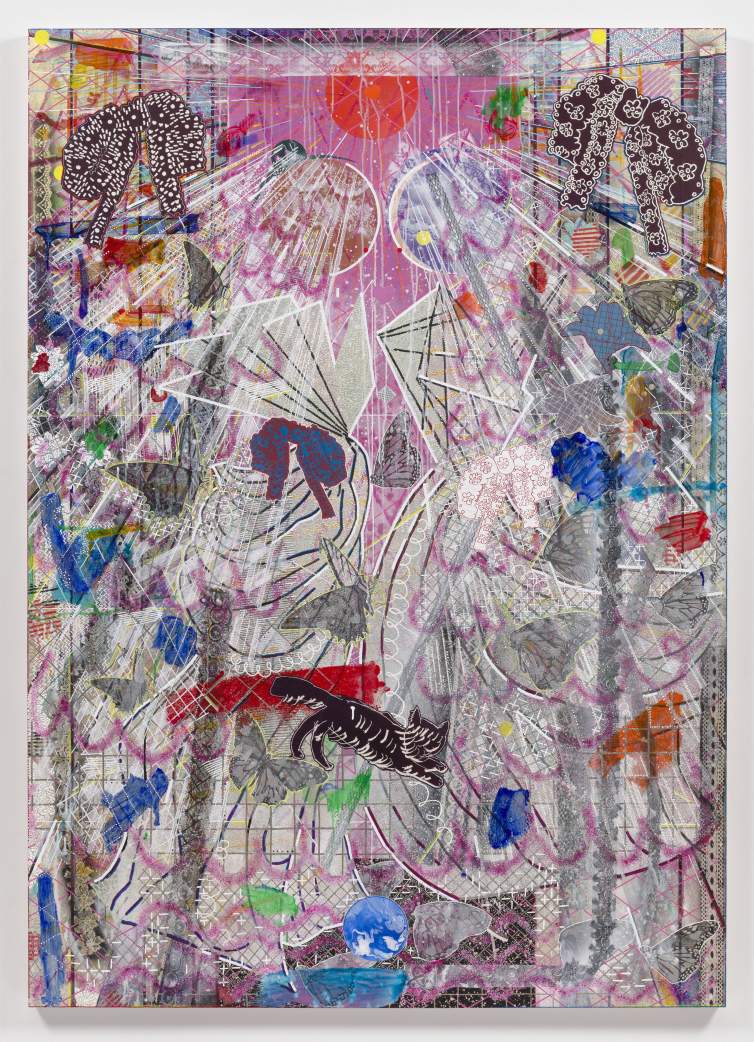 When I made the ribbon installation in my apartment, I wanted to quote the view itself because landscape paintings—or any paintings—could be traditionally thought to be like a window. So I made this installation, and I thought my dialogue with this view itself was going to be done at that point. But at this moment, I'm painting this reconstructed view—this window installation—as part of a body of work that has a connection to ukiyo-e.
Ukiyo-e directly translates as "floating world" and is a style of Japanese art from the 17th to the 19th century. I'm particularly interested in ukiyo-e because of the history of ukiyo-e prints traveling to the West and then the artists from the West such as Impressionists being influenced by it. I'm a Japanese born person, but I grew up in Brazil. And while I was looking at the calendars of ukiyo-e that my parents had around while in South America, I was always thinking about that exchange. So it's a continuation of a dialogue. The imagery in ukiyo-e is wide-ranging, but I'm particularly interested in landscapes seen through interior perspectival structures. I love the idea of the floating world itself, and that phrase…the poetics of the everyday that is evoked through it.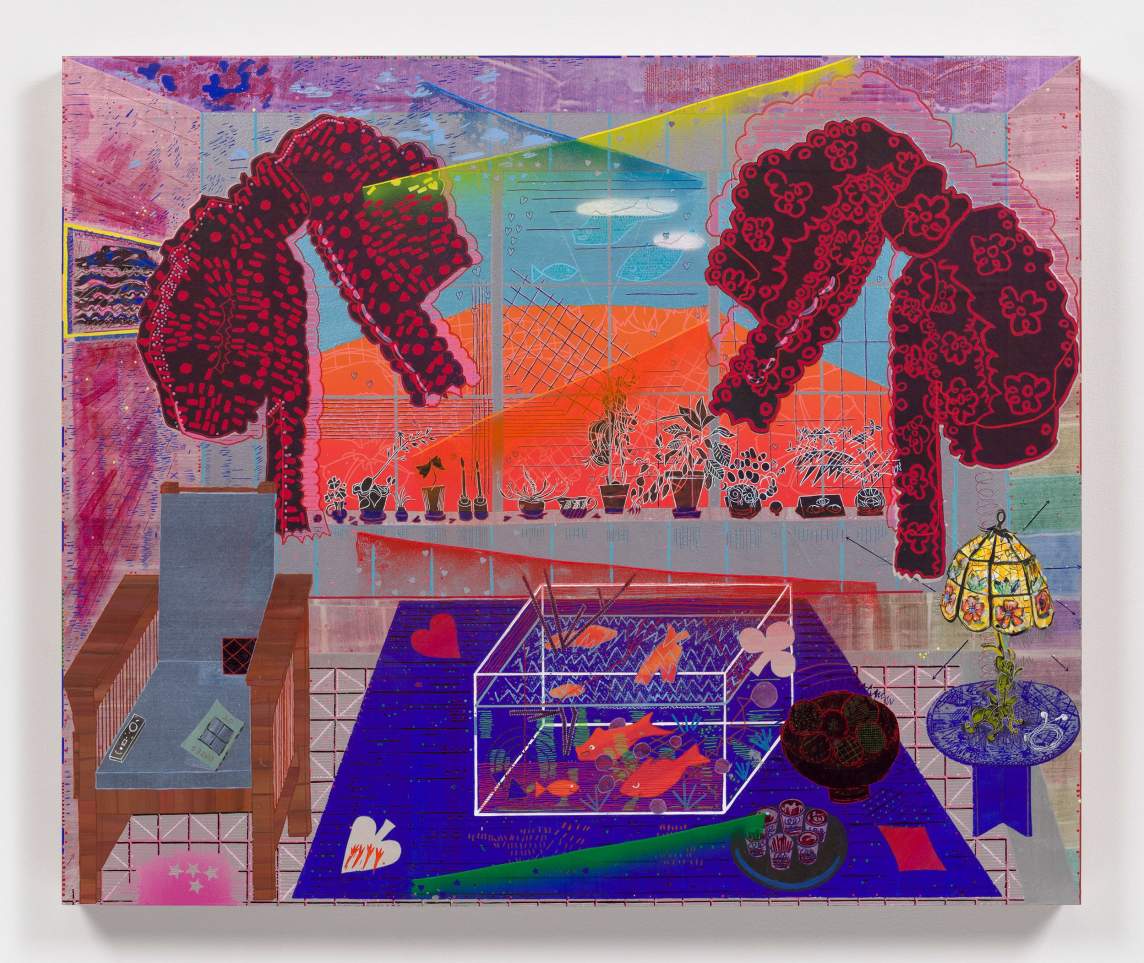 The ribbons in the Mountain Altar installation were almost like a patchwork of remaining scrap papers from earlier works that were glued together, collaged together to become this larger symbol. I'm now quoting that previous installation in this new painting, playing with scale of everyday objects, relating the fishbowl to the apartment, and thinking about the experience that we were all going through. I'm readdressing what I made then, and translating that whole action of making this altar installation into smaller, window-sized paintings.
There are a lot of things that I think I will figure out over the next several months before this full body of work will be completed. I've been making many early morning drawings in the apartment that are informing the development of new paintings in the studio.
Interview and editing by Jenny Gill. Learn more about Chie Fueki's work here.

See other Journal entries filed under:
Explore More Journal Entries