In the Studio: Abdi Farah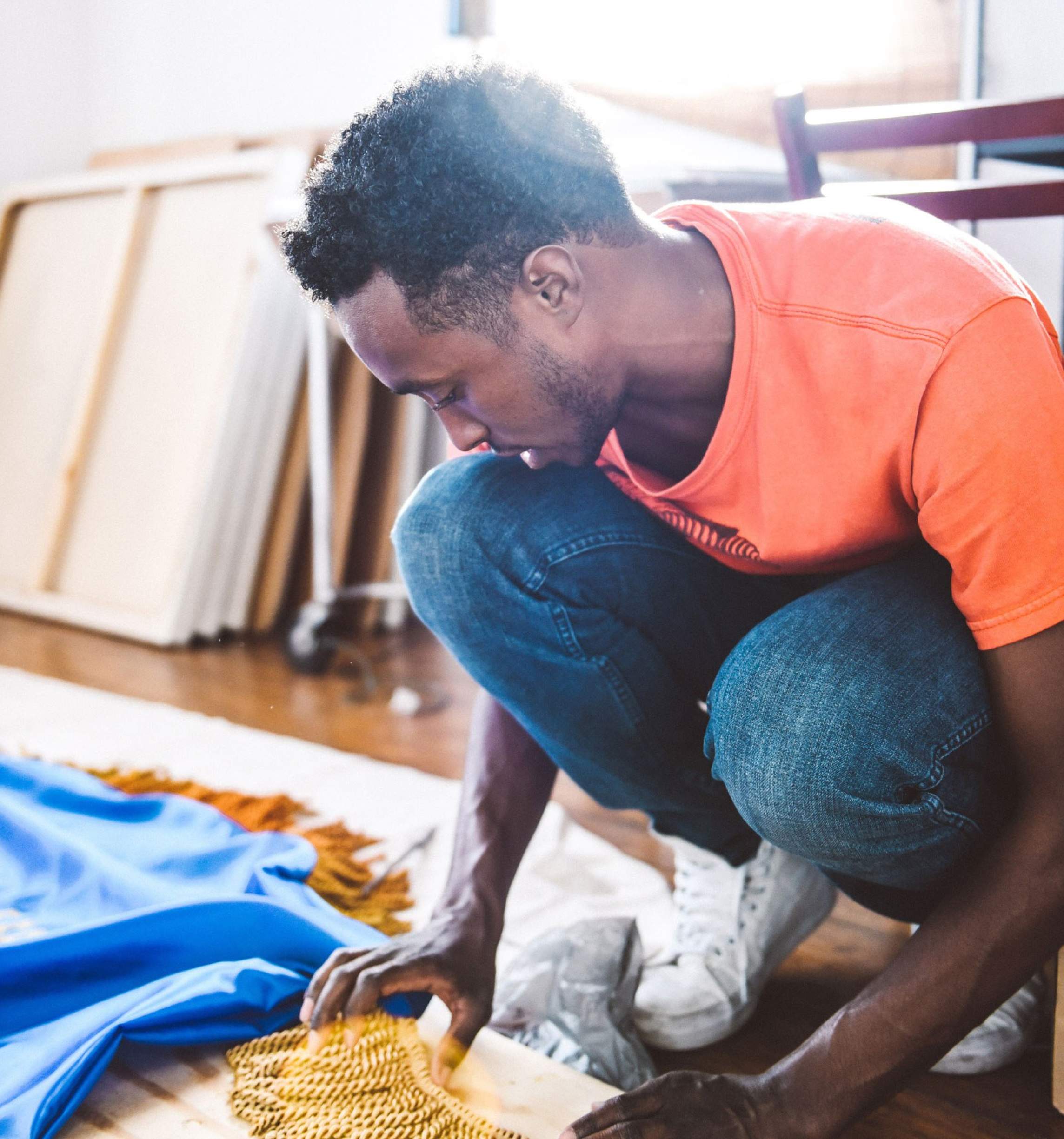 Abdi Farah is a New Orleans-based artist and Fall/Winter 2021 Artist-in-Residence at the Joan Mitchell Center. We interviewed him about his work and residency experience in December 2021. The following is an edited transcript of that conversation.
---
I think of all of my work as a form of portraiture, and self-portraiture even more specifically. For a long time, that was very straightforward self-portraiture. And then for the past few years, I've been trying to spread out a bit and find modes of self-portraiture in looking at the world around me and at people in my neighborhood in New Orleans that remind me of younger versions of myself. That has led me to dive into high school football in and around my neighborhood, in and around my city. Early on, this took the form of oil paintings—portraiture of players on teams that I was working with. And from there, it has zoomed out into more of a look at the place youth sports occupies as it relates to identity formation, community formation in young people, and in particular, young Black men in America.
I personally think every artist is trying to find some mode of reevaluating their own past experiences, trying to find a slight new iteration that allows for a different perspective on it. I am not from New Orleans originally. I'm from Baltimore, Maryland. And in Baltimore, on a local and community level, football isn't really the big thing; it's really basketball. So for me growing up, basketball was this kind of second language that was shared with my neighborhood, my friends. Every kind of relationship I had was connected either to church or basketball.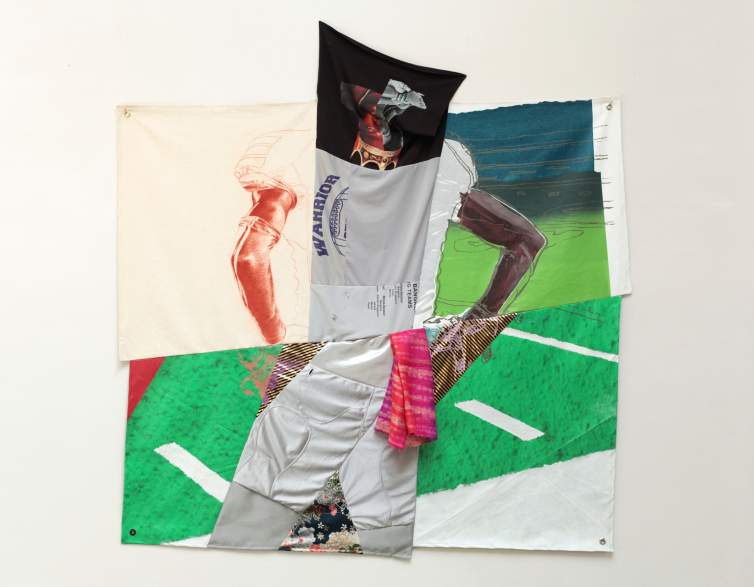 I'm really rethinking the advantages and disadvantages that those things instilled in me—the good ways that it gave me perspective on life and the more toxic ways in which it kind of forces you to look at yourself and the world around you, when all of your value to a family or a community is wrapped up in the ability to do something or to have a skill—all with the kind of unspoken idea that a few of these kids are going to get rich at some point and be able to give back to these kind of modest communities. So I'm rethinking that as a slightly removed scenario for football in New Orleans playing a similar role.
I came to New Orleans in 2012. I had been living in New York and trying to do the artist thing there for a bit, from 2010 through 2012. I really loved being in New York, but I didn't feel connected to any sort of a community. I'm not an artist that just makes things from within myself. I'm definitely someone who needs to be a part of a world, observe things and let that work come from there. I was connected to a community of artists, but I kind of felt this itch even while I was in New York to find something a little closer to what I had growing up in Baltimore, where I was a part of a community that had nothing to do with being an artist, but I was an artist within that community.
So I found out about a residency in New Orleans that was hosted by a church in the Eighth Ward called St. Roch Community Church. They invite one artist down per year to just live and work in New Orleans for nine months, no strings attached. You don't really have to be associated with the church, even though the residency is on the church's campus, so you're going to inevitably cross paths with the church folk that are there. I don't know why New Orleans was in my brain—I think it was just from old Cash Money Records videos or something growing up as a kid. But for some reason, New Orleans was this place that I always wanted to at least see. The St. Roch residency was a great opportunity for that and it was just a great residency.
At the end of the residency, in mid-2013, I decided to stay in New Orleans, and I've been here since. I worked for a time for a set design company, then I went back to graduate school, from 2016 through 2018, at Tulane. I really liked Tulane's program, and I also just wanted to stay in New Orleans and do grad school here.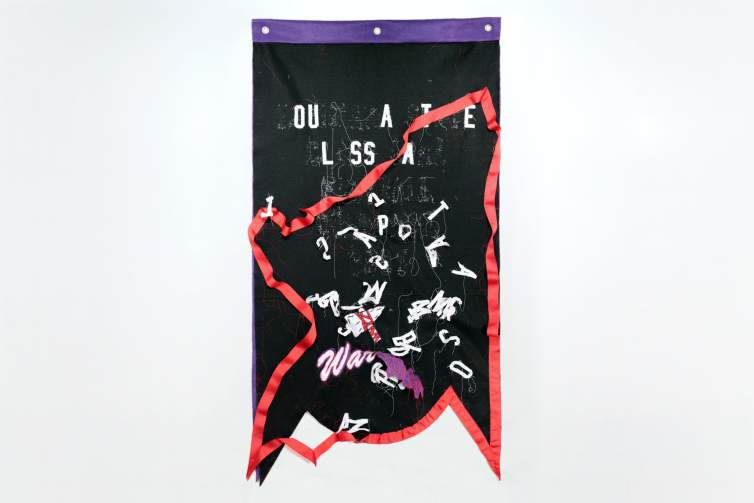 When I first moved to New Orleans, my apartment that I had at the church was right on the corner of St Roch Park, which is a big community park. And a lot of the recreation teams, which are the slightly-younger-than-high-school teams, would practice on that field. So I started, just as a neighbor, to get to know a lot of the kids in the neighborhood who were connected to either the church or to friends I was meeting in the neighborhood. One of my really good friends who I met through the church was the social worker / community liaison for George Washington Carver High School, which is not quite in my neighborhood, but it's a feeder school for the neighborhood. A lot of my neighbors who were really young when I moved here eventually went to that high school and I kind of followed them in their football careers from youth football to Carver, and then to some of the other schools. Through my friend, I met the principal of George Washington Carver High School, who has also become a good friend, and then the head football coach. The players kind of circle in and out, but those three people stayed consistent, have been super supportive of the work, and have kind of just kept the doors open for me.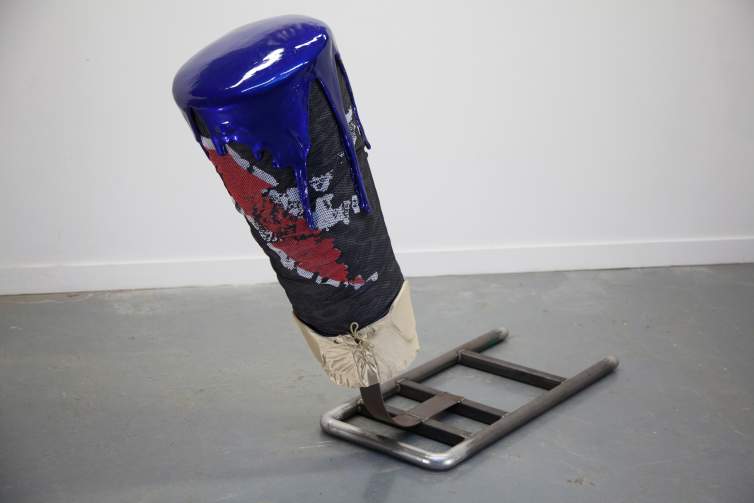 My process when I'm working with the football team is that the season in and of itself is this fact-finding time. I'll go to games and take photos that become source material for the eventual paintings and whatnot. The players kind of just know me as a team photographer or whatever. And I'll show them some of the art, and I'm trying to get better at making the art something that they can be a part of and own and participate in. They kind of use the photos for their Instagrams and whatnot and they can do whatever the heck they want to do with them. And then eventually, I'll kind of sift through everything I've gathered throughout a season and then start making things, whether it's more abstract work or more figurative work. I'll kind of go through any sort of ephemera in photos I've taken throughout the season and then start to make things in earnest after the fact.
For the last few years, I fully stepped away from representational painting and I was doing a lot of kind of collaging of found fabrics and simulations and recreations of flags and banners associated with high school football here in New Orleans. For me, these works had a kind of embedded figuration within them. They are these objects that were created to be carried by people—held between two marching band majorettes or held by a football player as they're entering the arena—and they have this ergonomic shape and size that corresponds to the body. Or the banners are hanging up in the rafters and kind of meant to correspond to a player that maybe used to be at a particular school. So in those works, the body was inferred in a way.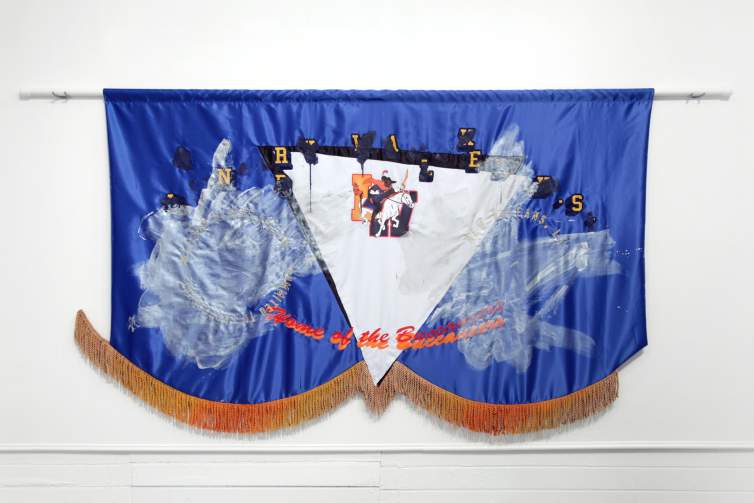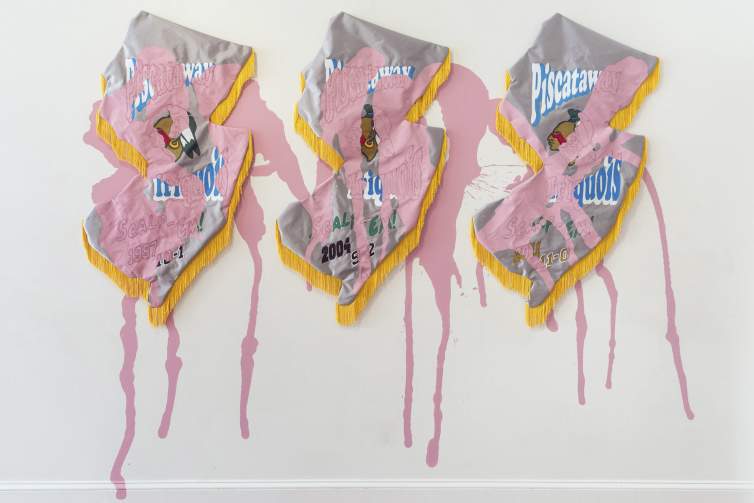 Just recently, I've picked back up the brushes and picked back up the charcoal and have begun to kind of meld these two previous styles of mine together by starting with drawings of actual models—sometimes myself, sometimes players that I'm working with. And then combining that with the more geometric iconic abstract collaging of the found fabrics and flags that I was working with before. So now the work is kind of in between the two worlds. It'll have moments of figuration that I then disrupt and bring in kind of more geometric abstract objective pieces of imagery.
My current residency at the Joan Mitchell Center has been a great time to try out a bunch of things. I'm super fortunate to have a really good studio here. The football season just kind of wrapped up here, so right now, the work I have going on in the studio is a little all over the place. I have some pure, more shape- and color- and text-based banner pieces that I'm working on. Then I have some pieces that might eventually just be straight oil paintings of the players that I'm working with. And then I have some that are a hybrid of both. I would hope that they start to kind of congeal together in a way or that one emerges as something I'm going to focus in particular on. As an artist, I think you're always just cycling through moments of clarity and confusion.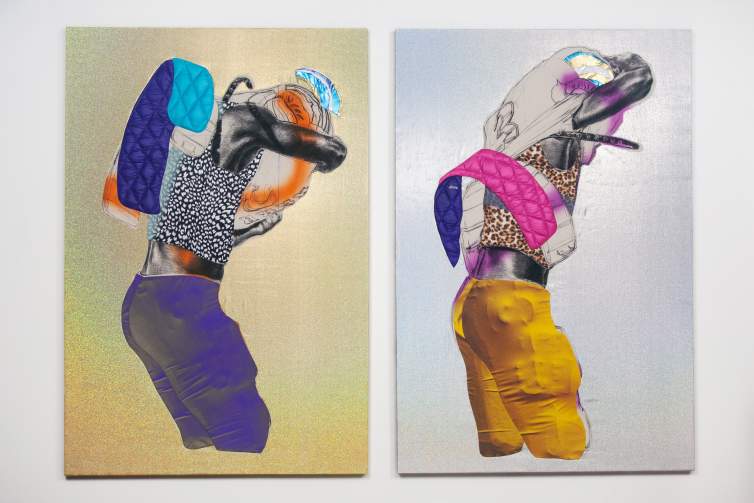 As an art lover, as a painter, I like going into museums and just standing in front of a really cool portrait of something or someone, and that's a fine way to think about art and to appreciate art. But I'm always a little wary of that immediate gratification that we as people have of just looking at people. I'm kind of trying to interrogate that, whether or not that is the heart of what I'm trying to get to conceptually within the work, or it could be the most expeditious way to get to what I'm thinking about, or it could be a crutch and a shortcut that I might need to avoid. I'm at this point now where I'm kind of thinking through all of those things.
Conceptually, I still think this work is self-portraiture in a way and that I'm doing pictures of my older self thinking about my younger self, and how my younger self saw himself in the world as it related to sports. When I moved to New Orleans, I was 25 and the players I was working with were 17, 18 years old. And we almost seemed like we were in the same generation in a way—like I was working with people who are slightly younger versions of myself. Now, I'm 34 and there's a larger separation between who I am now and who they are. So I'm thinking more about the implications of doing paintings of these young people, to show to (in all honesty) mostly white audiences that are looking at these young kids from New Orleans. There's definitely something interesting and necessary in that conversation, and I'm interrogating what my place and responsibility is in that.
---
Learn more at abdifarah.com.
See other Journal entries filed under:
Explore More Journal Entries