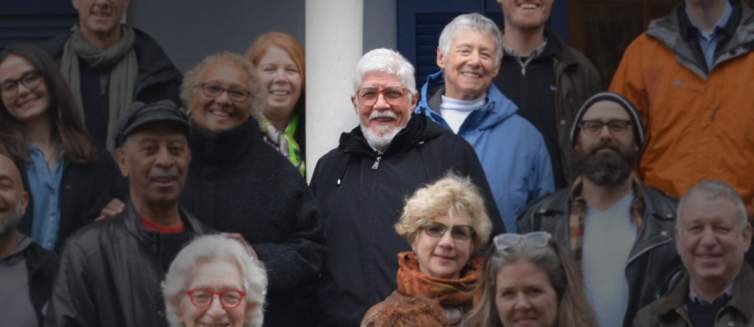 We at the Foundation are mourning the passing of emeritus board member Dan Bergman, who passed away in January.
Dan Bergman was born in 1938 in Chicago, grew up in Cleveland, and attended Ohio State University. After retiring from a career in retail with Macy's Corporation, he sought out art classes through New York-based institutions like Educational Alliance, The Art Students League, and Urban Glass, devoting himself full-time to his sculpture practice. He exhibited his work regularly in solo and group exhibitions and as a member of the New York-based artist group, 14 Sculptors.
Dan shared on his artist website, "I have sketched compulsively all my life and assumed I would eventually 'do something' with my art. I was happiest when I was working with tools and so realized my natural medium was sculpture."


Dan played a central role in the formation of the Joan Mitchell Foundation. He was first recruited for the Foundation's Board of Directors in 1994 by his friend John Somers, the Foundation's founder and the executor of Mitchell's will. Dan went on to serve many roles for the Foundation over the years, including the longest term as the board president. He departed the board in 2015, having seen the Foundation from formation through points of significant growth.
At the time of his departure from the Foundation, Dan shared this remembrance:
"For 21 years, the Joan Mitchell Foundation has been an important part of my life. Initially the fun was starting up an organization and creating infrastructure and procedures. Next was the thrill of seeing the reactions of the recipients and realizing that this organizational activity had a serious purpose in the real lives of artists. Then, in the excitement of seeing the estate settled and the artwork distributed, I came under the spell of Joan's paintings; one of the greatest thrills of my life was seeing them close-up and physically handling them in the Paris warehouse. And now I find my final and maybe greatest pleasure of all has been associating with the people who have shared these passions—and the tribulations that accompany passions—you, my JMF family."
For those of us who had the pleasure of working with Dan over the years, he was thoughtful, engaged, and deeply committed to doing as much as possible for artists. As a prodigious sketcher, we all loved the drawings he left behind after each board meeting. Thank you, Dan! You will be remembered and deeply missed by the Foundation.

See other Journal entries filed under: