Focus on Photography: Rudy Burckhardt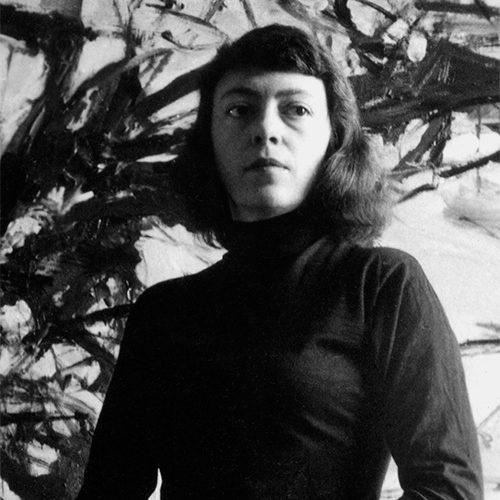 In the Joan Mitchell Foundation Archives, numerous photographs help to illustrate Joan Mitchell's life more fully, allowing insight into her working practices and timeline. We are grateful to the photographers who crossed paths with Mitchell, and would like to take the opportunity here to share more about one such artist behind the photos.
Rudy Burckhardt (1914-1999) was a New York-based photographer, filmmaker, and painter best known for his street photography and portraits of artists. Born in Basel, Switzerland to a prominent family, Burckhardt moved to New York City in 1935 after meeting dance critic and poet Edwin Denby. The two friends lived together in a loft on West 21st Street for a decade and collaborated on numerous short films and other projects (an album of Burckhardt's photographs and sonnets by Denby was exhibited at the Metropolitan Museum of Art in 2008). In his lifetime Burckhardt befriended and collaborated with a variety of visual artists, writers, dancers, and musicians, including Willem de Kooning, John Ashbery, Paul Bowles, Aaron Copland, Alex Katz, and Red Grooms.
Burckhardt became fascinated by photography as a teenager, exploring London and Paris with his camera. Upon settling in New York, he began creating candid, nuanced images of everyday city life, documenting advertisements, architecture, and pedestrians. Burckhardt is widely considered one of the best street photographers of the twentieth century. His work for ARTnews Magazine in the 1950s resulted in photographs that captured the studios and working habits of some of America's most respected painters, including Jackson Pollock, Hans Hofmann, and Joan Mitchell. Increasingly well known are Burckhardt's short films and his landscape, cityscape, and still life paintings. The 90+ films he created between 1936 and 1997 are remarkable for their variety and sense of spontaneity, as well as the collaboration of other artists, poets, dancers, friends, and family.
Burckhardt's first solo exhibition was in 1948 at the Photoleague Gallery in New York. Since then his work has been shown nationally and internationally, with recent solo exhibitions at the Tibor de Nagy Gallery in New York and the Fotostiftung Schweiz in Winterthur, Switzerland.
In 1957, Burckhardt photographed Joan Mitchell at work in her studio at 60 St. Mark's Place for Irving Sandler's article "Mitchell Paints a Picture" (ARTnews, October 1957). More than fifty years after its publication, this article still stands as one of the most insightful and precise studies of Mitchell and her work ever published. Complementing Sandler's text, Burckhardt's photos captured Mitchell in an unguarded, focused, and intimate way, allowing a rare glimpse into her painting process and studio.
The Joan Mitchell Foundation is extraordinarily grateful to the Estate of Rudy Burckhardt for generously allowing us to use one of his images in the Joan Mitchell Foundation Education & Research Center. A lightbox in our entryway, as well as signage on the exterior window, feature one of Burckhardt's photographs from this seminal period of Mitchell's career.
To view more of Rudy Burckhardt's photographs, visit Tibor de Nagy Gallery here.
See other Journal entries filed under: