Curator Miranda Lash Joins Board of the Joan Mitchell Foundation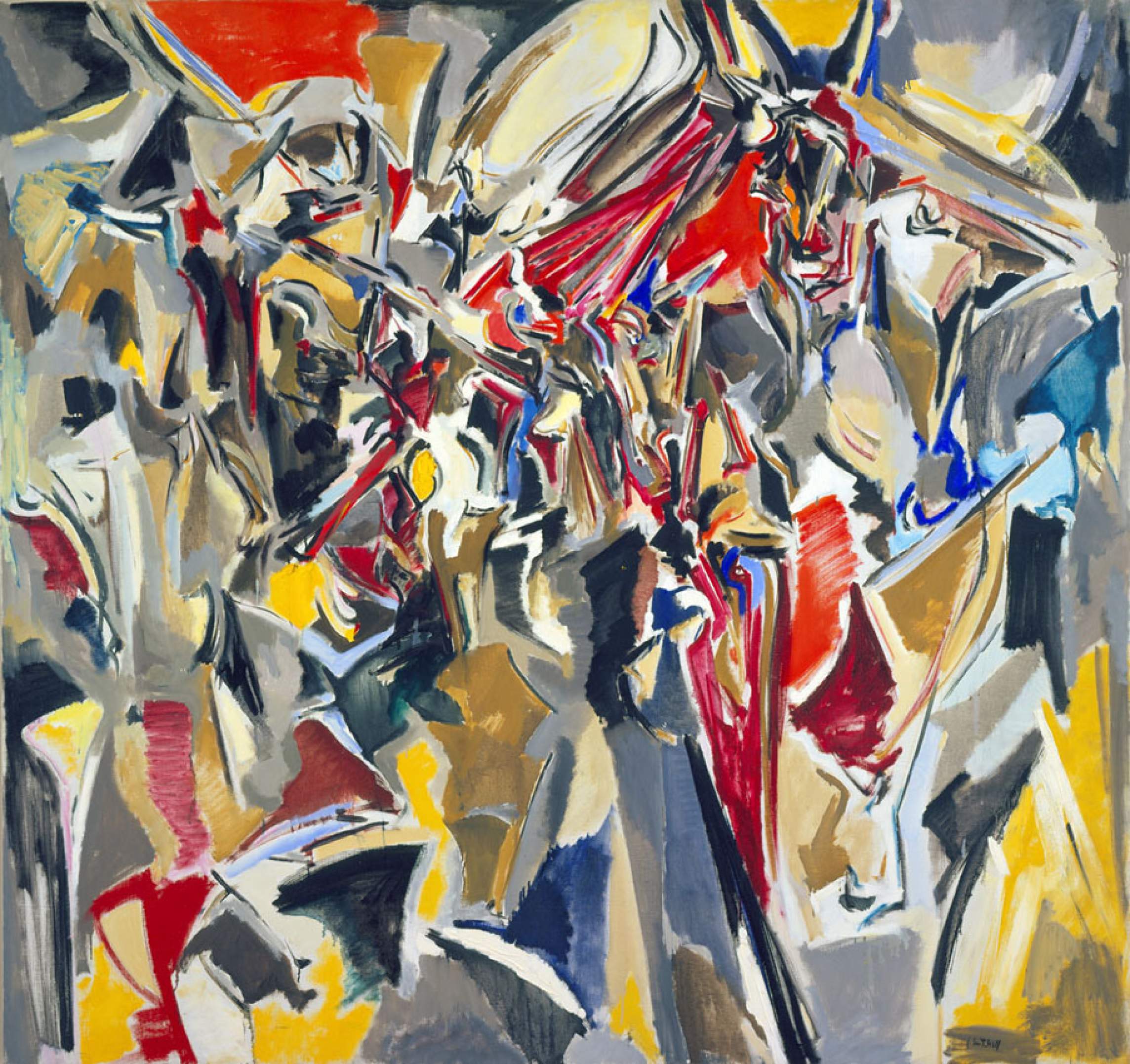 The Joan Mitchell Foundation is pleased to announce that Miranda Lash, currently the Curator of Contemporary Art at the Speed Art Museum in Louisville, has been appointed to its Board of Directors for a three-year term. Prior to joining the Speed, Lash was the founding Curator of Modern and Contemporary Art at the New Orleans Museum of Art (NOMA), beginning in 2008. During her tenure in New Orleans, she experienced firsthand the impact of the Foundation's Creating a Living Legacy (CALL) initiative, while organizing the Museum's Mel Chin: Rematch retrospective exhibition. As part of that process, Lash and Chin worked closely with the Foundation to see how the CALL approach to studio organization and documentation could be applied towards preparing for a major exhibition.
"We are excited to have Miranda bring her significant knowledge and expertise working with contemporary artists to our organization," said Michele Tortorelli, President and Board Chair of the Joan Mitchell Foundation. "Given the wide range of exhibitions she has curated, her artist-centered approach, and her experience in New Orleans—where the Joan Mitchell Center is located—we expect she will add a valuable perspective to the Foundation's work supporting artists at various stages in their careers. As a curator, she will be a valued voice at the table in our work on stewarding Mitchell's legacy."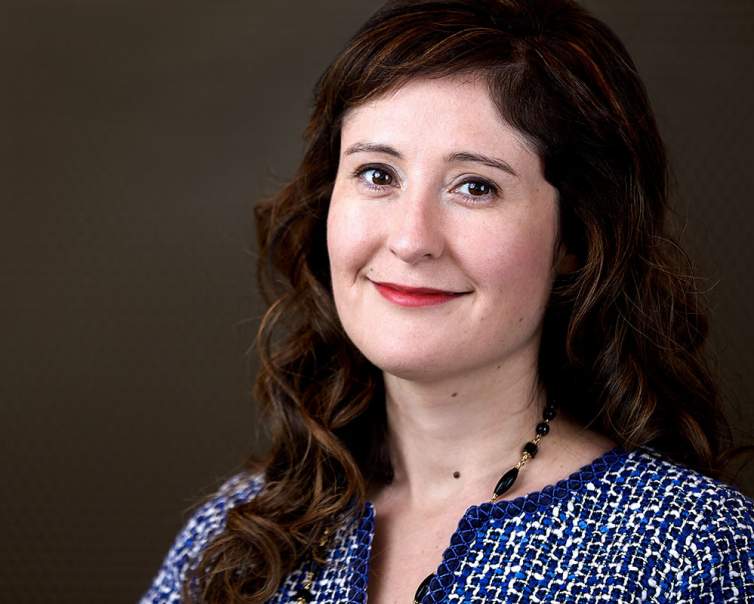 Miranda Lash. Photo by Gary Barragan, Speed Art Museum.
As the Curator of Contemporary Art at the Speed Art Museum since 2015, Lash has organized a wide range of exhibitions, including most recently Keltie Ferris: *O*P*E*N* and BRUCE CONNER: FOREVER AND EVER. In 2017, Lash collaborated with curator Trevor Schoonmaker, from the Nasher Museum of Art at Duke University, to organize the widely acclaimed exhibition Southern Accent: Seeking the American South in Contemporary Art. Lash was also a member of the Artistic Director's Council for the international triennial Prospect.4 in New Orleans (2017-2018).
From 2008 to 2014, Lash was the founding curator of modern and contemporary art at the New Orleans Museum of Art. There she curated over twenty exhibitions, including the large-scale traveling retrospective exhibition Mel Chin: Rematch and the exhibitions Rashaad Newsome: King of Arms; Katie Holten: Drawn to the Edge; Swoon: Thalassa; Wayne Gonzales: Light to Dark, Dark to Light; and Parallel Universe: Quintron and Miss Pussycat Live at City Park. Lash also presented several artists' first solo museum exhibitions in the United States, including Venice Biennale Silver Lion recipient Camille Henrot in Camille Henrot: Cities of Ys and British artist Marcus Coates in Marcus Coates: Animal Instincts.
"It is inspiring to join an organization that is known throughout this country for providing much needed support to artists. I have admired the Joan Mitchell Foundation's approach for years, from its commitment to providing unrestricted grants, to its commitment to ensuring diversity in the range of artists with which it engages. I look forward to working with the Foundation on its ongoing mission of putting artists first and encouraging the scholarly discourse around Mitchell's work to flourish," said Lash.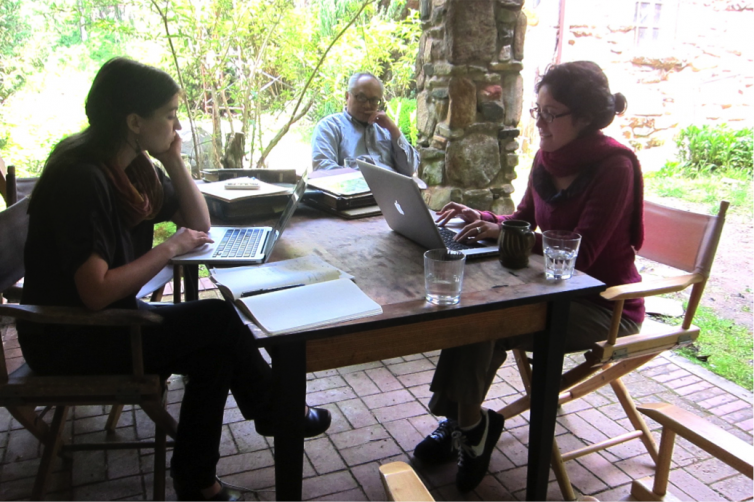 Mel Chin, Miranda Lash, and Rose Candela Moore working together at Mel's home in North Carolina to plan Mel Chin: Rematch (2014).
Lash's essays have been published in the Harvard journal Res: Anthropology and Aesthetics, the anthology Baroque Tendencies in Contemporary Art, New American Paintings, and The Oxford American. Lash has been a Clark Fellow at the Clark Art Institute, a consultant for Creative Capital, and a panelist for the National Endowment for the Arts. She is a graduate of Williams College and Harvard University.
Members of the Board of Directors of the Joan Mitchell Foundation serve three-year terms, with a maximum of two consecutive terms. In addition to Tortorelli, Lash joins current Board members:
Ron Bechet, Vice-President
Sandy S. Lee, Treasurer
Jean Shin, Secretary
Tomie Arai
Ted Berger
Kemi Ilesamni
Juan Sánchez
Linda Usdin, Dr.PH.
Additionally, the Board has six Emeritus members: Alejandro Anreus, PhD, Board President Emeritus; Dan Bergman, Board President Emeritus; John Koos, Director Emeritus; Tyrone Mitchell, Director Emeritus; Yolanda Shashaty, Director Emeritus; and Carolyn Somers, Founding Member & Executive Director Emeritus. All were appointed to Emeritus status in recognition of their many years of service and commitment to the Foundation.
See other Journal entries filed under: