Creating a Living Legacy: Mary Frank
Can you share what has changed for you as a result of being a part of the CALL program?
It was quite amazing to get a sense of what I have in my New York City studio; discovering works on paper in 50 to 60 flat file drawers, sculpture on stacks and about 60 paintings and I am still not finished!
Can you give us a sense of what needed to be accomplished when you started working with the CALL program?
It was essential to create categories that make sense to my system of work. I organized the works on paper by divisions: oil on paper, acrylic, pastels, mixed media, shadow papers, edition prints, monoprints, photos, ink, pencil and charcoal.

What has been the most rewarding aspect of this work?
The fact that very generous people can come into my studio and comprehend what feels chaotic to me and overwhelming (something to store away from until the end of time) yet make it part of a living working process.
What has been most difficult?
It's a bit hard for me to talk about because for a lot of the time I was in extreme chronic pain. I've endured major back surgery and a 1½ years of rehab, but I am currently doing much better. If I had been in better health during my time with CALL I would have been more involved and available. The difficult part of the process was getting and keeping in touch and waiting to receive the reports on the work completed, all of which I have now.
What do you recommend to artist who might be in the early stages of creating an inventorying system?
Do not keep everything! Throw out more — you're still working!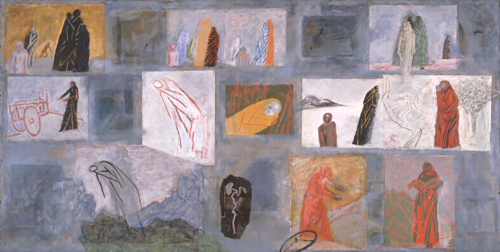 See other Journal entries filed under: