Creating a Living Legacy: Mario Martinez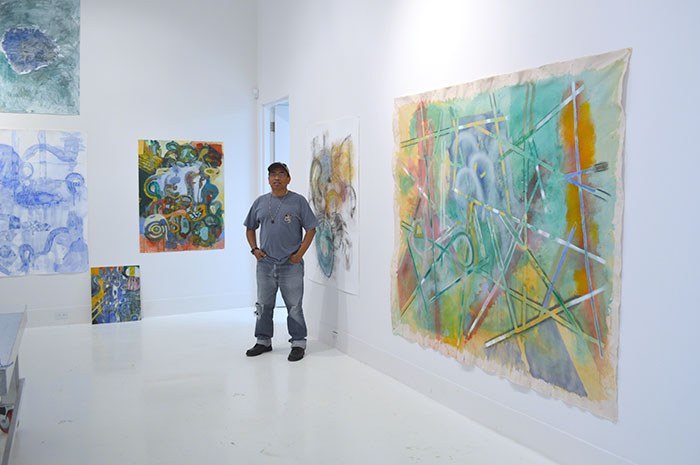 Can you share what has changed for you as a result of being a part of the CALL program?
The biggest change is that for me, the Joan Mitchell Foundation CALL award began the process of me being more confident in myself and my art. Now I truly believe it's a new age and that something as special and powerful as Yaqui Indian cultural concepts should be used by me (and always have been) in my abstract vision. From my point of view, native peoples of this hemisphere are extremely important because our DNA is tied to this land like no others. We are special.
The program helped me look beyond what is, or the conditions and realities of most artists' lives and focus on what can be. I started letting go of thoughts such as, "it's so hard to be an artist/native artist in the current modern context" or "one artist in millions gets taken seriously by contemporary culture and the art market". In an esoteric way, the Joan Mitchell Foundation CALL award opened the floodgates of the most success I've ever had in my life, in two short years. Amongst other things, it seems to have instigated gallery representation, two museum shows (one which will open at the Eiteljorg Museum in Indianapolis in November 2015) and a Robert Rauschenberg Foundation Residency. Since New York artists of the mid-twentieth century (The New York School) are some of my biggest influences, I feel honored to have received the CALL artist award, for Joan Mitchell was one of the most important members of The New York School.
Last but not least, the CALL artist award organized my artistic life, work space and documented my life's work in a database for posterity. Thanks for having my back Joan, you're a saint to me.
Can you give us a sense of what needed to be accomplished when you started working with the CALL program?
I didn't have a clear idea of what I needed to have done through the CALL program. Working with the Foundation and my Legacy Specialists weekly, I learned organizational skills, broadened my computer skills and it also taught me that collaboration with arts professionals and other artists can be of utmost importance. This affirmation has greatly improved my life. The CALL program showed me that the painter's studio door shouldn't be closed all the time.
What has been the most rewarding aspect of this work?
For me the most rewarding aspect of the CALL program is seeing oneself as an important artist/creator that matters in one's time or history. Building the database of my work is a great research tool for now and into the future. The program became a basis for realizing that an artist can create their own artistic and professional reality. Now that's empowerment!
What has been most difficult?
The CALL program flowed for me. It was exciting, thrilling at times and the only difficult thing was getting up that early in the morning since I like sleeping late. Some of us are nocturnal creatures and know that the artistic witching hour begins past twelve midnight.
What do you recommend to artists who might be in the early stages of creating an inventorying system?
Relax as much as possible when you're doing the inventory process. Remember that you've been disciplined for decades in creating your life's work. Maybe compared to that, applying some of that discipline in organizing or documenting your art might be a breeze. Also, there's always people that can help you.
See other Journal entries filed under:
Explore More Journal Entries