Creating a Living Legacy: Freddy Rodriguez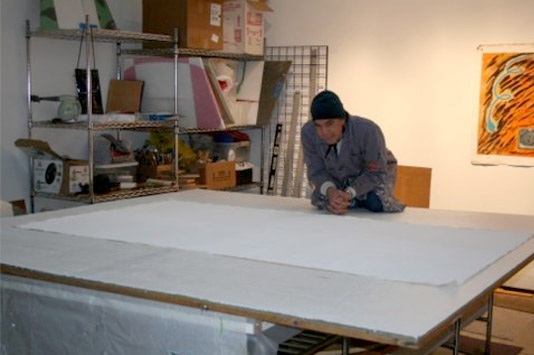 I began to document my work in 1970. I had a studio in Chelsea and my downstairs neighbor, a photographer, used to photograph some of my work. I also kept hand written records of most of the work I produced. Over the years I've saved exhibition catalogues and reviews of exhibitions I have participated in. I also took slides of most of the paintings. I had most of my paintings rolled.
I work in a studio next to my house in NYC. Because I had so much work, I rented a separate space to facilitate all the work that needed to be done for the CALL Program including some photography. The Joan Mitchell Foundation provided the funds to rent the space. With help from an assistant, we first went through all the paintings in my possession and created an inventory system. We wrote the inventory number on each painting and at the same time created a database (originally in Excel) and we filed the paintings by decade. After that we started to scan the slides of the works and documents: catalogues, reviews, interviews, announcement cards, etc. This process is still ongoing. I still have to inventory and photograph the works on paper.
This process is very important to me because I have accumulated a very large body of work and I had started to lose track of things I made. When I went back to the beginning of my career, I found so many things I forgot I made. I also found many damaged pieces. I don't usually look back. I like to concentrate more on the present than the past. However, the CALL Program was a call to arms. It reminded me how important it is to have documentation of all the work I produce so that others can understand my development and the coherence of my work. It is not enough to say I did this and that, since I can't really remember things the way they were in detail: what was I doing, what was I thinking, what was I looking at...I need to have written and visual references in order to understand what I was doing then. With the equipment (computer and digital camera) and assistance the Joan Mitchell Foundation has provided me, it became very easy to keep track of what I'm doing, without too much effort and distraction from my work.
The impact has been personal. It makes me feel good about my work to have been selected to be part of this program. It makes me feel that what I've done is important and it gives me more confidence for my work to be recognized and appreciated in the future. Eventually, it will help very much when I have my retrospective. With a database it is so much easier to explain and show one's development to curators, art historians and the public, as well as to oneself.
What I recommend to other artists is to save and document everything and do it right away. Starting early saves one a lot of time and headaches in the long run. It is very easy to do that today with technology. A word of caution: save your files in more than one place and try to save the archive a least every five years in the latest hard drive to guard against obsolescence and decay. Technology changes very fast.
It is valid to say that the documentation of one's artistic career is not an easy task. It requires discipline and determination. It might not be easy for older artists to document their work with technology. It can be frustrating. Older artists might need help. It is much easier for a younger generation that has grown up with technology. In the end documenting one's work is priceless. It gives the artist a different sense of value.

See other Journal entries filed under: