Creating a Living Legacy: Emmett Wigglesworth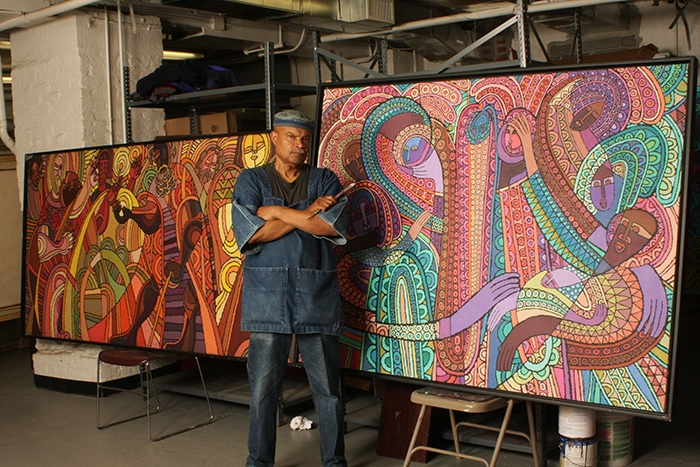 Can you share what has changed as a result of being a part of the CALL program?
Over the years I have lost many pieces of work, most of which I can never get back. I haven't always kept good track of my artwork. Now I have a more efficient way of doing so, not just for past work but for future work as well.
The fact that CALL chose me helped confirm to me the value of my work. The CALL program got me to think of creating a positive legacy I hope can be shared with humanity.
Can you give us a sense of what needed to be accomplished when you started working with the CALL program?

I honestly knew nothing about computers before the program and I thought I had little need for them. I also did not have a good way of keeping track of my work. I did not have a website either. My work was in disarray. Like many artists (I'm sure) my work space was not organized. In addition, I needed to get back a bulk of my work from storage. CALL has helped me accomplish all these things and more.
What has been the most rewarding aspect of this work?

The most rewarding aspect for me has been working with the staff and young Legacy Specialists. Their dedication, encouragement, and work ethic went far beyond my expectations.
What has been the most difficult?
I have realized the importance of career documentation and archiving. First I had to learn the mechanics of computer technology (I'm not computer literate). I'm in a small group of elders who find it difficult to make the adjustment. This challenge has proven to be the most difficult for me.
What do you recommend to artists who might be in the early stages of creating an inventorying system?

Begin to make a list of all of your work. Do it as each new piece is created. Keep it in a log book. Include the medium, title, and dimensions. When work is purchased, document to whom and where it is going. Always know where your artwork is at all times. Use a computer as backup and have a backup for that. Organization is very important. I'm still working on that myself. Most importantly, always take pride in the work you've created and do what you can to preserve it, not just for your own benefit but for the benefit of others.
See other Journal entries filed under:
Explore More Journal Entries