Announcing 2016 Recipients of Painters & Sculptors Grants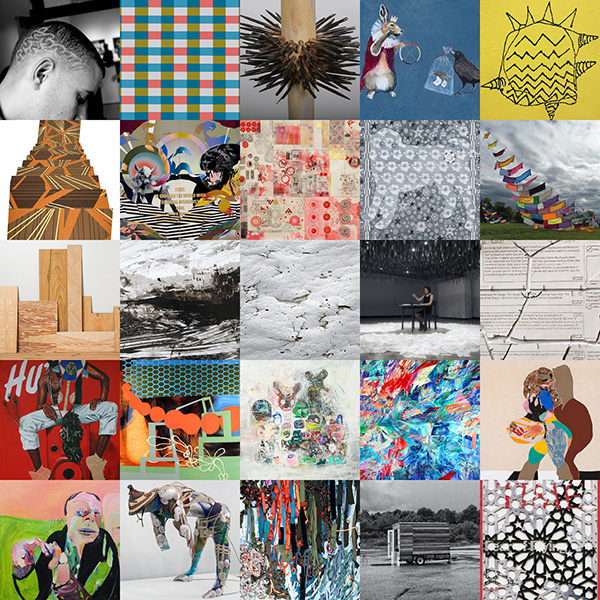 The Joan Mitchell Foundation is pleased to announce the twenty-five recipients of the 2016 Painters & Sculptors Grant Program in the amount of $25,000 each.
Faisal Abdu'Allah, Madison, WI
Otho Branson, Washington, DC
Galen Brown, Carson City, NV
Julie Buffalohead, St. Paul, MN
Derrick Buisch, Madison, WI
Sam Cady, Friendship, ME
Andrea Carlson, Chicago, IL
Nandini Chirimar, New York, NY
Glenn Goldberg, New York, NY
Rachel Hayes, Tulsa, OK
Marina Kassianidou, Boulder, CO
Athena LaTocha, Peekskill, NY
Katie Lewis, Reno, NV
Beili Liu, Austin, TX
Nyeema Morgan, Brooklyn, NY
Fahamu Pecou, Decatur, GA
Heidi Pollard, Albuquerque, NM
Juan Carlos Quintana, Oakland, CA
Amy Schissel, Morgantown, WV
Tschabala Self, New York, NY
Tori Tinsley, Atlanta, GA
Adejoke Tugbiyele, Brooklyn, NY
Vadis Turner, Gallatin, TN
Torkwase Wells-Dyson, Brooklyn, NY
Samira Yamin, Los Angeles, CA
Learn more about the artists here.
The Painters & Sculptors Grant Program was established in 1993 to acknowledge painters and sculptors creating work of exceptional quality through unrestricted career support. The first year of grants was awarded in 1994 and the Foundation has funded individual artists annually since that time.
Nominators from across the country are invited to recommend artists whom they feel deserve more recognition for their creative achievements and whose practice would significantly benefit from the grant. The candidates' images were viewed for consideration through an anonymous process by a jury panel that convened this fall at the office of the Joan Mitchell Foundation. Nominators and jurors include prominent visual artists, curators, and arts administrators.

*****

About the Joan Mitchell Foundation
Established in 1993, the Joan Mitchell Foundation is an artist-endowed non-profit organization. The Foundation celebrates the legacy of Joan Mitchell and expands her vision to support the aspirations and development of diverse contemporary artists. We work to broaden the recognition of artists and their essential contributions to communities and society.

In addition to this initiative, other programs undertaken by the Foundation include the Emerging Artist Grant Pilot Program, the Creating a Living Legacy (CALL) program that supports mature artists in the areas of studio organization, archiving and inventory management, education initiatives for both young and adult artists, as well as grants to artists and arts communities in need of emergency support after a disaster. The Joan Mitchell Center in New Orleans is an artist residency center that hosts national and local artists, and provides public programming that serves the broader community of New Orleans.

See other Journal entries filed under: