Announcing New Estate Planning Workbook, Developed to Support Artists and Attorneys

The Joan Mitchell Foundation is pleased to announce the release of a new workbook, titled Estate Planning for Visual Artists: A Workbook for Attorneys & Executors. Developed in partnership with the Arts & Business Council of Greater Boston (A&BC), the workbook includes in-depth sections on legal matters pertaining to intellectual property and copyright as well as estate vehicles, such as wills, trusts, and artist-endowed foundations, among others. The legal details are complemented by perspectives from a diverse group of arts professionals, who offer further information and context on the constellation of entities and relationships that play a role in the legacy-planning process.The workbook is part of the Foundation's Creating a Living Legacy (CALL) initiative, which provides resources and tools for artists in the areas of studio organization, documentation, and the inventorying of artworks.
The creation of Estate Planning for Visual Artists: A Workbook for Attorneys & Executors marks the second collaboration between the Foundation and A&BC. In 2014, the two organizations partnered to produce and release the Estate Planning Workbook for Visual Artists, which provides guidance to artists on artwork documentation, intellectual property, and the basic components of estate planning. The new workbook builds on the original advice—intended primarily for artists—by focusing in particular on the needs of estate planning attorneys and others working with artists on their legacies. With this resource, the Foundation aims to expand the pool of attorneys with knowledge and experience in this area, as well as to provide insights and increase understanding of this important work in the arts field. Both workbooks are available free-of-charge on the Resources page of the Foundation's website, along with a Career Documentation Guide and other resources for visual artists.
The legal content is penned by Megan Low, Legacy Consultant, and Jim Grace, Executive Director, of A&BC, and is accompanied by a series of essays from artists on their own work and the idea of legacy, as well as expert opinions from those working in related areas, including: Kate Haw, Director, and Josh T. Franco, National Collector, Archives of American Art at the Smithsonian Institute; Katy Rogers, Programs Director and Director of the Robert Motherwell Catalogue Raisonné project at the Dedalus Foundation; and Jill Sterrett, Deputy Director, Museum Affairs and Strategic Impact at the Smart Museum of Art at the University of Chicago, among others. This content provides a range of frameworks through which to consider legacy planning, as well as important details to acquaint attorneys with art-specific issues, such as conservation, inventory, and working with art professionals. Shervone Neckles-Ortiz, Artist Programs Manager at the Joan Mitchell Foundation, has overseen the workbook's development and publication.
"The Creating a Living Legacy (CALL) initiative is an essential component of the Joan Mitchell Foundation's work, as it engages with the dual aspects of our mission to provide direct support to artists and responsibly steward Joan Mitchell's legacy," said Christa Blatchford, CEO of the Joan Mitchell Foundation. "CALL was born, in part, out of our own understanding of the responsibility entailed in capturing and enhancing knowledge of Mitchell's life and career. In our conversations with artists, we recognized the need to create accessible tools and resources in this arena for a wider array of individuals. The Estate Planning Workbooks, along with the other resources provided through the initiative, support artists and their collaborators in the important effort of organizing, documenting, and managing their artworks, and establishing priorities for how their life's work will be treated in perpetuity. We are so honored to have had the opportunity to work with A&BC again, along with the Workbook's many contributors, to further understanding of this important topic."
Download the full press release here.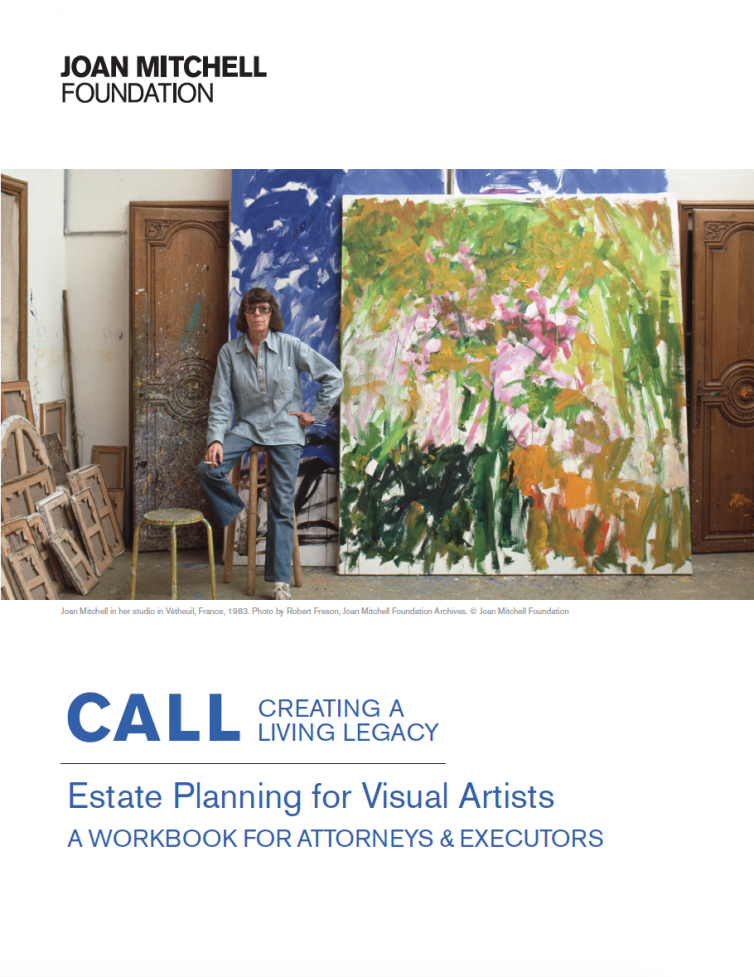 See other Journal entries filed under: