Career Documentation for the Visual Artist Audiobook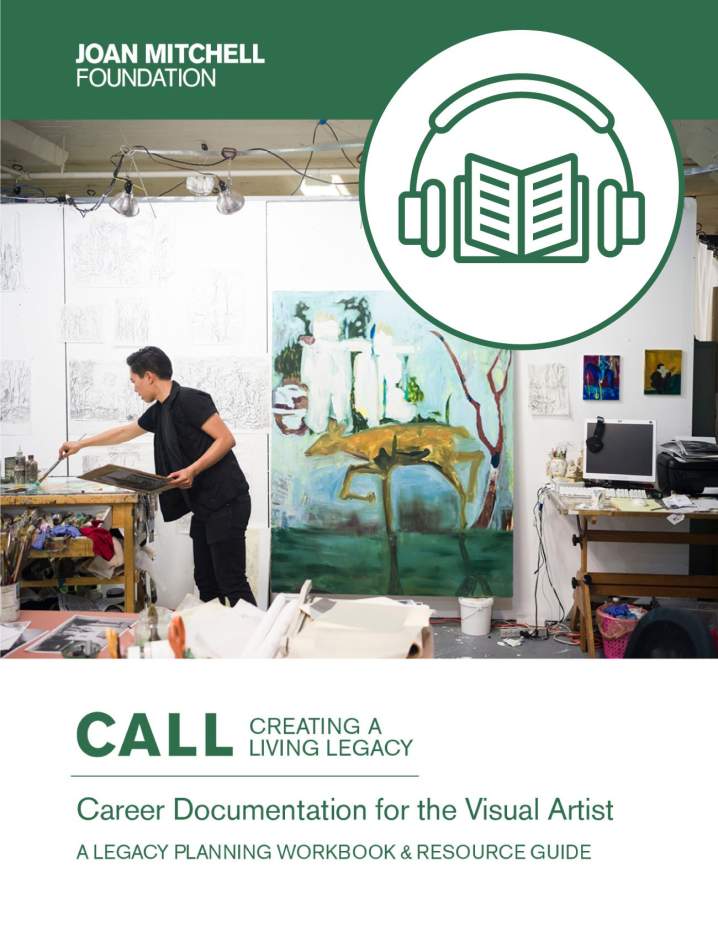 Career Documentation for the Visual Artist Audiobook
About
The audiobook version of Career Documentation Guide for the Visual Artist is available on Spotify and Soundcloud. Scroll down to Related Materials for all available formats and supplemental downloads.
This free educational workbook provides a breadth of information and perspectives about legacy planning for artists, along with practical tools that support engagement with this long-term, and sometimes challenging, process. The guide is part of the Joan Mitchell Foundation's Creating a Living Legacy (CALL) initiative, which for nearly 15 years has supported artists in their efforts to catalogue, manage, and preserve their life's work.

Career Documentation for the Visual Artist features an esteemed group of professional voices in the artist legacy and archiving field, and covers a range of topics including: setting priorities and goals, creating a support system, budgeting for your inventory practice, mapping your archival legacy, creating an artwork inventory, managing digital image assets, creating a bibliography, drafting a preservation plan, capturing your career map and timeline, and more practical advice for documenting your career as an artist.
Contributors include Virginia Allison-Reinhardt, Luke Blackadar, Rose Candela, Catherine Czacki, Jim Grace, Margaret Graham, Deidre Hamlar, Tempestt Hazel, Elaine Grogan Luttrull, LaStarsha McGarity, Sharon Mizota, Jennifer Patiño, Steven G. Fullwood, Antonia A. Perez, Paul Mpagi Sepuya, and Jan Wurm. The audiobook is narrated by Susan Bennett and Dion Graham.

Title
Career Documentation for the Visual Artist Audiobook
Author
Co-edited by Shervone Neckles-Ortiz & Kay Takeda
Publisher
Joan Mitchell Foundation
Topics
Estate Planning, Studio Organization, Career Documentation
Associated Programs
Share This Resource